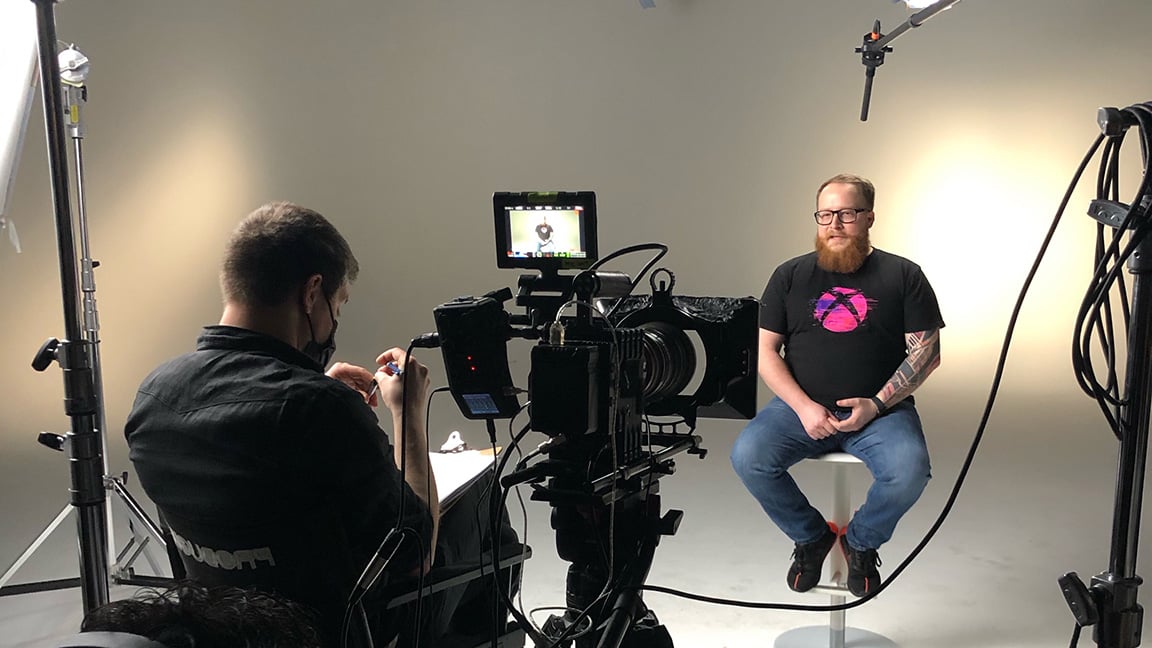 When hiring just about any kind of service, personally or professionally, we all turn to Google, right? The world is at our fingertips thanks to the internet and that includes finding the perfect math tutor for your child or the most cost-effective tree removal service or the highest-rated hair salon in your area.
There are now even services for finding services.
Take Yelp, for example, which features hundreds of thousands of businesses with hundreds of thousands of reviews and ratings.
Upwork is a popular service for businesses to find professionals for creative content and marketing needs, which is right up VMG Studios' alley. However, you cannot find VMG Studios on Upwork.
Why?
Well, there is a multitude of reasons, which this article will address, including the benefits of hiring an agency like VMG versus a freelancer.
It's important to be upfront that we are not trying to undersell freelancers and their work. We use freelancers from time to time to assist on projects when additional resources are needed. However, we believe the challenges of hiring freelancers from a service like Upwork outweigh the benefits. So, let's dive in.
What is Upwork?
Upwork classifies itself as "the world's work marketplace." It's an online portal to find freelancers and "independent professionals" across a variety of industries including:
Development and IT
Design & creative
Sales & marketing
Writing & translation
Admin & customer support
Finance & accounting
Companies looking to hire someone from Upwork can either peruse individual candidates, submit a job posting and receive applications, or use a talent scout to find the right fit.
Pros & Cons of Upwork
Naturally, there are both pros and cons of leveraging Upwork for your creative content needs, and it can often be project-dependent. Here's a high-level overview stemming from our experience with using the platform as well as feedback we've heard from our clients.
| | |
| --- | --- |
| Pros | Cons |
| Diverse applicant pool | Project priority |
| Easy to use search navigation | Availability and time management |
| Transparent pricing | Communication barriers |
| Ratings & reviews access | Onboarding |
| Scaling quickly for temporary project needs | Information security |
Each project need is going to be different, meaning that many businesses find great success in using Upwork. However, we've heard from some of our enterprise clients that they've experienced more challenges than successes. From having a selected freelancer back out and take another job to having a hard time managing various time zones to finding an effective medium to manage milestones and proofs – Upwork is not always the best solution.
Depending on the size of your organization, onboarding process, budget, legal and branding considerations, and time constraints, hiring an agency may be the best choice moving forward.
Why VMG Studios Isn't on Upwork
We've been asked this question a few times by clients and leads. VMG Studios is not on Upwork for a variety of reasons, the primary one being that we view ourselves as a strategic partner for our clients rather than a vendor. We look to build relationships with our clients and to serve as an extension of their departments. Simply put, we're more than just a supplier.
With Upwork, the relationship is often short-term and less collaborative, fulfilling a quick, one-off task or project. At VMG, we don't only create content, we also strategize, ideate, develop, and deploy to build long-term partnerships. We want to support our clients with strategic recommendations and expand support across the value chain with our cross-trained team of experts in marketing and content creation.
Don't get us wrong. We love freelancers!
As a hybrid creative marketing agency, though, it doesn't make sense for our business to be listed on Upwork since we're looking for more long-term partnerships.
Here are 10 additional reasons that differentiate VMG from some of the freelancers you might find on a service like Upwork.
1. VMG Studios Provides End-to-End Services
By no means are we suggesting that freelancers only offer one service or bring a singular skill to the table, but it is rare to find a freelancer who is a jack-of-all-trades.
When hiring VMG, you're getting more than just a video production company or animation studio. We offer a diverse portfolio of services to assist your marketing strategy from every angle:
READ: What Does VMG Studios Do?
2. VMG Studios is Reliable
Simply put, this is our full-time job. Everyone on staff is dedicated to your project and committed to exceeding your expectations. We have a production coordinator who schedules our team's priorities which allows us to seamlessly manage several projects at once.
We've been doing this for 16 years and even though it's a cliché to say this, we are a well-oiled machine. With VMG Studios, you can rest assured that we'll deliver the product you asked for on-time and on budget thanks to our in-depth, formalized project process.
Additionally, we are sustainable, and with our experience and you can count on us to be available to continue to support your project needs. This offers our clients the ability to come back later for any updates and changes to their content with shifts in their strategy, product, pricing structure, or target audience.
3. VMG Studios Keeps Your Information Secure
VMG greatly understands the importance of security. We have worked with enterprise clients for years and recognize the trust these clients are instilling in our team to keep their sensitive information protected. We have several security measures in place (which we can't spell out since that would be a security risk 🙂) and a committed director of IT who has been with VMG since the very beginning.
All of our employees have completed compliance training which includes extensive training on topics like GDPR (general data protection regulation) and data and privacy cybersecurity.
4. VMG Studios Offers Specialized & Diverse Expertise
This goes hand-in-hand with our end-to-end services. As mentioned, we offer an array of services from video and audio production to animation and motion graphics to design, and we have dedicated staff members for each specific area of expertise.
At VMG, we employ 25 people of all backgrounds and specialties, who also have 45 combined awards, to create a well-rounded team that produces high-quality content for our clients.
Because of our collective years of experience, we've tackled many obstacles, unforeseen problems, and know how to quickly adapt. We can also better anticipate roadblocks and pivot accordingly to ensure your deliverable remains on track and on budget.
5. Separation of Roles
Each of our staff members is dedicated to a specific skill set. Naturally, we employ well-rounded individuals who are cross-trained in other creative areas; however, we try to evenly distribute our skillsets for maximum productivity and efficiency.
For example, as a client, it's beneficial that your producer is separate from the account manager. Your producer can truly focus on the project itself and serve as a liaison between you and the creative team to move a project along its projected timeline and help manage all review cycles and feedback. Meanwhile, the account manager can focus on financial and business considerations such as purchase orders, contracts, and payment milestones.
This separation of roles also creates our own system of checks and balances within VMG to confirm that we're all aligned creatively and financially. Having multiple perspectives also ensures that the client is happy with the final deliverable.
6. VMG Studios Offers Speed to Market
People often think it'll be faster and cheaper to either produce their own videos or hire freelancers to help. This is a misconception that we hear all the time.
In actuality, it is generally faster for an agency to complete your project.
As an experienced marketing and production agency, there isn't a learning curve to take into account. There isn't equipment or software we need to buy. We are ready to hit the ground running and won't stop until your asset is delivered.
Thanks to our streamlined processes, such as our rigorous quality assessment (QA) process, we also make sure we get your project done right on the first try which ultimately saves you time. With freelancers, there's a higher probability of more back-and-forth.
7. VMG Can Scale to Support Any Project Size
We might be considered "small," but we are mighty. As evident in our 16 years in business, we've been able to support multiple clients at once with a team no bigger than 25.
If we do require more assistance for a large video production, for example, we have a list of preferred, pre-vetted contractors to reference. We know who to turn to for professional talent scouting and sourcing. We have partners who assist us with localization and translation to make your content accessible.
These strategic partnerships we've established over the years enable us to move quickly and scale accordingly.
Not all projects need to scale up, though. Some need to scale down due to budgetary or timeline considerations. We know how to effectively work with just one animator or one designer, depending on the project type. Our Director of Photography (DP), for example, wears many hats and can operate the camera, lighting, and audio for a smaller video shoot.
8. We Have Our Own Studio
This might seem obvious since we have the word "studios" in our name, but believe it or not, not all creative marketing agencies or even video production companies have their own studio.
Having our own studio space offers many benefits:
Cost-effective: we don't have to spend additional money finding a space.
Availability: while we do rent our studio to others, our clients take precedence when it comes to scheduling.
Amenities: clients will also have access to our green room with makeup and wardrobe areas, kitchen and lounge area, and sound recording booth (if necessary).
9. VMG Studios is Easy to Vet with Transparent Testimonials & Reviews
We understand that researching and vetting is an important part of the decision-making process especially when it comes to investing in big-ticket marketing materials like videos, animations, or graphic design assets.
Platforms like Upwork do offer ratings and reviews, but some freelancer reviews are less extensive. As an established company, we have a list of customer testimonials and reviews that you can easily access on our website. Even a simple Google search will bring up Google reviews, Facebook reviews, and more. Not only that, but our current client list is outlined on the homepage of our website, plus, we have an extensive portfolio section.
10. VMG Strives to Building Lasting Partnerships
While I've already mentioned this, it is worth reiterating. We don't like to classify ourselves as simply a vendor. We want our client's to feel as though we're an extension of their department – one they can trust, one who knows their branding and legal guidelines, one who understands their target audience and goals, and one they know they can turn to as a partner for future projects.
We immerse ourselves in our client's brand when working on a project, making it easy for us to pick up future projects with little onboarding or delay.
Freelancers look to build partnerships to solidify more work, however, they often jump from one thing to the next to keep busy or work around the clock to meet deadlines which can sometimes result in mistakes or subpar work. Agencies, like VMG, have more bandwidth and room to adjust to take on new projects from a returning client even when we're busy with other client work.
Selecting the Right Fit for Your Creative Content Needs
No two businesses are the same, meaning the process for creative content deliverables varies from company to company. In fact, that process might even vary from project to project within the same company.
Sometimes, a freelancer might be the perfect solution for your needs. However, we'd argue that finding a strategic creative content partner will better serve your initiatives long-term. From onboarding to security to budget, finding an agency you trust can catapult your strategy forward in a way that not all freelancers can.
This is why VMG Studios isn't on Upwork. We're not freelancers. We're a creative content partner. We form long-term relationships with our clients built on trust, collaboration, and innovation.
Not only that, but VMG offers a long list of benefits, which isn't necessarily conducive to a platform like Upwork. These benefits include:
End-to-end services
Specialized & diverse expertise
Separation of roles
Reliability
Information security
Speed to market
Scalability
Studio space
Transparent testimonials & reviews
Builds long-lasting partnerships
If you look VMG Studios might be the right fit for your project needs, we'd love to set up an introductory planning conversation to learn more. In the meantime, if you're interested in learning more about VMG and the clients we support, we invite you to read our article, Who is VMG Studios' Ideal Client?