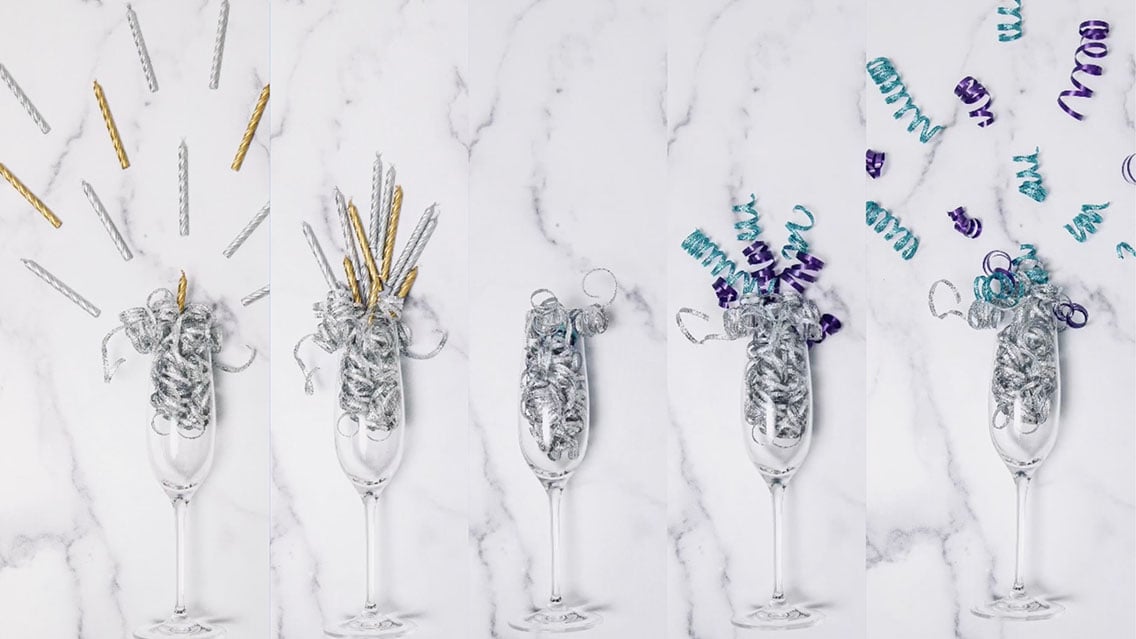 It's almost Halloween. For me, that means hot spiced cider, orange Oreos (relax, they taste the same), and premature Santa hats as I settle in to watch arguably the best Halloween film of all time, Tim Burton's The Nightmare Before Christmas.
One of my favorite parts of this movie is the aesthetics of the stop motion animation technique used to capture its signature, creepy feel.
Stop motion is a niche style that is growing in popularity despite often being classified as "old school." Its steady presence in the video world can be attributed to the likes of popular films such as The Nightmare Before Christmas, of course, and the award-winning projects from production company, Laika, such as Coraline, Kubo and the Two Strings, and Missing Link.
While stop motion is most often attributed to feature films, it can and is being used in the marketing sphere.
Animated videos, in general, are eye-catching and can be an effective way to engage your target audience and promote your brand. In a market saturated with video, especially an increasing number of animated videos, stop motion is a style of animation that can help set your brand apart.
Here at VMG Studios, we love animation. It's one of our core services as a creative marketing agency. Within the animation world, we're always looking for new ways to delight our clients and their target audience, and oftentimes, stop motion is overlooked. This is due to a variety of reasons including lack of awareness, preconceived notions about it being an old-school style, and time constraints.
We understand that stop motion isn't for everyone, however, it could be just the ticket to elevating your video marketing strategy.
In this article, we're going to provide a deep dive into stop motion including its origin, highlight why it's worth considering for your business, and provide examples so you can find inspiration for your next project.
What Is Stop Motion?
Stop motion is an animation technique in which a camera is repeatedly stopped and started, frame-by-frame, in order to give inanimate objects and figures the impression of movement.
VMG Studios senior graphic designer and animator, Ryan (Fenny) Fennessey, wrote an article on The 5 Main Styles of Animated Marketing Videos, which includes stop motion. He writes that stop motion is arguably the most labor-intensive form of animation, but that it possesses a unique charm that can really sell a certain aesthetic.
Stop motion is similar to traditional animation in that it's also a frame-by-frame process. While traditional animation is 2D and mostly hand-drawn, stop motion is photography turned into 3D animation.
Basic stop motion production process is as follows:
The scene is modeled in real life with props, objects, and materials.
The characters are all created along with their different positions and facial expressions, and then set in the appropriate scene.
The scene is lit and composed and then it's ready to be photographed.
The characters and scenes are then adjusted slightly, and another photograph is taken.
This process is repeated, adjusting the characters and scenes every time until the desired animation and pacing is fully photographed.
All of the photographs are then compiled together to create a 3D animation completely done with hand-made photography.
While stop motion videos are labor-intensive and require extensive pre-production, it can be used in marketing materials to convey a more "organic" or "hand-made" style that can fit a certain brand. As Fenny says, "Stop motion capabilities are limitless!"
FREE DOWNLOAD: 5 Styles of Animation One-Sheet
Types of Stop Motion
While stop motion is a distinct animation style, there are different ways to utilize it as part of your marketing strategy. The sub-categories of stop motion including cutouts, clay (claymation) and puppets, and live-action – all of which could be utilized in an eye-catching marketing or corporate video to set your messaging apart.
Cutouts
Typically, cutout animation is made with flat, two-dimensional figures that have joints, giving them an effect of fixed motion. The first known stop motion feature was a cutout style done in 1917 called El Apóstol (which is now considered a lost film).
A modern example of this style is South Park, which actually began as a true cutout animation before they switched over to computer animation disguised as a cutout.
Take a look at what creating cutouts might look like, and how you could even give it a try!
Clay & Puppets
I'm lumping these two together because, at the end of the day, they're essentially the same thing. Some sort of pliable material is sculpted around a wireframe (an armature) and is adjusted ever so slightly for each shot to achieve the illusion of sequential movement.
Chicken Run (2000) is the highest-grossing stop motion animated film of all time, grossing more than $224 million, and is classified as a clay film. Unlike cutouts, everything is three dimensional.
The difference between clay and other puppet materials is that clay is even more laborious to work with – subject to smudges, dust, etc., getting in the way of shooting consistency.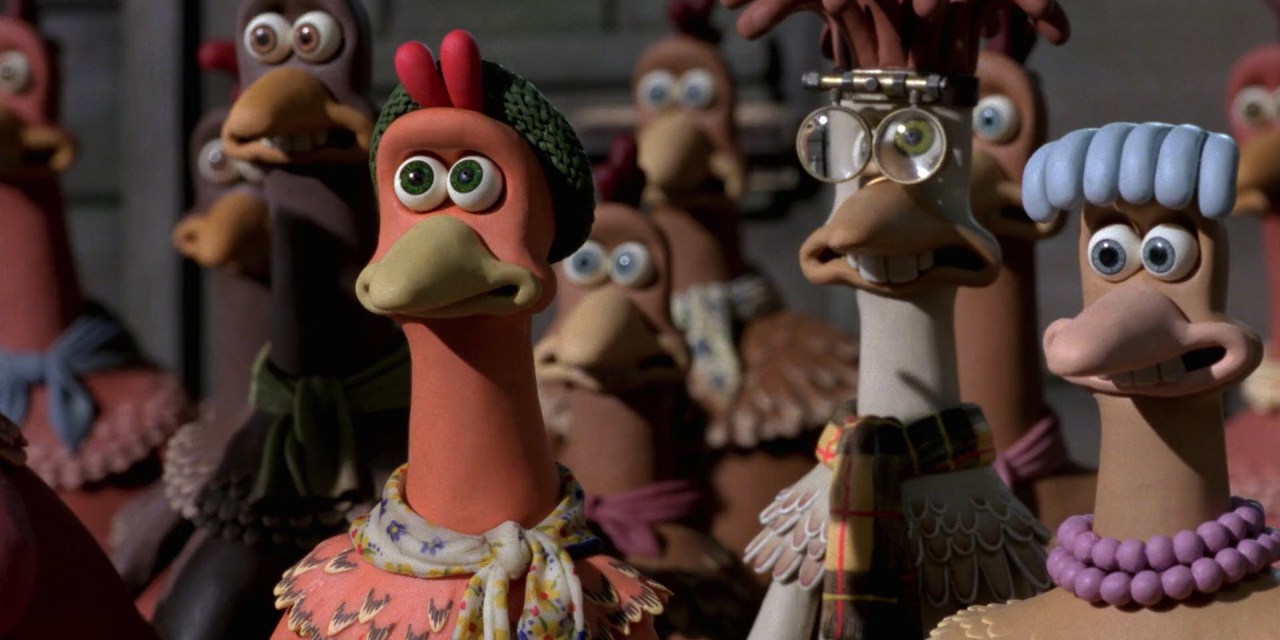 Puppetry, not classified as strictly clay, is the most widely used form of stop motion today and is probably what you think about when you hear the phrase.
Some classic early examples of stop motion puppet work include the classic Christmas specials such as Rudolph, the Red-Nosed Reindeer, Nestor the Long-Eared Christmas Donkey, and Santa Claus Is Comin' to Town.

Regardless if cutouts, clay, or puppets were used, the process of creating true stop motion is pretty much the same (more on that in a moment), because computers can't do it for us.
The human element of having to manipulate the subjects bit by bit, moment by moment, to be captured one frame at a time, is still the quintessential aspect of it all that makes it so compelling to watch. Computers have tried to mimic it, (South Park or The Lego Movie for instance), but it's just not quite the same.
Live-Action
While claymation and puppets are real-life objects, stop motion can also utilize real-life people to mimic a live-action video, but with a twist.
Take a look at the video below, which was made by filmmaker and photographer, Philipp Klein Herrero.
He used objects found at home to embark on an adventure of skiing and mountain climbing in his own living room! This video quickly grew in popularity on social media with many leaving comments such as, "This is so creative!" and, "Super clever! Love the idea and the execution was spot on!"
The video also caught the attention of brands. Rab Equipment, an outdoor equipment and clothing company, conducted a flat lay challenge in the spring of 2020 to see how people were creatively "enjoying the outdoors" during the early months of quarantine. They saw Philipp's video and shared it on their Instagram. From there, they started getting more stop motion entries for the contest, which featured many of their own products.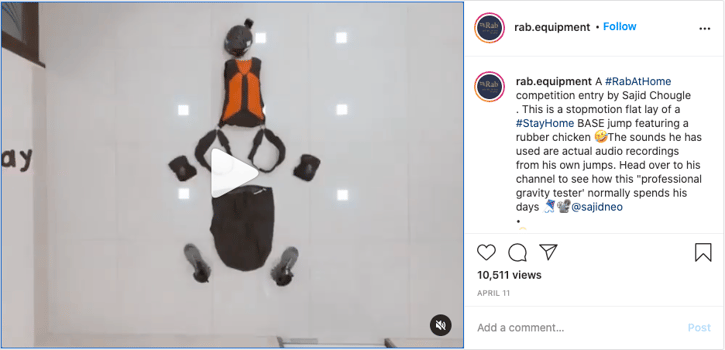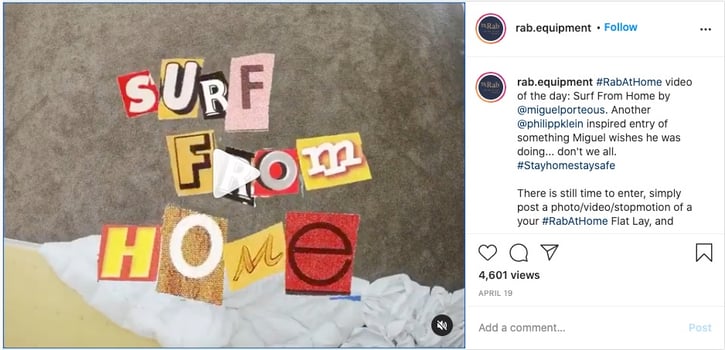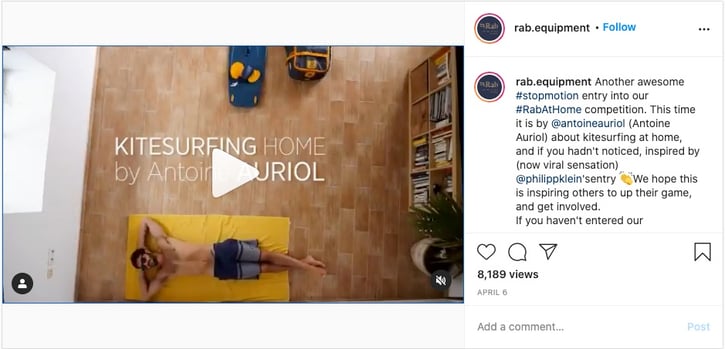 This is a great example of how stop motion can be used in a marketing or social media strategy to engage customers and promote products.
Why Marketers Should Give Stop Motion a Try
For an art form that remains so "archaic" in execution compared to the animation style giants of today (CGI), as mentioned, it's tremendously popular.
There have been periods of time in which it fell into a very specific comedic genre, almost making fun of itself (think Robot Chicken), as "more sophisticated" animation styles took precedence. But since then, it has blossomed into an extraordinarily appreciated art form by fans.
An article discussing the popularity of stop motion in a CGI-driven world sums it up nicely:
It makes sense that there's a rise in appreciation for art forms and products where you can see and feel the human effort that has gone into them, and the sheer craftsmanship. Just as you might enjoy supporting the independent coffee shop where you can buy unique, specially sourced blends from an owner you trust (and whom you perceive to love what they do), so the stop-motion animator has a comparable bond with audiences. It's a backlash, to an extent, against 'evil' corporations, and a Hollywood that for a long time has been thought to put big bucks before quality output. In other words, stop motion has become shorthand for craftsmanship, quality and charm.
People are obsessed with stop motion to the point where filmmakers are actually trying to get their movies to look like stop motion when they aren't.
The Lego Movie is a good example. The animation is stilted just enough to give the impression of stop motion and/or the creators were actually using real Legos to build the scenes. However, the movie was made almost entirely by CGI as outlined by Motion Pictures Association.
"There were a couple arguments that we all found quite humorous when we first put out the trailers. People on the Internet were saying they knew for a fact we were doing stop-motion," remembers Alfie Olivier, the animation supervisor. Their arguments faltered when they saw thousands of Lego bricks undulate in an ocean scene and spray out in an explosion. "They were going, 'How did they get the waves to roll? That would take years.' So those people decided that scene must be CG, but the rest was definitely stop-motion." For the record: The Lego Movie was created using CG animation, but Olivier is happy for people to think otherwise. "The more people think this is a real stop-motion film, the better. If we can convince people it's a stop-mo film from the outset, I think we've achieved what we set out to do."
However – the filmmakers ultimately decided to do an actual stop motion sequence with Legos for the end credits, which was a massive undertaking in itself. Can you tell the difference between this and the CGI they used in the rest of the movie?
When deciding whether or not to give stop motion a try, remember to consider the following benefits as it relates to your target audience:
Unique and eye-catching
Boasts a charming aesthetic
Consumers view it as craftmanship and an appreciate form of art
Challenges of Stop Motion
Now, we aren't going to sit here and try to sell stop motion as an easy option for producing a unique video. It is challenging and requires intense dedication to the craft.
Even though the end product is undeniably awesome, the biggest challenge hits you right at the start: time.
To give you an idea, this 10-second clip from The Nightmare Before Christmas (beware – it's a bit creepy!) took four months to film.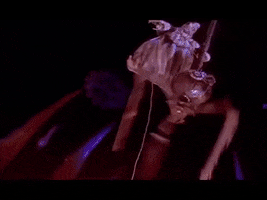 Director Henry Selick had this to say about that exact moment in the film and why the process took so long: "There's three steps: drawing, sculpting, then actually building the thing. Oogie Boogie was the toughest because he's big and pretty shapeless. Ultimately, Rick Heinrichs had to re-sculpt it, and then, when he gets his skin pulled off and he's filled with bugs, that took some years off a few animators' lives—it's three or four killer shots and took about four months."
The film, in its entirety, runs at just over an hour, only 76 minutes, but took three and a half years in total, with a crew of 120 people. The scenes were filmed at 24 frames-per-second, meaning that the animators had to change the pose of any on screen character 24 times for each second of the actual, completed film. One minute of the movie took about a week to shoot. It's easy to see how the time can add up when each detail is so carefully manipulated.
For example, Jack Skellington had more than 400 different heads created for him for each and every expression change (Sally had masks that would be popped off and on her figure.) Additionally, every time Jack blinked, several eyelids with different levels of closure were popped into his sockets. For each blink, the animators went through about four frames.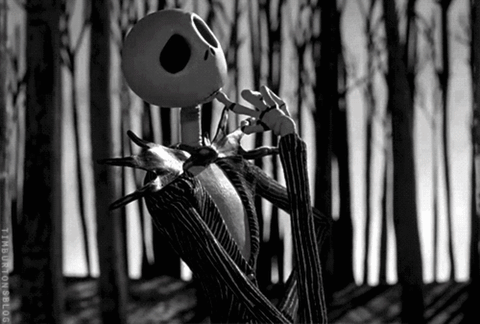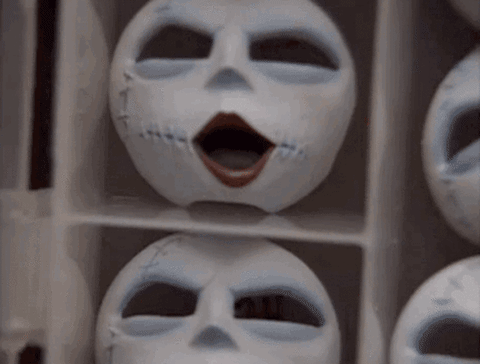 For a more in-depth look at the making of the film, check out this "making of" special!
Now, don't fret, your 90-second stop motion marketing video won't take years to make because there are ways to be strategic about the type of stop motion you produce.
Take the live-action examples that Rab Equipment users were sharing on social media. It's safe to assume that those videos didn't take years to make as they were part of a limited-time challenge.
Production studios that specialize in animation, such as VMG Studios, are experts in this kind of craft and can find effective ways to create your stop motion video with a specific deadline in mind. However, it's important to take into account that, on average, a short, animated video takes roughly 6 to 8 weeks to produce so it's imperative that you plan ahead.
WATCH: How Long Does it Take to Make an Animation? (Animated Video)
How to Get Started With Stop Motion Animation
Stop motion may seem immediately overwhelming, but when compared to 2D and 3D animation that requires extensive training and software knowledge, stop motion is unique in that it's relatively easy to figure out yourself.
Just a few weeks ago, I was working with our in-house social media manager, Bridget Raftery, on creating a short stop motion piece to celebrate VMG's 16th business anniversary. Neither of us has the experience our team of designers and animators do with stop motion, and she joked with me about how silly it felt taking several hours to create something that lasts just a few seconds, but that's just the way it goes with stop motion. This is what she was able to pull off:
Cute right?!
If you're still unsure about stop motion, starting small, possibly with a social media piece like the example above, is a fantastic way to see if stop motion will work for your brand and target audience. Get familiar with the process by doing flat lays first. That way, you minimize the prep work that would go into creating puppets or clay figures, multiple expressions, intricate sets, and so on – and can bring on a team like VMG Studios when you're ready to do so.
While we always encourage self-education and love seeing our clients get creative on their own, we definitely don't want anyone to spiral into despair when it takes longer than you expect… (cue Ben from Parks and Rec).
To learn more about animation and how it can fit into your marketing strategy, download our free eBook, The Marketer's Guide to Animation, by clicking the image below!