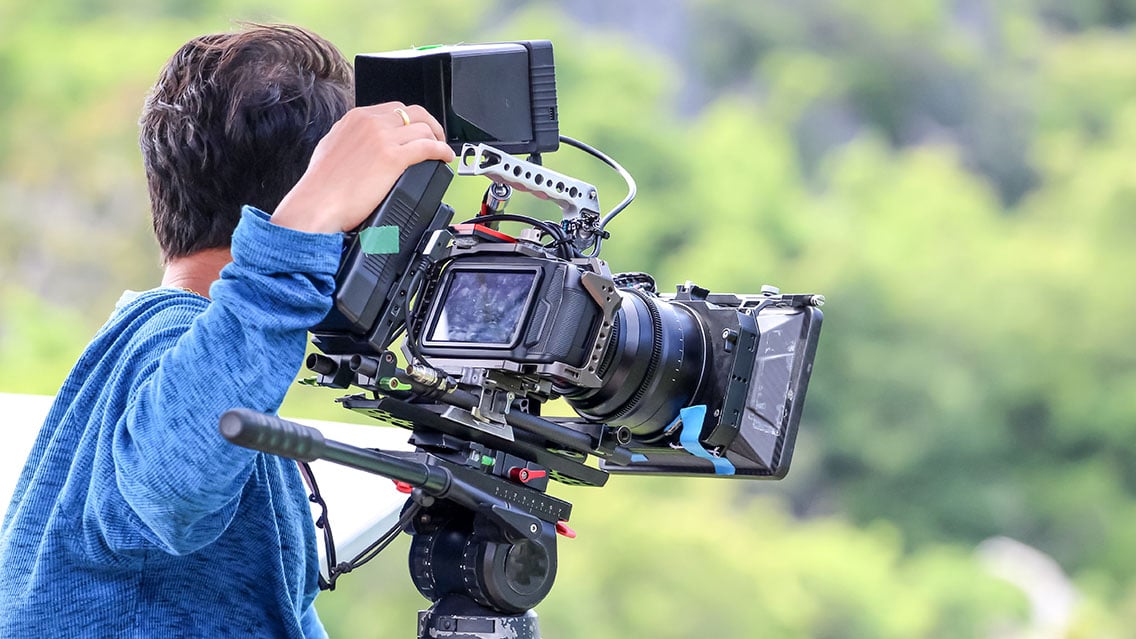 Have you ever watched a video, movie, or music video where you wish you could be teleported to wherever they shot it?
I know I've always dreamed of being transported to The Shire from The Lord of The Rings trilogy. I even wished to see the gorgeous views from Game of Thrones (minus all the killing), and I was lucky enough to do so on a guided tour while in Ireland.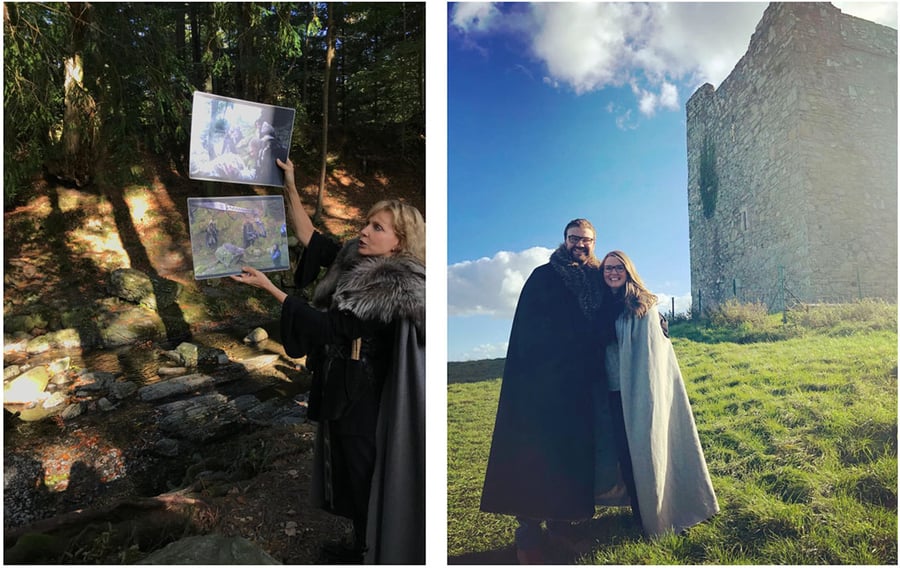 Game of Thrones Tour in Ireland - October 2018
That's the beauty of on-location shooting.
It's finding those naturally beautiful, or perfectly staged spaces to capture a particular mood or aesthetic that can help attract your audience's attention and immerse them into the story you're telling.
Naturally, finding the perfect on-location spot may require traveling, even for marketing or corporate videos. This could mean traveling to the location itself or hiring the perfect video production team for your project to travel to your desired location.
Even if you're shooting locally, oftentimes, an out-of-state company is the perfect fit for your creative content needs. With COVID-19, you might be wondering if such companies, like VMG Studios, are traveling or even just shooting on-location.
We are excited to say the answer is yes! Of course, we're doing so with health and safety at the forefront for all crew members, clients, talent, customers, partners, etc.
This article will outline how we're able to travel and shoot, the precautions we're taking, and the on-set requirements we've implemented to make sure your project is completed while keeping everyone safe and healthy.
Benefits of Shooting a Live-Action Video On-Location
While you can control more variables while shooting in a studio, such as lighting, noise, stylized set design, etc., there are many circumstances where shooting in a studio won't work for your video.
The following 2 main reasons are, of course, project dependent, but ones to consider when coming up with the creative concept for your next marketing or corporate video.
1. Authenticity
Consumers are savvier than we might give them credit for. There's a good chance they can tell your on-camera talent is in front of a green screen or that the kitchen you built isn't in a luxury home but a studio instead.
"Well, who cares if they can tell that it's all staged?" you might ask.
Your consumers do.
A survey found that 86 percent of consumers say that authenticity is a key factor when deciding what brand they like and support.
Besides wanting to delight and engage your consumers, authenticity in shooting can help drive home a certain style or aesthetic of the video you're creating.
If you're promoting a new soccer cleat, let's see it in action on athletes playing a game of soccer on an outdoor field. If you're a coffee chain, let's see customers in an actual store enjoying the ambiance of a mid-morning caffeine break.
While you can control things such as lighting in a studio, it can be hard to replicate the lighting as the sun goes down (also known as "golden hour").
If your creative idea feels forced or restricted within a studio setting, that's a sure sign that an on-location shoot is the route to take.
2. Convenience
Convenience can often go hand-in-hand with authenticity and the type of content you're producing.
If it's a new employee training series, it might make the most sense to film at your office space. If you own a chain of brick-and-mortar stores, you have access to those locations for shooting. Your house might even have the perfect kitchen for a series of recipe videos featuring your home décor line.
If you have the perfect space for your intended creative concept, this can also be a cost-effective method for producing a live-action video.
Sure, sometimes an on-location shoot is the opposite of convenient (like shooting in a remote village of Iceland for Game of Thrones). But, I'd argue that it would be pretty awesome to travel to Iceland for a work trip!
Traveling Requirements for On-Location Shooting
Speaking of traveling, we (meaning video production companies) can still travel to on-location shoots even during COVID-19. With this in mind, we have many health protocols in place to ensure everyone involved in a video project remains safe and healthy.
It's also important to note that every state has its own guidelines for video production, which our crew members will adhere to and review before every project. We will dive into the Washington State requirements (where VMG Studios is located) later on in this article.
1. COVID-19 Tests and Results Required Prior to Traveling
Many airlines already require this, but it's something we think is important as well in protecting ourselves and others from COVID-19.
Not only will we require all crew members to get a COVID-19 test before traveling, but we will also require that they get a negative result prior to departure.
In addition, our crew members will be required to quarantine while awaiting test results to ensure they aren't exposed after being tested.
Naturally, all crew members will also adhere to travel guidelines within airports and airplanes such as wearing masks, maintaining distance from others, and washing hands frequently.
2. Crew Members Will Quarantine Together Once On-Location
Once our crew members are at their destination, they will stay in the same hotel or Airbnb and will only travel to the shoot location.
This means they will not take part in any sight-seeing or anything recreational to, once again, prevent exposure to COVID-19.
Our priority is our client's project; therefore, we will not risk anyone getting ill by doing something other than the job we were hired for.
3. Limit the Crew Size
While we wish we could send every crew member at our disposal, we will limit the number of people traveling.
We've been in the video production business for 15+ years, so luckily, we know how to work with a small crew while still delivering a final product our clients are happy with. This may even include simply sending our director of photography and a single producer.
If more help is needed and it isn't within the project budget or doesn't adhere to our safety guidelines to send more VMG crew members, we can also resort to hiring local freelancers. This will help cut down on the number of people traveling and can often be more cost-effective.
And again, any additional crew member whether they're traveling or being hired on-location will be required to have a negative COVID-19 test before coming on set. They'll also be required to quarantine with the crew outside of the filming/production schedules if it's a multi-day production.
If on-camera talent is required for a shoot, we'll also hire locally, if possible.
Health and Safety Protocols Once On-Set
While we are open to traveling, we can of course still accommodate local shoots, as well. VMG Studios is located in Bellevue, WA, which is part of the greater Seattle area. If you're a local company or you're hoping to shoot in Washington State, we are ready to meet you where you are.
The governor of Washington, Jay Inslee, in conjunction with the Washington State Department of Health has outlined requirements for safe video production during COVID-19. We have based our on-set safety protocol per government guidelines.
Keep in mind, that these guidelines may change, and we are keeping on top of the latest developments. Also, as earlier mentioned, we will adhere to any state guidelines dependent on the video's shoot location.
1. Designated Health and Safety Crew Member
While on set, VMG will have a dedicated team member whose job it is to ensure that all health and safety rules are being followed internally.
This person acts as an infection mitigation coordinator and will manage all other protocols, including providing personal protective equipment (PPE) such as face coverings, gloves, and hand sanitizer for all crew and talent.
This person is vital to the health and wellbeing of the people on set from arrival to departure.
2. Temperature Checks
One of the symptoms of COVID-19, which appear 2 to 14 days after exposure to the virus according to the CDC, include a fever. Therefore, all people on set must have their temperature checked upon entering the building.
Anyone displaying a temperature of more than 100.4 degrees Fahrenheit (38.0 C) or anyone who has a cough will be denied entry and directed to appropriate medical care.
3. Face Coverings
Health officials have found that people who aren't showing symptoms (asymptomatic) and those who have yet to show symptoms (pre-symptomatic) for COVID-19 can still transmit the virus. To combat this, the CDC highly recommends the use of face coverings, especially when indoors with other people.
While on a VMG set, people are required to wear a cloth face covering or mask that covers their mouth and nose when people cannot maintain 6 feet (two meters) of separation. This includes wearing a mask in shared areas such as the kitchen or bathroom.
4. Gloves and Hand Washing
The CDC also recommends wearing gloves to help combat the spread of COVID-19. Gloves are especially helpful when it comes to multiple people handling the same equipment or in situations when people cannot maintain physical distance.
While at VMG, people must wear gloves when:
Conducting health checks on crew
Applying make-up
Handling or helping with a microphone
Handling food or any items on which infection can be transmitted
When using cleaning or disinfecting materials
It's also extremely important that crew members wash their hands for at least 20 seconds throughout the day.
5. Sanitizing and Handling of Equipment
Cameras, tripods, lights, and microphones are necessities on a video production set and are often adjusted and moved around the set to capture the desired aesthetic. But studies show shared surfaces can be a danger for spreading COVID-19 since the virus can live for a fairly long period of time on objects and surfaces.
In general, we advise our crew members to avoid handing off and sharing equipment, if possible.
If multiple people need to be handling the same equipment, we require that those people wear gloves while doing so. It's imperative that all equipment is sanitized before and after each use.
Shooting On-Location for Your Next Video Project
It has been extremely impressive to see how quickly everyone has shifted to some of the "new normals" of remote work, such as endless Zoom calls.
Luckily, thanks to technology, many of us have been able to continue our video marketing strategies throughout COVID-19 with alternative live-action options such as screen-recorded video and stock video.
However, with just about every company turning out video content with that same COVID-friendly look and feel, it's starting to get a little old.
Plus, this kind of content is no longer evergreen, meaning it's apparent of the times in which it was captured. This means you likely won't get to promote this content for as long as you could with most marketing videos shot pre-pandemic.
Thankfully, we are able to get back behind the camera not only in-studio, but also on-location as government and health officials work diligently to make it safe to do so.
Bonus: we can further tap into our creativity once again to produce eye-catching video content to delight and engage your target audience beyond a recorded Zoom call.
There are many benefits to shooting video content on-location and VMG Studios is dedicated to take on your project wherever you may be.
Interested in video production services? Click the image below to schedule an introductory planning conversation with us!