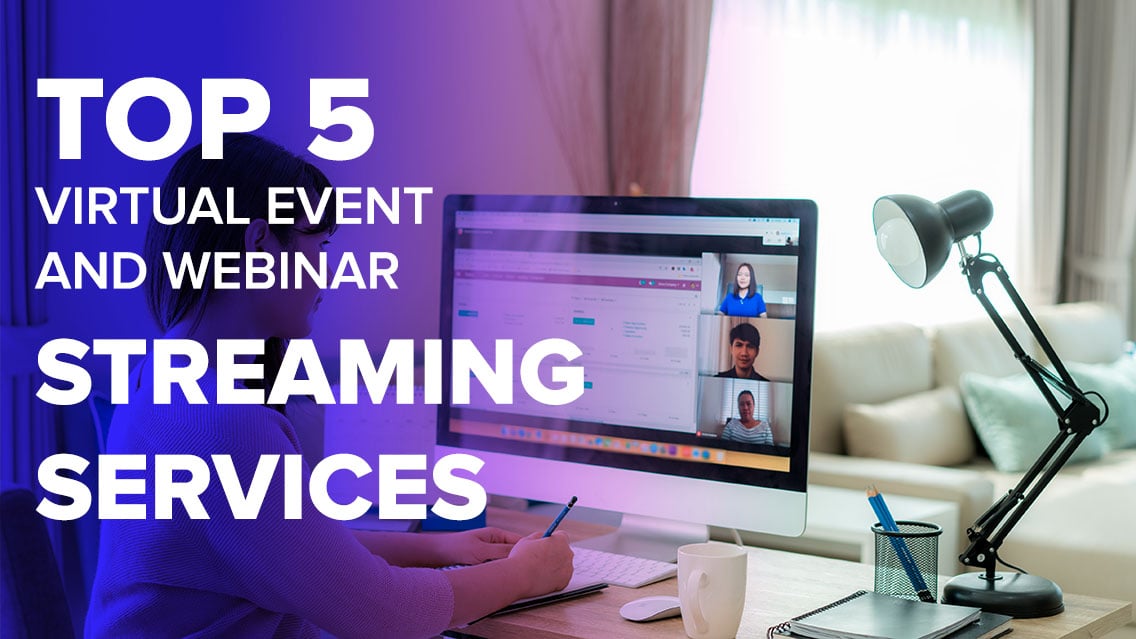 Virtual events, live-streaming, and webinars are on the rise thanks to impressive technology and online, global access. This type of deliverable content is also seeing a spike in popularity due to a shifting work-from-home culture amid the COVID-19 pandemic.
There are many benefits to hosting virtual events, including the ability for people around the world to attend and the interactive features that allow attendees to participate and collaborate with one another and with the presented content.
Deciding to host a virtual event – whether it's a conference, product launch, training course, or TED Talk-type lecture – may be an easy one but figuring out how to do so probably isn't as simple.
A big part of the success of a virtual event is where it's hosted. The streaming service or platform. And there are dozens to choose from.
As a creative marketing agency that specializes in video, animation, and dynamic presentations, we are learning the ins and outs of virtual event production alongside many of you and have conducted research to better understand this event strategy.
This article will lay out the top 5 virtual event streaming services, in no particular order, based on customer reviews, services offered, features, and pricing.
1. BigMarker
BigMarker is a video platform for webinars, summits, and virtual conferences. On its website, BigMarker boasts its technology which "helps people turn dull monologues into engaging conversations that activate audiences and build stronger relationships."
Services

Live webinars

Web summits and series
Live streams and webcasts
Automated webinars
On-demand video
Webinar marketing
One of the main selling points for BigMarker is its webinars run in the cloud through a web browser meaning no download is necessary – something your attendees will likely appreciate.
Features

Embeddable video player which is ideal for pre-recorded content.
Lead forms
Polls
Q&A
Stream to Facebook and YouTube
Some of BigMarker's clients, according to their website, include Google, Samsung, McDonald's, Panasonic, Wells Fargo, and Waze.
Pricing

Starter

$79/mo
Up to 100 attendees

Elite

$159/mo
Up to 500 attendees

Summit

$299/mo
Up to 1,000 attendees

White label

Needs to contact BigMarker for pricing options
Up to 10,000 attendees
BigMarker is transparent about their pricing options and the features that come with each tier on their website. They also offer a free 7-day trial.
2. vFairs
vFairs highlights its ability to give you "all the ingredients to host a successful virtual event." vFairs supports virtual events with audiences of scale and reporting capabilities. Its services are broken down into 3 main categories: organizations, corporations, and universities.
Services

Virtual conferences
Job and career fairs
Trade shows
Onboarding fairs
Alumni networking events
vFairs offers 24/7 global customer support, multi-lingual support, and its products are mobile compliant and accessible.
Features

Custom registration forms
Virtual lobby for attendees
Information desk
Interactivity tools
Q&A
Polls
Clients include, but aren't limited to, Nestle, American Airlines, Six Flags, T-Mobile, and Ford.
vFairs does not explicitly list pricing options on its website, but according to one of its educational guides, the cost of a virtual event starts around $8,000.
vFairs has an extensive learning hub of educational content on their website to learn more about virtual events.
3. Adobe Connect
Adobe Connect supports businesses including enterprise-level corporations, government organizations, and schools with web conferencing capabilities. Its website highlights its multilayered security approach – a big selling point for some of their clients including the U.S. Department of Defense.
Services

Webinars
Meeting rooms
Live virtual classrooms
Adobe Connect offers webinars, daily demos, and on-demand recordings on how to use their services.
Features

Screen/document sharing
Polls
Q&A
Chat
Rich media sharing
Customizable layouts
Other clients of Adobe Connect, besides the U.S. Department of Defense, include SAP, Toshiba, and Johns Hopkins University.
Pricing

Webinars

$130/mo for up to 100 participants
$470/mo for up to 500 participants
$580/mo for up to 1,000 participants
Must contact the sales department for requests of more than 1,000 participants

Meetings

$50/mo
Meeting with up to 25 participants

Learning

$370/mo
Virtual classroom with up to 200 participants
If you'd like to get a sneak peek at Adobe Connect, it does offer a free 90-day trial period for meetings which can host up for 25 participants.
4. Livestream (from Vimeo)
Vimeo is a popular video platform so it's no surprise that it offers end-to-end streaming solutions. Livestream boasts unlimited viewership for most users, as well as options for brand control including adding your logo or sponsors to your stream.
Services

Virtual events
Conferences
Meetings
Trainings
Livestream utilizes Vimeo's internal video gallery which is a centralized portal where you can publish, manage, control access, and archive all your corporate videos in one place.


Features

Live polls
Q&A
Audience chat
Analytics
Video management
Live production
Livestream has a long list of clients including LinkedIn, lululemon, Toyota, Sony, and Spotify.
Pricing

Premium

$75/mo
Ideal for small organizations

Enterprise

Must contact sales for pricing options
Ideal for larger organizations
Users can also stream their content to Facebook Live, YouTube, Periscope, and Twitch with Livestream's Simulcast dashboard.
5. WebinarJam
WebinarJam sells itself as the online live virtual events streaming platform for anyone: anyone who is looking to connect with an audience, sell a product, coach a program, etc. It offers hybrid webinars, meaning you could play pre-recorded content during a live webinar.
Services

Live webinars
Pre-recorded webinars
Recurring webinar series
Event page builders
WebinarJam uses cloud-based broadcasting technology and allows up to 5,000 participants in a single presentation.
Features

Live chat
Polls and surveys
Video injections
Automated recordings
Mobile friendly
WebinarJam anticipates the fear of failing technology with a "panic button" feature. If you're detecting technical issues, you can click the panic button and the system will immediately boot up a new live room while automatically transferring all the presenters and attendees into it.
Pricing

Basic

$499/year
Unlimited webinars
Up to 500 attendees
2 hours max duration

Professional

$699/year
Unlimited webinars
Up to 2,000 attendees
3 hours max duration
Panic button

Enterprise

$999/year
Unlimited webinars
Up to 5,000 attendees
4 hours max duration
Panic button
WebinarJam also hosts a library of on-demand webinars from more than 3,000 creators spanning an array of topics such as fitness, finance, parenting, cooking, gaming, beauty, home and gardening, and much more.
Finding the Right Virtual Event Streaming Platform
If you're new to holding virtual events and live webinars, finding the right streaming platform can be overwhelming due in part to the long list of options. However, finding the right fit doesn't necessarily need to be the first decision you make when planning a virtual event. In fact, it probably shouldn't be the first decision.
Start organizing your event by identifying your budget, the number of attendees you expect, whether you want to sprinkle in pre-recorded content, and how you want to interact with the audience, and you will be able to whittle down the list of options.
If you need help outlining the elements of your event, download our free virtual event creative brief to start planning today.