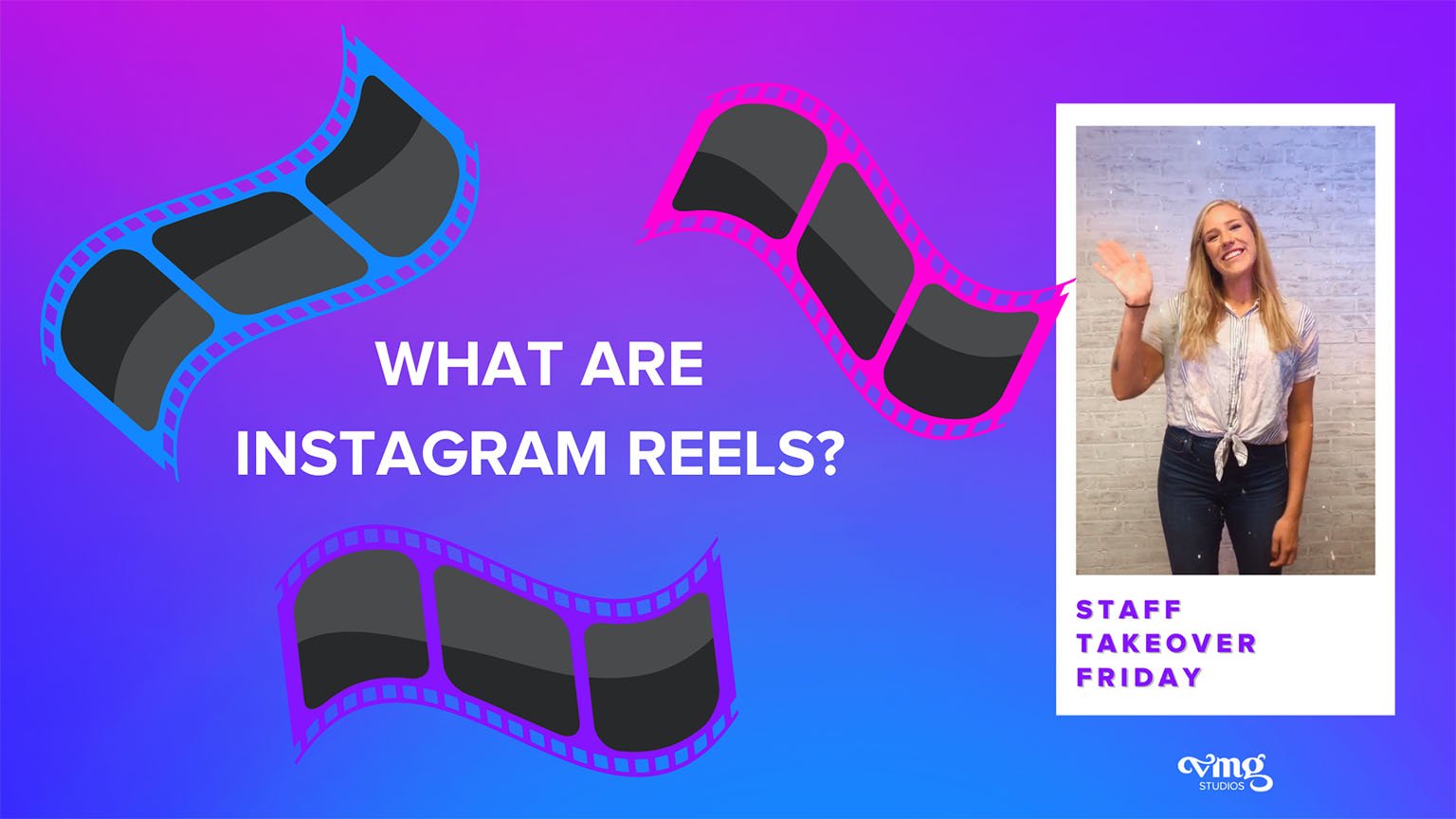 Article last updated: September 23, 2020
Move aside, TikTok. There's a new sheriff in town!
In August, Instagram launched its new in-app video sharing platform known as Reels. Whether you've heard of it or not, you may still be wondering what exactly "it" is.
Essentially, Reels are a "new" way to take and share short-form video clips that get people thinking creatively and innovatively with transitions, effects, and audio features.
We say "new" in quotations here because Reels have already been widely compared to TikTok in form and function (more on that shortly).
As a creative marketing agency that specializes in video production, VMG Studios decided to give Instagram Reels a try to see how they could be incorporated into any company's social media strategy. (Spoiler alert: we're having a lot of fun with them!)
In this article, we're going to break down why you need to know what Instagram Reels are, especially if you're marketing a small business, and how to get the most out of using them while they're hot, hot, HOT.
Please keep in mind that since this is a relatively new feature that's still being developed, there may be some changes or insights that aren't immediately reflected in this article. However, we are working our best to keep on top of the latest updates and will update our content accordingly.
Instagram Reels vs. TikTok: What's the Difference?
TikTok is a stand-alone video sharing app that grew quickly in popularity with more than 2.3 billion all-time downloads.
When Instagram Reels were announced, many of us here at VMG wondered how it differs from TikTok, so we started doing some research. Here are some notable differences right off the bat:
| | |
| --- | --- |
| Instagram Reels | TikTok |
| Max video length = 30 seconds | Max video length = 60 seconds |
| Record natively or use clips from your phone's gallery | Record natively or use clips from your phone's gallery |
| Reels explore feed | "For You" page |
| Shareable through your feed, stories, and in the new Reels tab on User Profiles | |
One of the main reasons VMG Studios decided to experiment with Instagram Reels and not TikTok is because we know that most of our clients are already using Instagram and are less likely to download TikTok which is popular among a younger demographic.
Different Ways to Use Instagram Reels
You may be thinking, "Wait a minute! What does this have to do with marketing strategy? Aren't these videos just silly people doing silly things to go viral?"
Well, you're kind of right.
One of the miraculous things about how social media is evolving is how it has merged meme culture into business strategy. There are several different ways that Reels can be used depending on your goals:
1. You Can Educate Your Audience with Instagram Reels
When Reels first launched, clips could only be 15-seconds long, but Instagram has since expanded Reels to 30-seconds. Even though these are short clips, there are still creative ways to pack in plenty of information within the short time parameter. Some examples (these are all 15-second clips) include:
•Recipe videos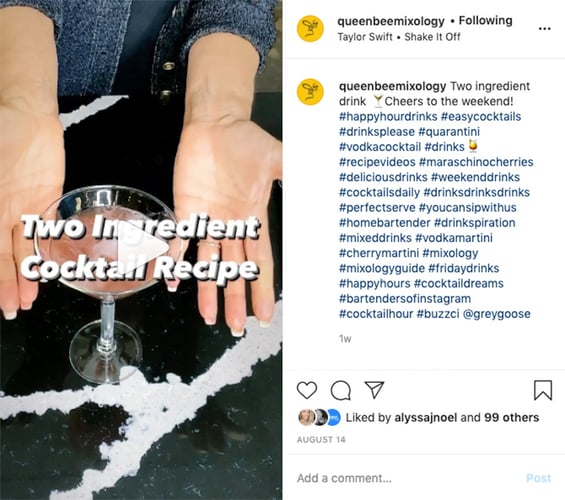 •"How to" or "Tips and Tricks" series
Fun fact: Google found that how-to videos earn the most attention of any category on YouTube, even more than music clips or gaming.
•Develop a process timelapse
2. Use Instagram Reels to Showcase Your Company Culture and Boost Morale
Company culture and values are becoming increasingly important for consumers. Clients want to support companies they trust and one way to increase your brand recognition is by giving a sneak peek into your company culture. Ideas for this include:
•Introduce your team and implement "Instagram takeovers"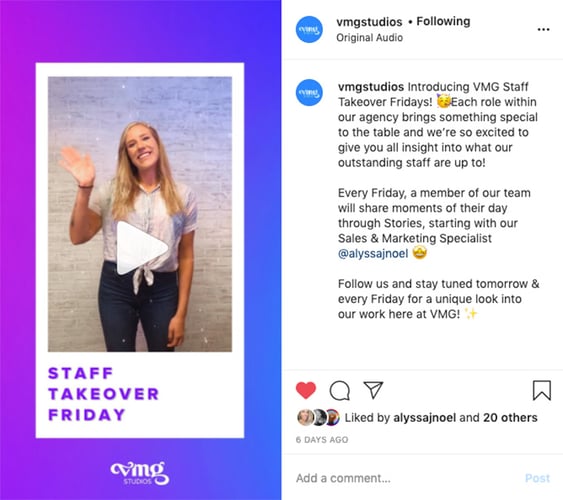 •Participate in social trends and challenges
3. Instagram Reels Can Help Humanize Your Business and Make New Connections
This type of Reel goes hand-in-hand with showcasing your company culture. Put a face, or several faces, to your company so that when prospective clients reach out, they can get to know who they'll be talking to or working alongside.
•Introduce yourself (with a CTA to begin networking)
•Deliver an elevator pitch what you have to offer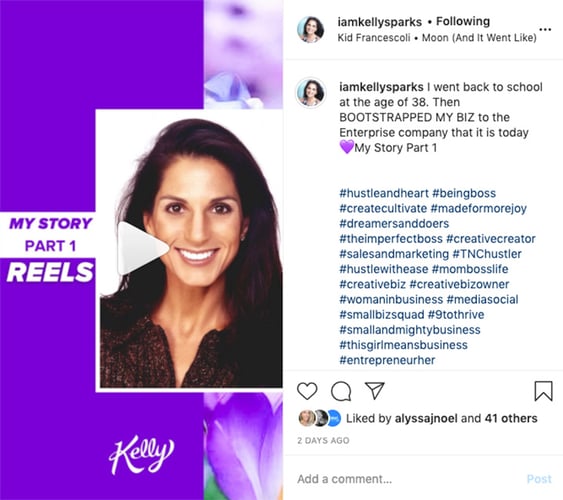 4. Use Instagram Reels to Have Fun
There are some things in life that simply need no further explanation besides it being fun. Coming up with a fun Reel may be your ideal way to unwind and play around with an emerging medium.
•Play with fun social trends
•Perpetuate memes (they make the world go 'round!)
•Get your creative juices flowing with content that utilizes transitions and timed text on screen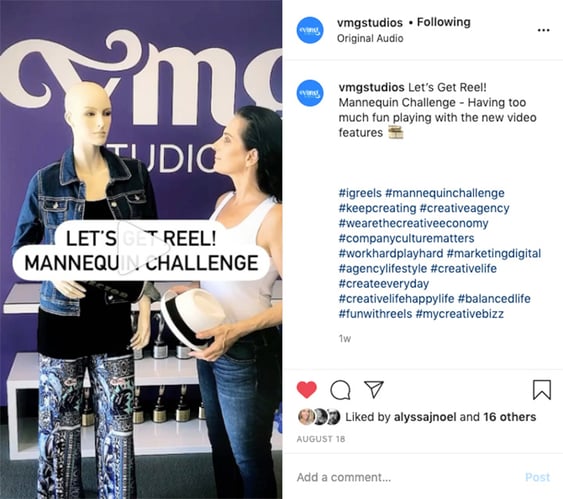 Why Instagram Reels Are Important for Small Businesses
So, why should you care about Instagram Reels? We know, it's a lot to keep track of right now. From keeping your blog up to date to managing your company's Facebook page to responding to comments on your YouTube videos, we can imagine how daunting it feels to have yet another thing to learn.
The good news is that though it may seem complex at first, Reels are actually quick and easy to produce with a high reward for putting in the effort.
Point blank, Reels are a new way to extend reach and increase engagement.
Posting to Reels now gives everyone an opportunity to be discovered through the explore tab, not just big accounts with massive amounts of followers.
The explore function of Instagram allows you to reach outside of your network, make new connections, create awareness, potentially generate new leads, and immerse your content into a feed shared by both people and brands.
Dual-purposing content is also made easy with the ability to edit camera roll clips in-app.
For example, VMG's passion project Queen Bee Mixology re-purposes 60-second recipe videos from our feed by cutting them down to 15-seconds (and now we can start doing 30-second clips!) and making some adjustments for fun visual effects. Our latest recipe Reel actually received twice the views as the original video itself!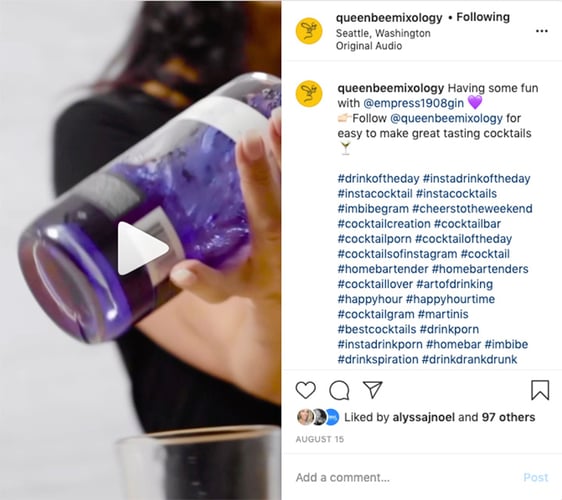 Since Instagram Reels are still fairly new, it can really only help your brand to jump on this early. In fact, there are rumors that early users will reap big rewards in the end as far as reach is concerned, so why not give it a shot?
FREE DOWNLOAD: INSTAGRAM CHECKLIST
Tips and Tricks on How to Implement Instagram Reels into Your Marketing Strategy
So, now that you understand why you need to jump on this train, we'll get to the good stuff: how do we do this?
We'll be honest, there is a lot to consider. Just like learning how to ride a bike, though, once you figure it out, it'll (hopefully) become second nature.
How to Record Instagram Reels
You can take your videos natively right within the Instagram app or use clips from your camera roll (much like posting a regular Instagram).
There are pros and cons each way.
For native recordings, you can slow down or speed up the recorded clip, use fun effects like AR filters, and even set an allotted time using a timer to record for perfect synchronization with music.
If you're recording within the app, for each clip you take, only the most recent one becomes editable. So, if you're going to need tons of takes, recording your video separately and uploading it later might be your best bet.
How to Add Music to an Instagram Reel
Another fun feature in Reels is the ability to add a soundtrack from the Reel audio library. To do this, simply tap the "Music" track on a Reel as you're editing on the middle-left of the screen. Browse and search music tracks by popularity or genre and preview each track by clicking the small "play" button to the right of the title.
Once you've made your selection, you will be able to choose exactly which 15 or 30-second segment of the song you'd like in your video and time your clips accordingly.
You're also able to use your own audio, which will show as "Original Audio" as the soundtrack.
Both Music tracks and Original Audio can be re-used by any Instagram user by tapping the track, and the original account will be credited.
While Original Audio provides users an opportunity to be discovered through a repost, it is worthwhile noting the benefits that come with utilizing Instagram's music library. Some social trends use specific songs, such as "Level Up" for the "Level Up Challenge."
Choosing a relevant track boosts your video in the algorithm, helping users discover your video.
Using Transitions in Instagram Reels
This is the bread and butter of reels and where you get to be the most creative. The best transitions are visually engaging, eye-catching, and set to the beat of your selected music choice.
Some popular transition examples include:
•Snapping your fingers
•Clapping your hands
•Camera zooming in/zooming out to a changed scene
•Jump cuts
•Moving/waving your arm
•Throwing a blanket over top
•Using the new "ghost" (align) feature
Filters and Text on Instagram Reels
Once you have your 15 or 30-second clip pieced together, the next screen gives you the ability to add filters, text, and stickers just like you can in an Instagram Story.
You will notice when you add text, brackets appear on the timeline at the bottom of the screen. This is because, unlike stories but very much like TikTok, Reels has the ability to edit text so that it appears and disappears at whatever points of the video you'd like.
You can adjust the size, style, and placement of text and then move the brackets to synchronize the text with your video.
Keep in mind, when the text isn't being shown on screen, you will still see a transparent version of the text, but this won't show on the final product. This transparent, ghost, or "shadow" version of the text (depending on the verbiage you like) is an alignment tool that you can use to make sure your text is lining up properly.
Instagram Reel Dimensions
When you post a Reel, there are multiple dimensions to consider. The Reel can be viewed in full-screen view (1080 x 1920), but when it comes across the feed or is previewed in Explore, the Reel is viewed as a portrait (1080 x 1350).
This can be tricky; we've already seen Reels on our feed with text cut off. Instagram has tried to assist with a grid feature that helps keep text within the 1080 x 1350 dimensions. We highly recommend taking advantage of this, so your video is optimized for no matter how it is viewed.
WATCH: HORIZONTAL VS. VERTICAL VIDEO: SOCIAL MEDIA BEST PRACTICES
Hashtags and Cover Images for Instagram Reels
This is a pro tip! You can hide your hashtags on the video itself to not distract your viewer and you can include those hashtags in the caption, as well, to crush the algorithm.
You can also add a custom cover photo or choose one from the clip (this will be what folks see in their feed before the video starts).
Sharing Instagram Reels
Share your Reels to both your feed and the Explore page for the best performance. The more places you share, the more people will see it, right?
"But the grid! I can't sacrifice the look and feel of my perfectly manicured grid!" you weep into the void. Well, dry those tears! Instagram has added the feature that allows you to remove a Reel post from your grid without deleting the post itself! REJOICE! Keep in mind, though, once you remove it from your grid, you can't add it back.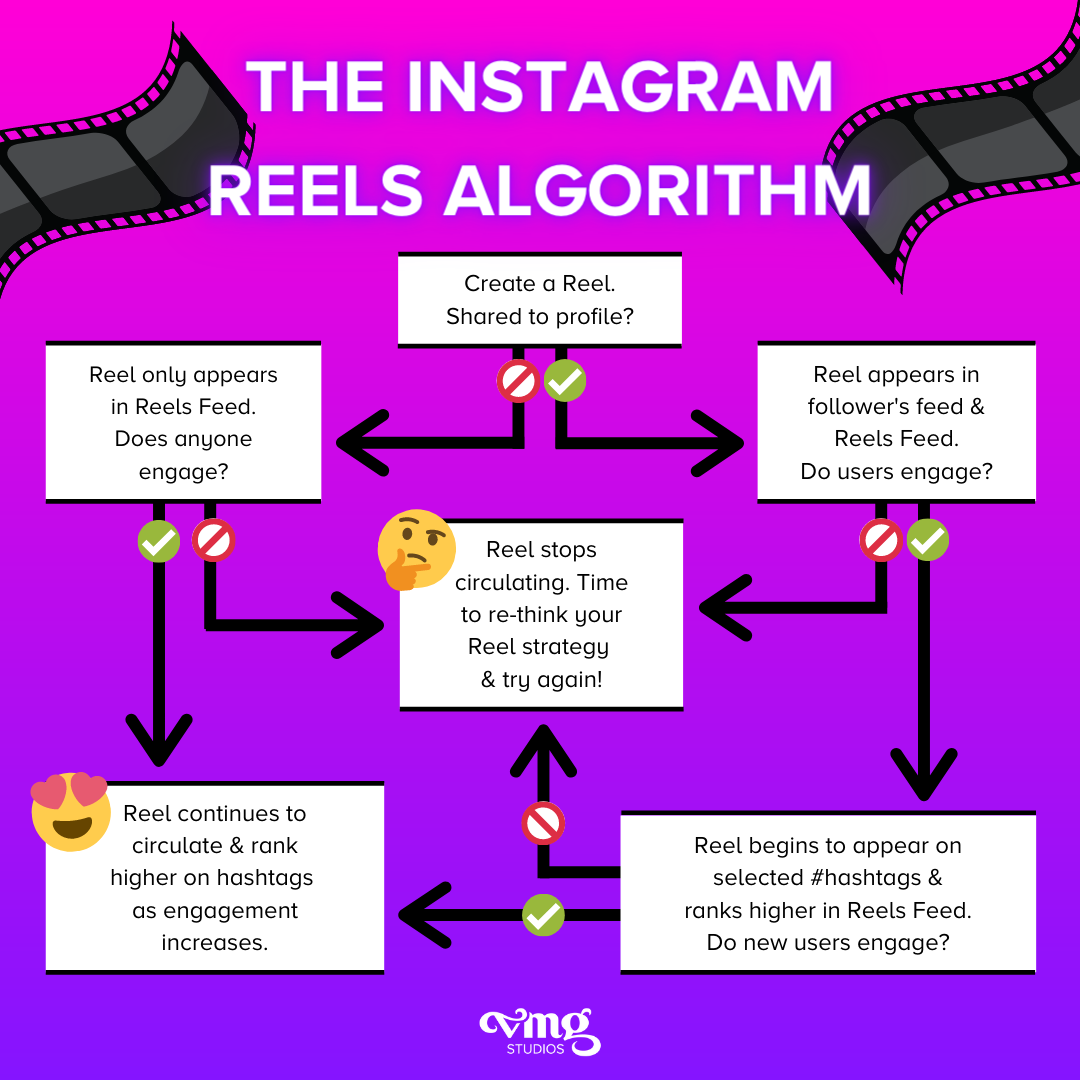 Issues and Bugs of Instagram Reels
It's sad, we know, but not even the titan Instagram can be expected to hit perfection in one shot. Here are some problems we've come across within the platform, some with solutions, some without. If you've discovered a workaround, please let us know in the comments.
Some Accounts Have No Music Function
Reels were beta tested and slowly rolled out across the country and rumor has it some accounts are given more features before others.
Instagram recently addressed that business accounts were left out intentionally due to commercial music rights restrictions. This leaves any account connected to a Facebook business account or registered as a business Instagram account without access to music through Reels or Stories. These users (VMG included!) have to use their own original audio or find another Reel with original audio to use.
Screen Recording Reels Doesn't Capture Audio
We think this one might be purposeful, as in a hoop Instagram has intentionally placed there for us to jump through. Videos can't be saved with audio and Instagram has recognized that users try to get around this by screen recording. We tried this ourselves since one of our accounts doesn't have the music feature yet, but we had no luck.
Adding Instagram Reels to Your Social Media Marketing Strategy
So, there you have it! You are now well prepared to take on Instagram Reels with style and flair. Just to recap:
•There are rumors that early adopters get rewarded, so don't wait! Get in there!
•The opportunities for reaching outside your network are vast.
•This is a platform that rewards creative and innovative thinking.
•By jumping on Reels, you demonstrate an ability to stay relevant and leverage platforms as they change.
•At this point, we only see the pros of getting content out there on reels.
Delight and engage with your target audience with Instagram Reels whether it's through educational content, company culture behind-the-scenes, or just some fun videos you want to share.
-Co-authored by Talena Laine
Ready to dive into Instagram Reels? Click the image below for a free, downloadable checklist!