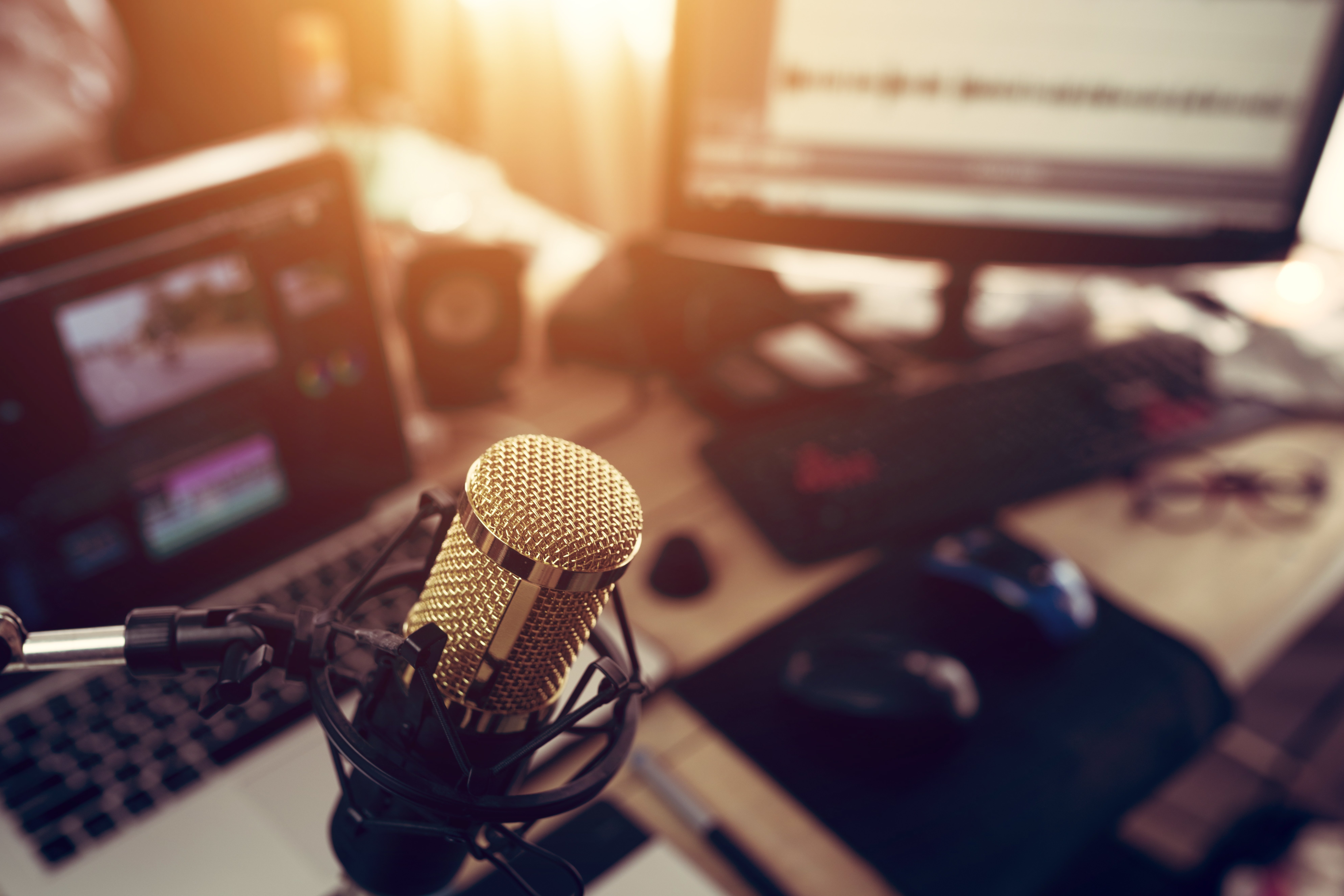 Regardless of genre preference, we can all probably agree that music plays a big part in how we experience video. Whether it's an unobtrusive music bed guiding us through a corporate introduction video, a sweeping orchestral score for a dramatic scene, or a pounding track fit for an action piece, music can have an enormous influence on the effectiveness of a video project.
Unfortunately, not every production studio has an in-house composer, and even if they do, that person might not always have time to create something original for a project. That's where music libraries come in.
A music library is an online source for various pieces of music. The music is tagged and searchable by pay preference for either à la carte or via subscription to use in your video. Licensing on these pieces of music can differ, but usually they're "royalty free" meaning you have the right to use the music without the need to pay royalties or license fees for each use.
This is a quick introduction to a few of the best music libraries on the internet today (in no particular order), how they're organized, the cost, and what they're like to use.
1. Premium Beat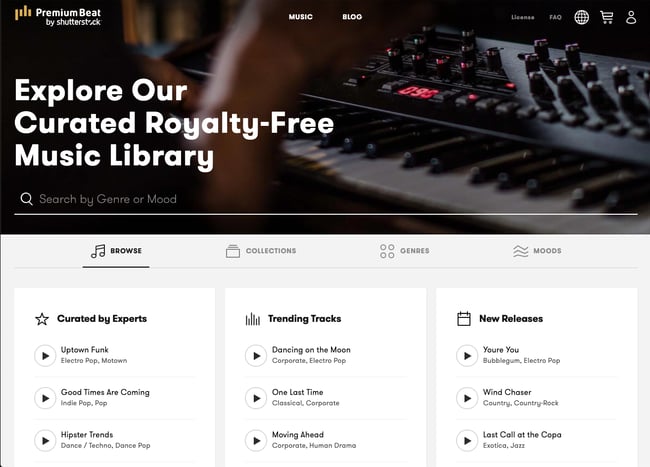 Premium Beat offers both music and sound effects, and right off the bat you can search by Genre or Mood. Right now, there are 30 genres and 26 moods ranging from Acoustic to Film Scores to Wedding and Thriller.
Once you've dived into a section of results, you can make granular changes to your selection by mixing and matching a huge selection of sub-genres and moods. BPM (beats per minute/tempo) and instrumentation are also available as categories, so if you want a 160 BPM Uplifting Marimba Death Metal song, you'll be able to search specifically for it.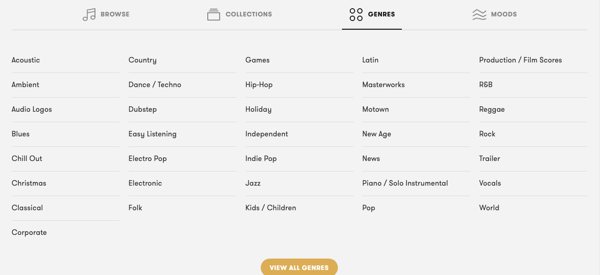 Once you've created a custom results page, you can listen to each track, track artist, and view its duration and specific BPM. You can also check out 15, 30, and 60-second edits for each track, which is useful for TV spots. Premium Beat also offers 6 loops for each track that can be looped seamlessly for your project needs.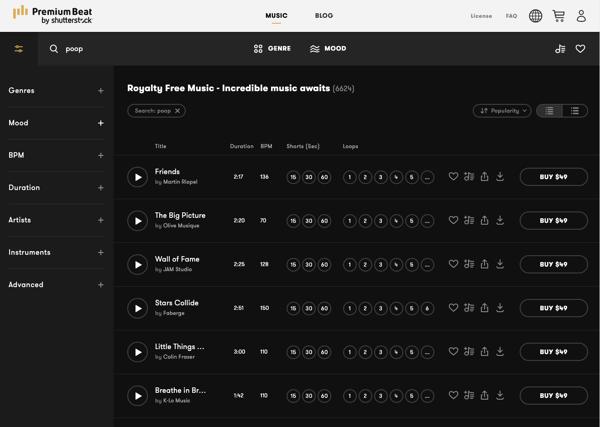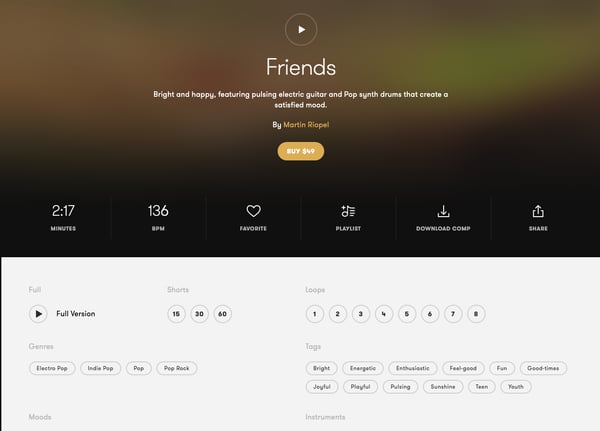 Standard licensing for tracks is $49. That's for projects that are web-based and aren't generating any revenue. If you're going to broadcast or you're making a movie with the music, you'll need to spring for the $199 premium license. Premium Beat has a slick interface and a great selection of music. Definitely worth checking out.
Click here to read "How Much Does a Video Cost?"
2. Soundstripe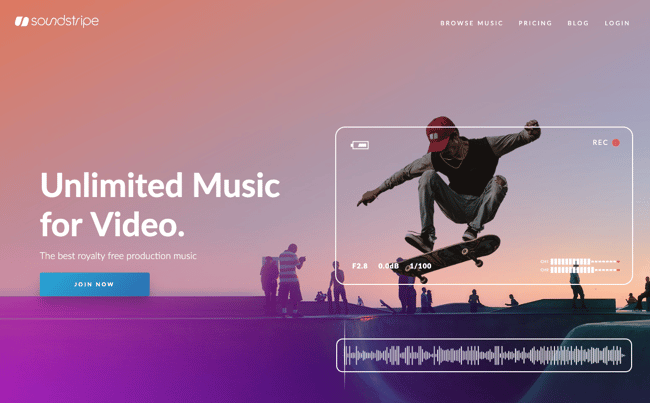 Soundstripe shares a lot of features with Premium Beat, and boasts a ton of curated playlists on the homepage to start. If you choose to search for a track, you're met with a great interface that includes search options Premium Beat doesn't, like Pace, and Vocals vs. Instrumentals. There's an exhaustive list of moods and genres, and tracks are tagged well and easy to find.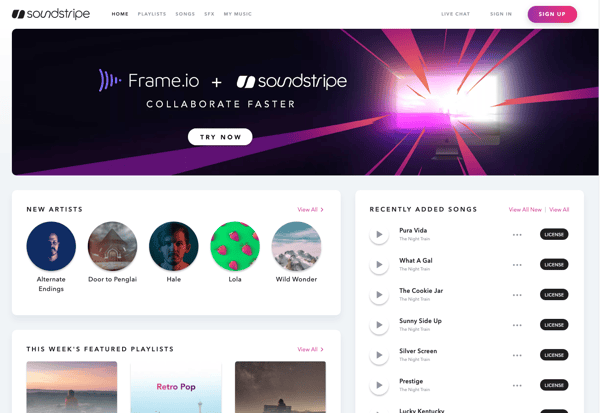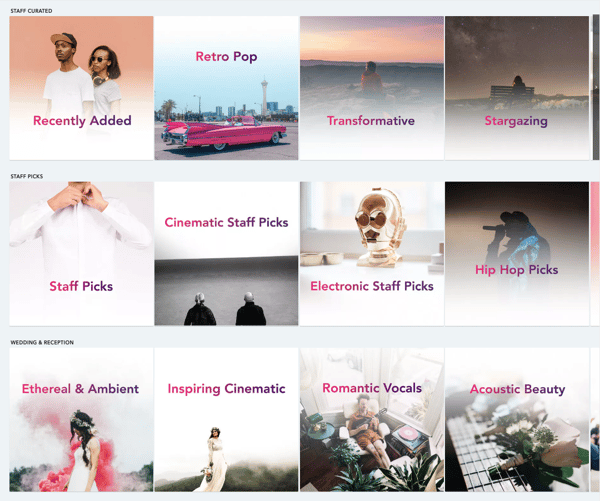 Each track also has a few variations, which can include stems (isolated instruments or vocals from the piece), or variations on mixes and duration. These can be helpful if you like the vibe of the track but want something a little more mellow, or without a lead instrument or vocal.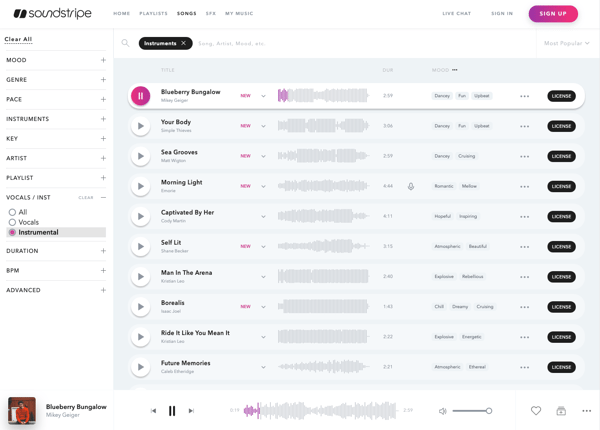 Soundtripe also offers integration with Frame.io, which allows you to send watermarked versions of selections to your projects on the platform. This gives you and your clients a slick way of trying out different music for your projects to find just the right track.
Unlike Premium Beat's pay-per-download, Soundstripe is a subscription service. The pricing for their Standard Plan is $11.25 a month and $135 a year. This includes unlimited licenses and custom playlists. A Premium Plan that includes additional features such as 30,000+ sound effects is $21 a month.
3. FirstCom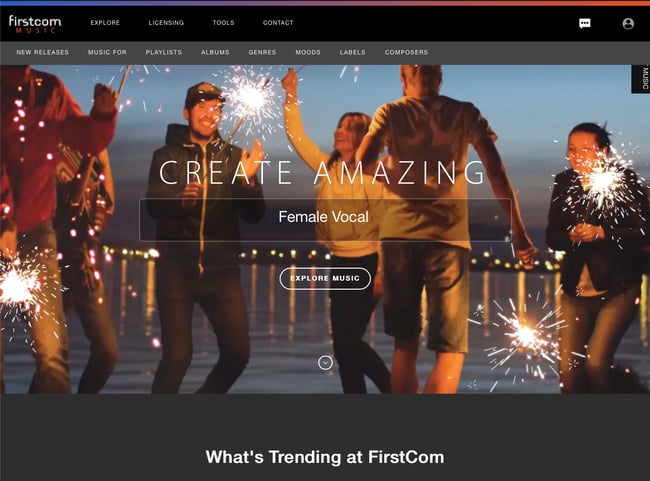 Once you log-in to FirstCom, you have the option of searching by keyword or exploring curated playlists based on intended use. The site also has a variety of other ways to interact with the catalog, including trending and collection spotlights.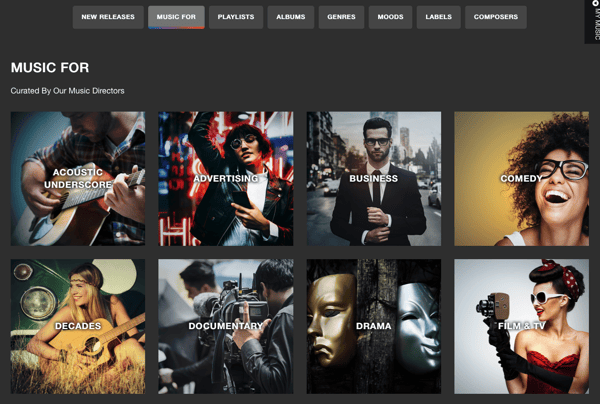 After searching, you'll get a modal popup with results from your keyword, including extra tags to add, track titles, albums, and playlists related to that keyword. From there, you can refine your search with a plethora of filtering options, including length, BPM, tracks featuring stems (individual parts), mood, era, and featured instruments.
When you've picked a track, you can also select which mix version you're looking for. They usually offer instrumental, underscore, and shorter versions of all tracks.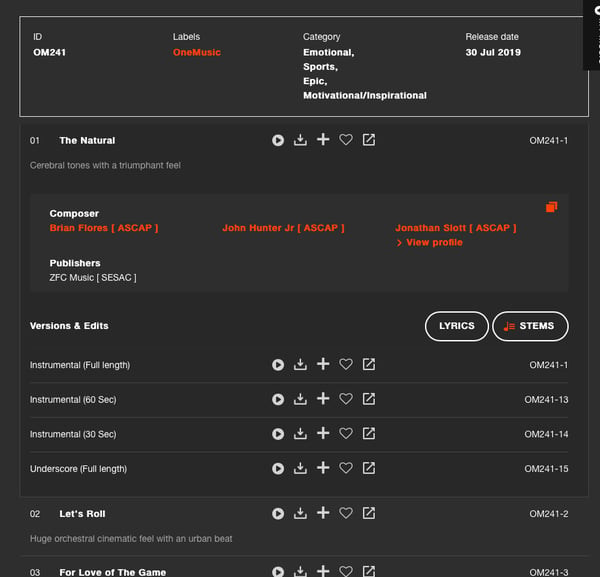 With such an extensive library, the task of hunting down the perfect track can be daunting. Firstcom's approach of offering multiple ways to explore their catalog helps immensely.
Firstcom also offers some nifty tools. There's a sound effects library for an additional fee. There's a really cool Premiere plugin that gives you direct access to their library within Premiere, a Cue Sheet Helper, and a BBC Orchestral Tool kit, all available for additional fees.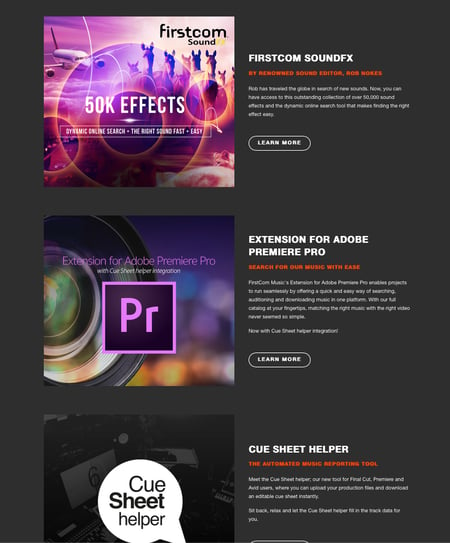 Firstcom is a bit cagey about their pricing online. That is due, in part, because they offer customized pricing. However, after reaching out to them, we were able to get a summary of their price points.
There are 2 ways to license music through Firstcom.
Blanket License: is similar to a subscription that covers multiple usages for an entire year or more. The rates are customized and based off projected usage and the required clearances.
Track Fee License: clients pay per project based on the distribution type (broadcast, digital media, social media) and the reach of the audience (worldwide, national, regional, local). Based on a spreadsheet of prices provided by a Firstcom representative, a track fee license can span anywhere between $49 and $4,500. If you have 4 or more projects a year, Firstcom says it'll likely be more cost-effective to go with a Blanket License.
One drawback of Firstcom I've experienced: they seem to have all of their music added to YouTube's Content ID system. That means if you use a Firstcom track in your YouTube video, they will claim it and monetize it. However, if you reach out to customer support with your video and Firstcom ID, they will whitelist the video.
4. Audiojungle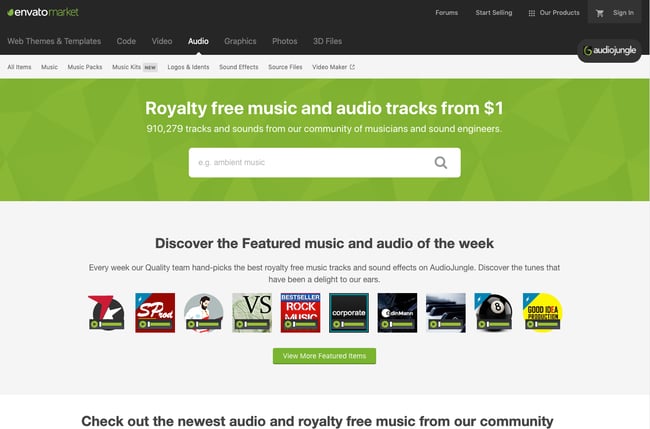 Audiojungle presents you with the standard search box, plus a bunch of curated picks. You can also scroll down a little further and see the variety of types of music content it offers. Aside from music tracks, there are packs, kits, sound effects, and stingers for logos and idents.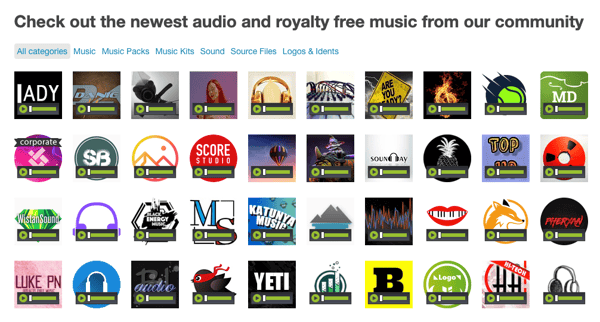 Once you've searched for a particular keyword you can browse the selections or filter them down. Filters include a robust tagging system, price per track, how popular the track is, length, tempo, and if the track includes any vocals.
Clicking on a selected track will bring you to a page for the selection that will give you a description, including which versions are featured in the download. They also offer a downloadable watermarked preview.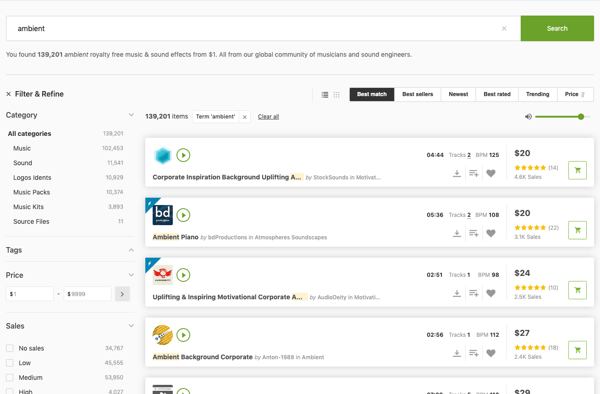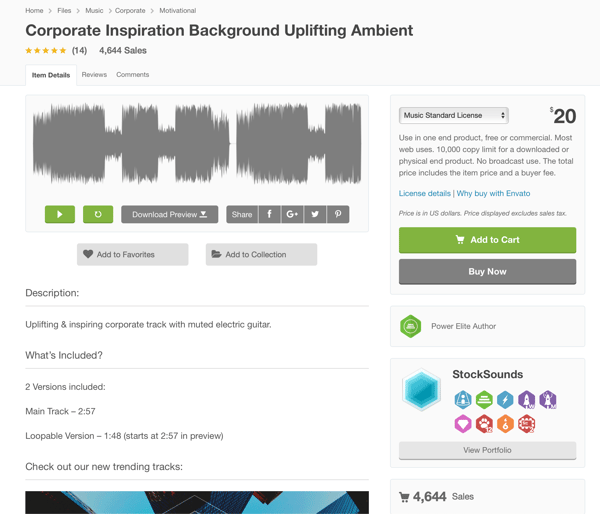 A standard license costs between $15 and $30 while a music broadcast and film license costs between $500 to $1,000. So, make sure to pick the proper license for your application.
The ability to search for stingers and sound effects on the same platform as music tracks make Audiojungle a unique offering in the lineup.
By the way, Audiojungle is part of content juggernaut Evanto and is synonymous with Videohive, which offers video after effects, clips, and graphics.
Finding the Right Music for Your Video Project
Finding the right music or sound queue for your project doesn't have to be a pain, and there's no reason not to try out all the platforms mentioned here to see what works best for you. We hope this guide helped shed some light on the different offerings so that you can make your projects sound better, faster.
Happy music hunting!
Click the image below for a free, downloadable checklist to help you build a YouTube channel