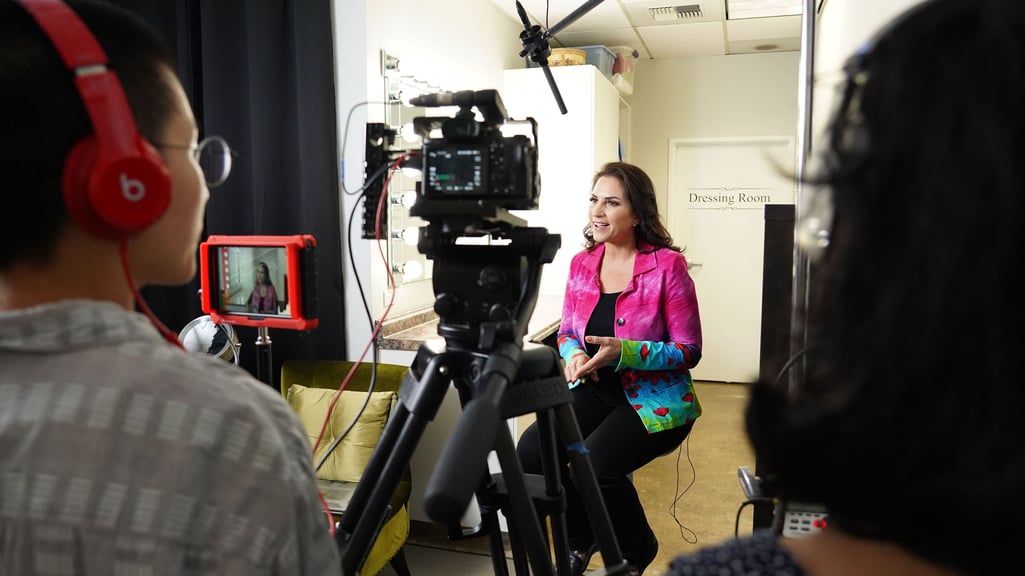 Success leads to more success.
That may sound like fortune cookie wisdom but it's absolutely true. It's also at the root of one of your most effective sales and marketing tools—the case study video.
A case study encapsulates a positive customer experience. It describes how your product or service helped a client achieve their business goals. And frankly, you can't have enough of them.
The Holy Grail of business success is word of mouth. When somebody likes what you did for them, they'll tell somebody else, who tells somebody else, who tells somebody else. It's like a big, profitable game of Telephone. The trick is to get that initial word of mouth going. That's where case studies come in.
Types of Case Study Videos
1. Testimonials
When you make a customer happy, the first thing you should do as a business owner is to ask the customer if they would be willing to give you a testimonial. Even if it's one sentence of praise, you can use that.
Collect enough of them and suddenly you have a very compelling series of "Atta Boys" that can go a long way in the world of brand awareness.
Another reason why testimonials are so effective is that you're not blowing your own horn, someone else is. Better yet, it's a customer. According to research from Nielsen, 92% of people will trust a recommendation from a peer and 70% trust recommendations even if they're from somebody they don't know.
This case study lets customers of Kevin Green's wealth seminars do all the bragging for him.
2. Story-Driven Case Studies
You already know the power of storytelling in the world of marketing. It's unequivocal: People love stories. Any time you can frame a win or success in a story format is good news for you.
You're taking a positive customer experience and packing it nice and neatly in a consumable way for other potential customers to discover.
In this case study, Canon USA shows very clearly how storytelling raised their company awareness.
READ: 9 DIFFERENT TYPES OF MARKETING VIDEO
Why Use Case Study Videos?
1. Case Studies Help Build Trust
As indicated in the Nielsen research numbers stated earlier, case studies help build trust between you and your customers. You're showcasing how your product or service benefited someone else from that person's point of view.
When others see that, it gives your business credibility, and credibility ultimately leads to trust.
Case studies can also show how your company is going above and beyond the call of duty to satisfy your customers. It shows you're innovating, and this approach engenders respect and trust.
What do I mean by this? This case study from Wonderbra showed the world just how far they'll go outside the box and push the edge of the envelope to provide exceptional service for their customers.
2. People Love Winners
Even more so, people like to associate with winners. Bandwagon jumping is a real thing. The more successful a company becomes, the higher the recognition factor. The higher the recognition factor, the more successful they become. It's wonderfully self-propelling.
Case studies point out the positives and show your company is good at what you do. And that's very attractive.
Your business can also benefit from drawing attention to your more high-profile clients. People like to do business with companies that do business with recognizable brands. The thinking is, "Well, if they're doing work for Nike, they must be good!"
HUSH digital agency rides on the coattails of Nike's name recognition in this case study. You may not have heard of HUSH, but you certainly have heard of Nike.
3. Case Study Videos Help Build Image and Brand Recognition
Case studies don't always have to be about a particular win for your company. A case study can be used to simply make viewers more aware of your company's culture or background. It can be very effective as a "Get to know us" video, because people like to do business with companies they can relate to or are more familiar with.
In this case study, Liddle Surfboards lets the viewer get up close and personal with the history of the company.
READ: HOW TO BUILD TO REVAMP A BRAND FOR YOUR BUSINESS
Case Study Video Best Practices
Use Data
If you want to show proof that your product or service helped a customer, see if that customer has any metrics that support that.
Did they get more visits to their website? If so, how many? Did their sales figures go up? How much? Numbers speak volumes and make it easy to see the tangible results.
If a customer got a 200% ROI (return on investment) courtesy of your service, that's a big selling point in your favor and you need to let everyone know about it. Numbers don't lie.
Here are two case study videos that have the metrics to reflect the success of their respective campaigns.
Go to 1:57
Go to 1:35
Moving Forward With Case Study Videos
82% of marketers use case studies in their marketing because it's proven to be effective. Case studies allow people to learn more about your business, products, or services through the eyes of a customer, which can help build credibility and brand recognition. They can also help bring new clients in the door.
So, if you already have a great customer who's tooting your horn, ask them if they'll go on-camera and tell the world! You may be surprised at how many people are willing to do so for companies they trust and value.
At VMG Studios, we're masters at the art of creating video case studies. We're storytellers at heart. If you've got a success story you want to spread to the masses we can help. Remember, success leads to more success. We're big fans of this particular fortune cookie wisdom.
Learn more about how much a case study video can cost below