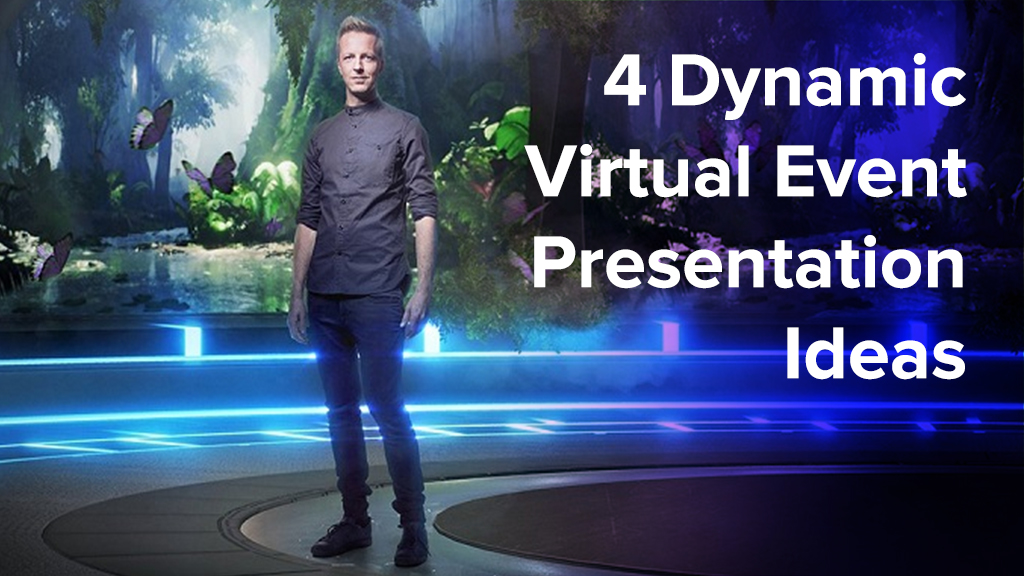 Image from Lost in Time
As the old adage says, the best-laid plans of mice and men often go awry. I'm sure many of us can relate to that this spring as travel plans are canceled, work from home is mandated, and events shift from in-person to virtual.
While virtual events have their merits, it's difficult to match the energy of a room full of people, chattering amongst themselves as they wait for the next speaker, and the subsequent hush of the crowd as the house lights lower and a well-respected industry leader takes the stage. The attendees are primed for a futuristic, mind-blowing presentation, ready to learn about new innovations or strategies that they'll be able to take back to the office and tell their coworkers about in the kitchen over coffee.
Fortunately, you don't need to sacrifice the "wow" factor when moving from a physical event to a virtual one. You can do so with:
Mixed Reality
Projection Mapping
Motion Tracking
Video with Motion Graphics
As a creative agency that typically creates a ton of content for events, we've compiled a few of our most compelling approaches for crafting a pre-recorded virtual keynote presentation that is engaging, entertaining, and most importantly, impactful.
1. The Future of Keynotes with Mixed Reality
Mixed Reality (MR) is the future of virtual presentations. MR is a next-generation process for film, broadcast, and live event production that merges real and virtual worlds to produce new environments with physical and digital objects that co-exist and interact simultaneously.
Mixed Reality is an approach that will keep your viewer transfixed on the screen, enraptured in not just the presentation content, but also the production itself.
Camera tracking combines with real-time rendering on an immersive LED set to create a surreal environment that responds and tracks with the presenter, live in-camera. When the camera moves, the environment on the set moves with it, perfectly in sync.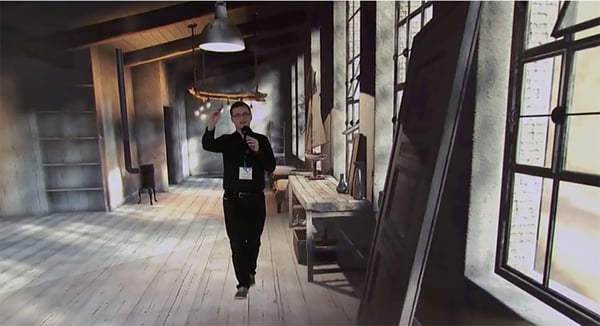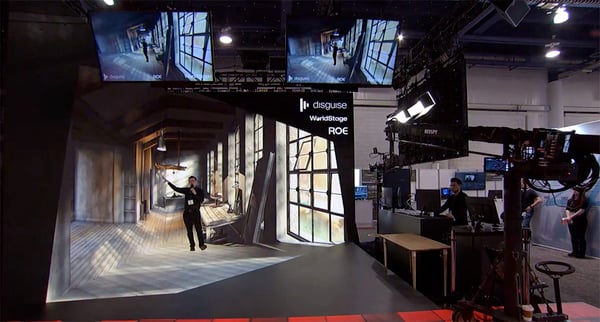 The goal of MR is to create a more compelling broadcast that captures - and keeps - the audience's attention. When watching an MR presentation, the first thing that goes through the viewer's mind is, "How are they even doing that?"
Using high resolution LED screens or projection surfaces in the space (like a studio with a white cyc wall), MR allows presenters to be immersed in a virtual environment. Camera tracking technology enables the on-screen content to be generated in real-time, rendered from the point of view of the camera.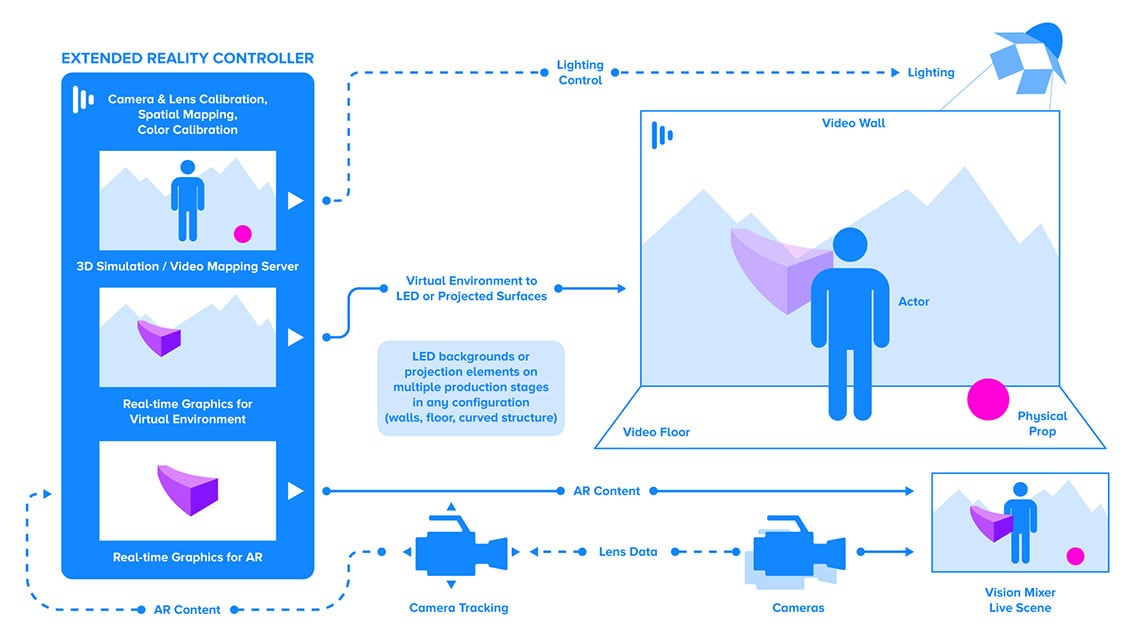 MR is all about creating engaging programming, with no need for confidence monitors, no awkward eye lines, or unrealistic lighting. Speakers and presenters feel at home within the space, giving directors the opportunity to capture raw emotion.
The on-camera talent feels more comfortable because, unlike when using a green screen, they can actually see and react to the environment around them. The environment is not added in post-production, it's placed there live, while the video is being shot.
The use of video displays in the space helps to overcome some of the challenges presented by a green screen. The lighting feels more natural, especially on skin tones, reflections, and transparent objects. There is no need for color keying, so clothing, lighting, and set design can be as vibrant as you wish, without the need to avoid reference colors.
The screens within the space only need to be as large as the performance area, since a virtual set extension places the actors in virtual environments that are much larger than the available studio environment.
MR allows the creation of multi-purpose studio environments. The entire setup can be applied to any type of programming with any visual aesthetic and any camera configuration.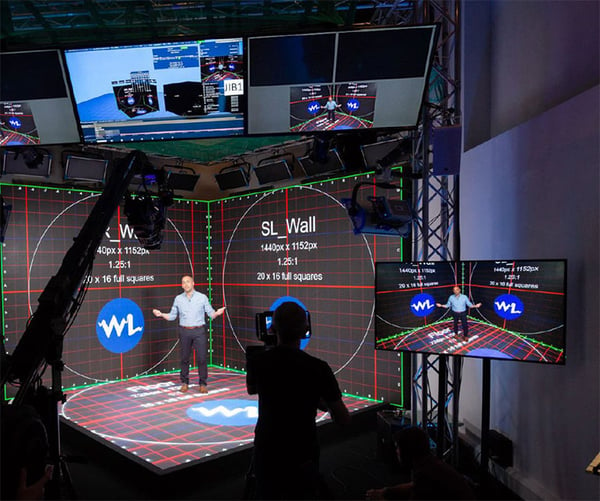 Advantages of Mixed Reality
MR content is created using real-time 3D engines, which allows changes to environments, objects, and lighting to be made live on set, without time-consuming offline rendering. This allows directors to explore creative options more easily, leading to better results in less time.
MR provides the ability to pre-visualize camera shots in real-time 3D. Since everything is created in a virtual environment, it's easy to try different configurations and shots before you get to set, reducing time wasted on site.
Once in the space, production can be ready to shoot in minutes, making it easy to get the speaker in and out when trying to limit the shoot time due to outside factors.
READ: PRE-RECORDED VIDEO CONTENT VS. LIVE-STREAMING FOR VIRTUAL EVENTS
2. Projection Mapping Adds Immersive, Multi-Dimensional Wow Factor
Similar to Mixed Reality, projection mapping surprises and delights your viewers by transforming normal scenic objects and sets into any location or phenomena required to not just tell the story, but to be immersed in it.
Projection mapping is a technology originally known for creating vivid art installations that has become popularized through amazing outdoor spectacles on architecture and incredible scenic effects in concerts, conferences, and theaters. Imagine it as magical paint that can coat any object with images.
Projection mapping works well at any scale, whether on a large building facade, or an imaginative scenic object, like a statue.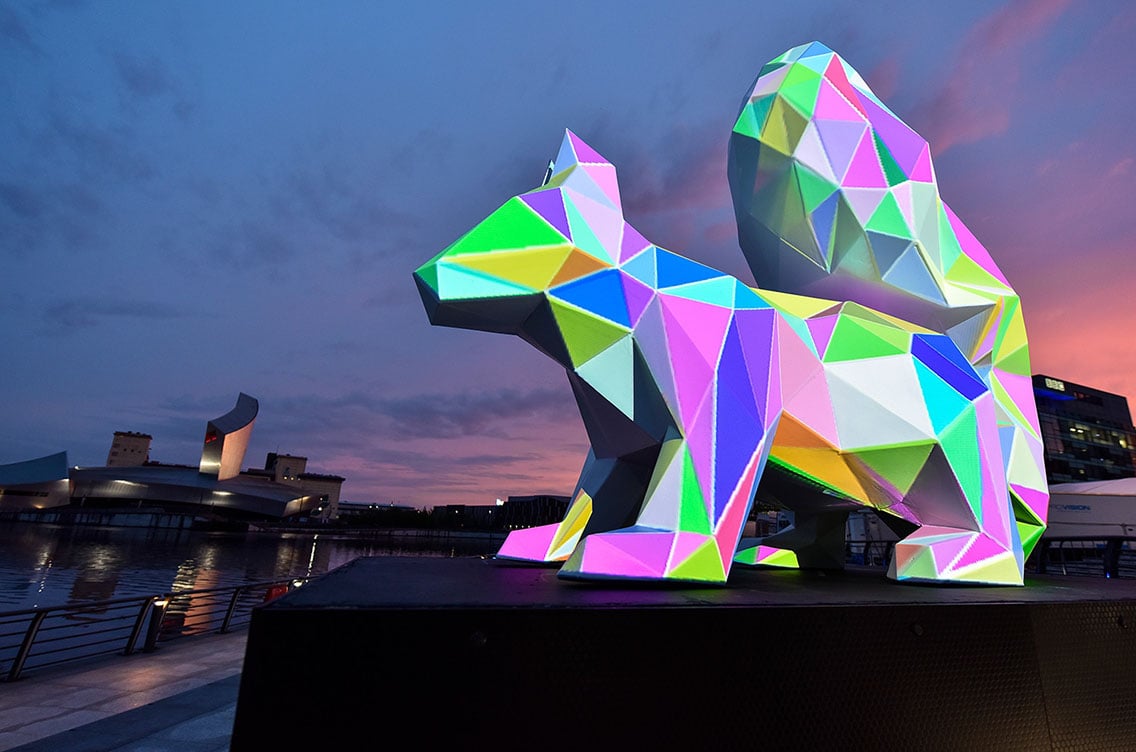 It's pretty simple - projectors are pointed at the architecture, scenery, or object. Using AI-powered object scanning and analysis, a template is created for content creators to make CGI and motion graphics that specifically map to the object. When the content is fed to the projectors, it perfectly aligns with the object and appears to 'wrap' it in amazing textures or images.
When used as the set for a keynote presentation, various objects, like stacked or hung cubes, can be incorporated into the set to create a "frame" for the presenter. This scenery then becomes the canvas for supporting presentation graphics or videos that can be used for introductions, transitions, and cutaways.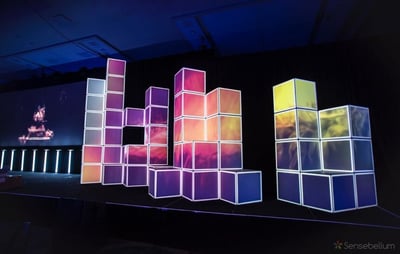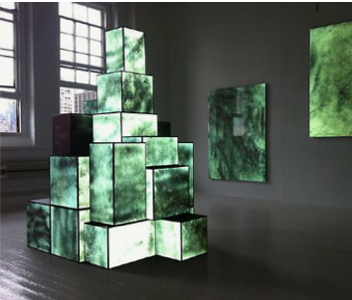 Advantages of Projection Mapping
Projection mapping allows you to enchant your viewers by creating an other-worldly, interdimensional feel as walls or 3D objects become portals to other locations, textures, and patterns using the projection.
Since anything can be projected onto a basic shape, like a box or tower, there's no need for an overly designed physical set or props that take a lot of time to transport, set-up, build, and dismantle.
This allows for a shorter production, ultimately saving you time and money.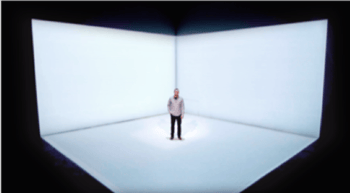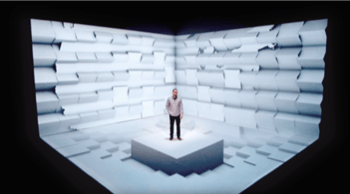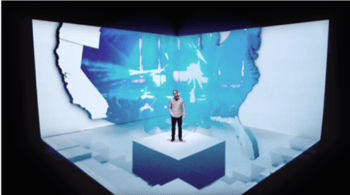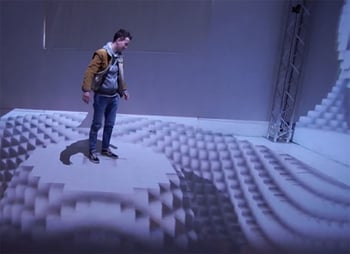 3. Motion Tracking: The More Traditional Approach to a Limitless Environment
Motion tracking is similar to a green screen since the talent is "cut out" and superimposed onto an environment of our choosing and creating. This is a more modest and cost-effective approach to immersing the speaker in an environment; however, it still has the ability to capture attention and the imagination.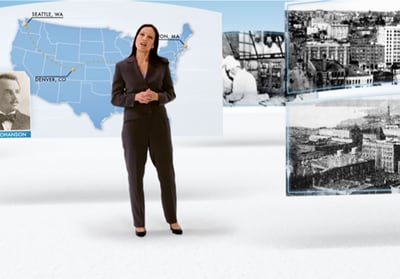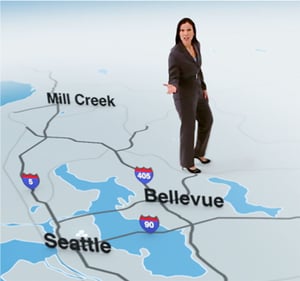 Motion tracking, or a traveling matte, is the process of cutting out or rotoscoping the talent in an empty studio setting without the drawbacks of a green screen: Green reflection, clothing color limitations, etc.
With this process, we can record the speaker in our own clean white studio from virtually any perspective and all imagery will be added in post-production. Another advantage is that all of the storytelling techniques—animation, motion graphics, text—can exist in this singular environment, whether the talent is in the scene or not.
Advantages of Motion Tracking
Shooting in an empty set provides us with a lot of flexibility because we're working with a blank slate. We can make alterations to the design and storytelling elements in post-production. Layouts need to be planned beforehand, but it allows us some wiggle room after the fact.
Plus, if the speaker is only available for a limited amount of time, shooting on this blank canvas gives us plenty of leeway for where and how we integrate the creative storytelling elements, shortening the time he or she is needed on set.
4. Traditional Video Studio Shoot with Enhanced Graphics
Not every keynote presentation warrants the fanfare of some of the aforementioned approaches. A simpler, leaner production can still be just as compelling, and on a lower budget.
This option involves shooting the speaker anywhere – in studio, on-location, or at home – and adding in a supporting graphics package in post-production to highlight or illustrate key message points. This could be anything from a lower-third to full-blown animation or special effects integrated into the scene.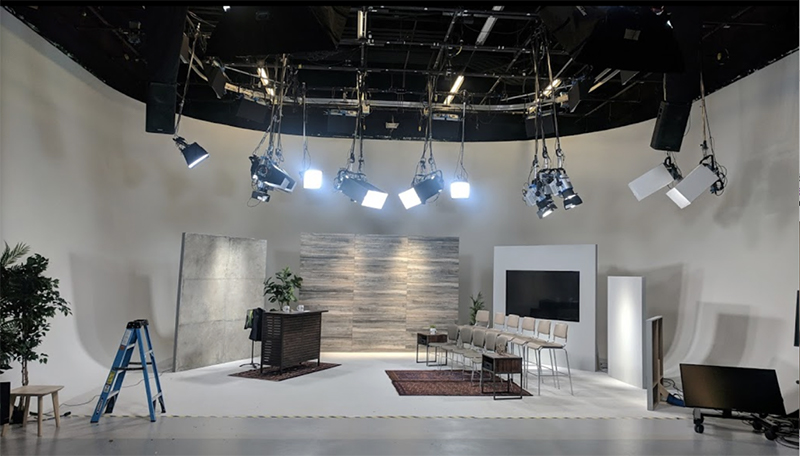 On-set Video Production
If a studio production is an option, just about any set can be created to "house" the speaker. From a highly-designed set with structures built on the premises to just shooting against a plain white wall, anything is possible. The video simply needs to be shot in a way that is mindful of the graphics that will be inserted and animated in post-production.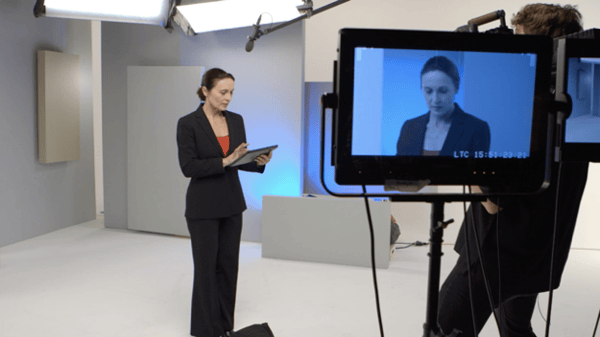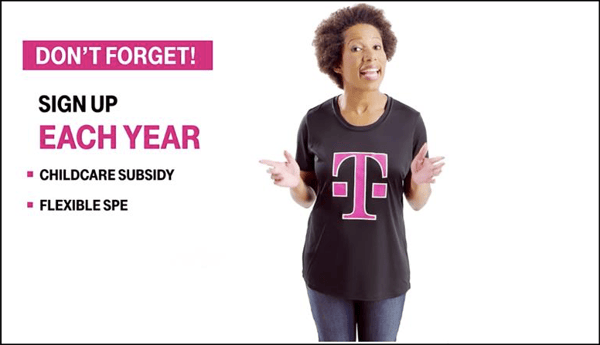 Advantages of Video with a Motion Graphics Package
There are a few clear advantages to this approach. The speaker can be recorded from anywhere, even their living room, which allows for social distancing if there are hesitations around assembling a shoestring crew for an in-person shoot, or if the speaker isn't local.
Additionally, the graphics can easily be adjusted or swapped out in post-production, providing flexibility if message points or creative direction need to alter slightly.
FREE DOWNLOAD: THE 5 MAIN STYLES OF ANIMATION ONE-SHEET
Creating dynamic keynote presentations
While converting to a virtual presentation may not have been your first choice, fortunately, there are plenty of options for enchanting your audience from afar. Whether you have a large marketing budget that can be spent on digitizing the awe-filled experience your audience would have had in person, or you're looking for something that is quick, easy, and engaging as a replacement, there's an option for every scenario.
Co-authored by Bob Bonniol of Mode Studios, an immersive experience agency that has created show-stopping environments for events like Marvel Universe Live, TED, Blue Man Group, and D23 by Disney.
Click the image below to download a free one-sheet on 5 alternatives to live-action video during COVID-19