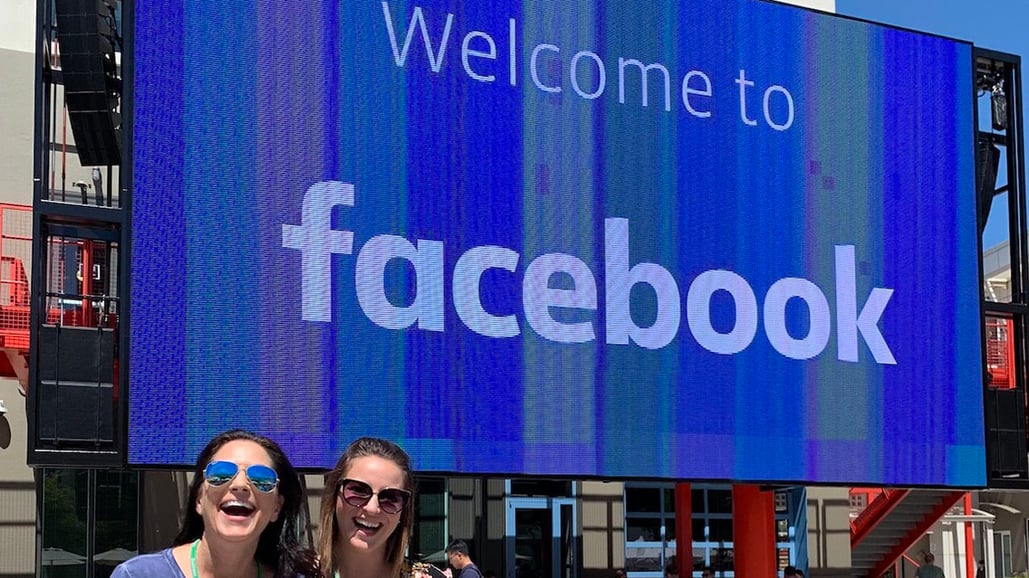 VMG Studios CEO & Founder, Kelly Sparks, and VP of Key Accounts, Alysia Lee, outside the Facebook headquarters in Menlo Park, California
VMG Studios has been a creative marketing supplier for Facebook for more than 2 years now and we're still learning to grow within Facebook.
That's because Facebook is huge. That's no secret. The network is the most used social media platform in the world with 2.6 billion monthly active users. And that's just Facebook itself.
When you add in WhatsApp, Messenger, and Instagram – all of which are owned by Facebook, Inc. – that number jumps to 2.99 billion monthly active users.
So, how do diverse suppliers, which can often be small companies like we are here at VMG Studios, demonstrate value to an enterprise-level corporation such as Facebook?
Well, it's a bit of a learning curve, one that we ourselves are still navigating as a current vendor for Facebook.
However, we've picked up some tips and tricks along the way to position ourselves positively within the organization and find work. But we'll be the first to admit that it's taken some time. And we've hit some roadblocks.
So, we decided to go straight to the source to see how other diverse suppliers, such as certified women-owned businesses, could successfully connect and engage Facebook's Supplier Diversity team.
We sat down with the head of supplier diversity, Jason Trimiew, to talk about the best practices of becoming a diverse supplier for Facebook and how best to find work once you've become a preferred vendor.
How Facebook is Supporting Diverse Suppliers
When it comes to its Supplier Diversity program, Facebook's division is still relatively new. It launched in 2016 with the goal to help qualified companies owned by racial and ethnic minorities, women, veterans, LGBTQ, etc. grow their businesses.
Trimiew said their overall goal "is to tap into the talent of exceptional entrepreneurs from diverse communities that both provide goods and services that we need but also reflect a global community that's now 3 billion users strong." He added, "We just believe fundamentally that we won't be as successful without more diverse suppliers competing and winning that business."
According to its website, Facebook spent more than $400 million with certified diverse suppliers in 2018 – a 73% increase over 2017. And the good news is Facebook is open to partnering with almost all commodities. Trimiew says, "We buy almost everything. Professional services to food products to construction."
How to Connect with Facebook Supplier Diversity
So, how does Facebook find and connect with these diverse suppliers? Or a better question, how do diverse suppliers make their mark and capture Facebook's attention?
The good news is Supplier Diversity at Facebook is decentralized, meaning several people are responsible for making decisions when it comes to contracting vendors.
Traditionally, Facebook, like many other enterprise-level companies, relied on in-person conferences to find suppliers, often through matchmaker sessions.
Due to the COVID-19 pandemic and the cancellation of events worldwide, strategies are pivoting. Facebook, itself, has canceled all physical events with 50 or more people through June of 2021.
However, before COVID-19 even hit, Facebook had planned to scale back its presence at large events and create more virtual opportunities for its supplier diversity team to connect and engage with potential vendors. As Trimiew explains it, "Facebook has moved from a broadcast approach to a curation approach and developed a new format for engaging prospective diverse suppliers." While it was always a plan for 2020, this new strategy has been accelerated in light of the current global crisis.
It's called Supplier Spotlight.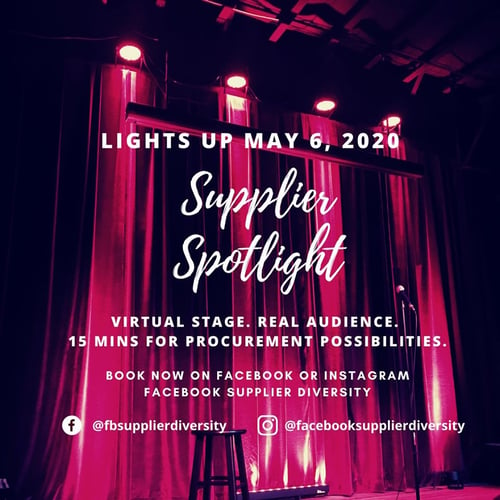 Supplier Spotlight offers diverse suppliers 15-minute prepared sessions with Facebook's supplier diversity team each week, and interested companies will be able to book those spotlights directly through their Facebook page or Instagram profile.

Once hitting the "book now" button, users will be taken to a scheduling page. People can then select a time for their appointment.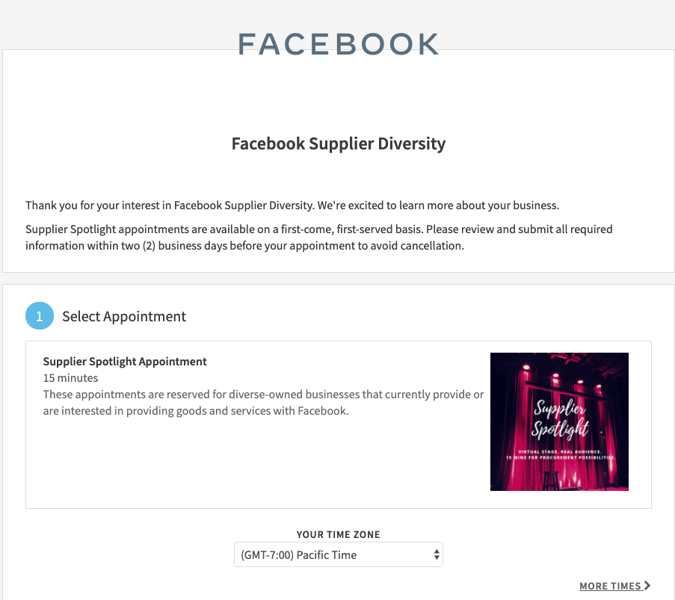 From there, you'll need to fill out relevant contact information and a questionnaire. It's also important to note that you must register your business with Facebook Supplier Diversity and submit your presentation deck at least 48 hours prior to your meeting in order to be eligible.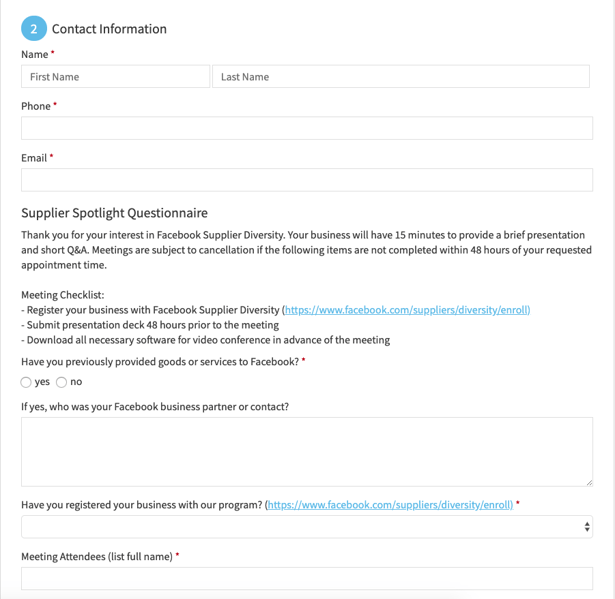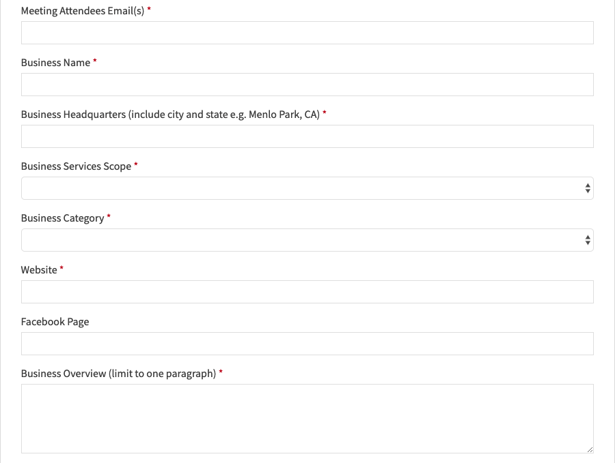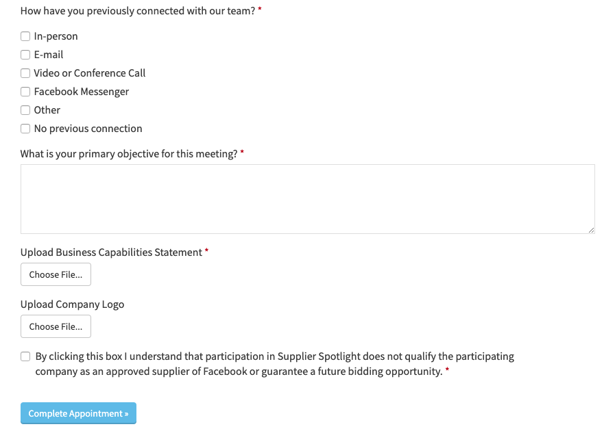 This new function primarily focuses on the discovery process of new suppliers, but existing vendors will also have the opportunity to book time. Trimiew describes Supplier Spotlight as, "Structured, intentional meetings with prospective suppliers and current, existing suppliers to continue that top of funnel discovery and qualification process."
Trimiew added that during these virtual meetings, the conversations will mimic those they've had at event booths or roundtables with questions like, "What's the problem you're solving in the world?" and "How are you going about it?"
He also says that the presentation decks that you submit for a Supplier Spotlight meeting will be able to be shared internally.
How to Make Your Company Stand Out at Facebook
Getting a meeting, or in this case, a Supplier Spotlight at Facebook is step one, but what's arguably the most important step is making sure the people you met with remember you, remember your company.
You can think of that meeting like a first date. On a first date, you likely just cover the surface – where you're from, your family, your job, and so on. While you'll need to cover the basic necessities during a Supplier Spotlight session, it's also an opportunity for you to stand out.
How do you do that?
Well, we went straight to the source and directly asked Jason Trimiew what a company can do to leave a lasting, positive impression. Here's what he had to say.
1. Use Video
Never underestimate the power of a video. Research shows the average person would rather watch a video about a product or service than read about it. Video can also boost sales and conversions, increases search engine optimization or SEO, increases engagement, builds brand recognition and trust, and often boasts a positive return on investment (okay, enough about how great video is from the creative marketing agency that specializes in video production – you get the picture).
Trimiew says a sizzle reel or explainer video outlining your company's core offering can help separate you from the pack.
Also, using video can save you time during matchmaker-type meetings. Often, those meetings are only 15 – 20 minutes – we've done a lot of these meetings and we can tell you, that's a short amount of time to make an introduction, explain your product or services, demonstrate your capabilities, and answer questions.
By showing a 2 to 3-minute long explainer video that covers a lot of the aforementioned information at the beginning of those sessions, you'll gain more time to build rapport and answer questions.
There are plenty of different kinds of marketing videos your business can utilize, not only in these meetings but across your website, social media channels, email marketing campaigns, the list goes on and on.
2. Do Your Research and Be Prepared
Don't go into a meeting cold – research Facebook ahead of time to get an understanding of what the company is doing, what they aren't doing, and how your company could offer support.
As Trimiew says, Facebook is a very public company, which is good news for diverse suppliers doing their homework before a meeting. Go online and listen to their investor meeting from Q1 to get caught up on their financial wellbeing, or read their newsroom posts, or check out the various Facebook pages of the different groups within Facebook (like Supplier Diversity).
In doing such research, you'll be able to learn more about Facebook's initiatives and you might identify an area where you think your company could come in handy. If you're able to come into a meeting with a specific or tangible offering, you'll stand a better chance of leaving a lasting impression.
3. Don't Lead with Your Certification
This is a crutch for many diverse suppliers. As Trimiew simply put it, if you're talking to or meeting with a supplier diversity manager, they know you're a diverse supplier, that's why you're meeting.
By leading with the fact that your company is diversely-owned, it's easier for you to fall away into the background.
One way to separate yourself from the pack – whether it's in an email exchange, an in-person or virtual meeting, or a presentation – is to show practical, timely examples. This can, of course, include examples of your work such as a sizzle reel, but also can include examples of how your company has overcome challenges or pivoted your business practices when unforeseen circumstances (such as COVID-19) have hit. Highlight your company's adaptability and flexibility.
How to Communicate with Supplier Diversity at Facebook
This is a simple question, but one that shouldn't be overlooked. Find out how your contact within the company prefers to communicate (overall, this is a good business practice).
If you don't have a contact yet and are still in the discovery phase as a diverse supplier, Trimiew suggests using their platform – Facebook Messenger on the Supplier Diversity page. And they make it really easy! When I visited the Facebook page, Messenger automatically opened with a sample list of questions to submit.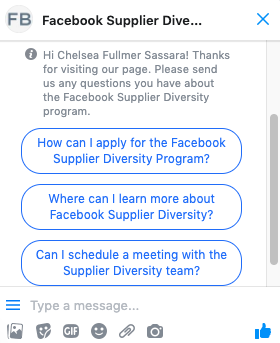 Trimiew says the major benefit of communicating through Messenger is the fact that those messages go to an entire team instead of just one individual person. That makes it less likely that your message will get lost since multiple people are monitoring the platform. In fact, Trimiew says, "The best way to get an immediate response is to message us through Messenger."
He added, "We operate a fairly scaled platform for connecting with businesses. We want to always try to use our products to reach diverse suppliers and grow supplier relationships through Messenger, WhatsApp, and we certainly use Instagram."
Emailing contacts within the Supplier Diversity division is always an option as well. However, it's important to remember that email can be a bit of a bottleneck since these contacts can get hundreds of inquires in their inbox a day.
If you do decide to send an email, find a relevant way to connect with your contact, whether it's a timely solution your company is offering, a new service, or you saw something about Facebook in the news and wanted to touch base. Trimiew also reiterates that video is a great way to grab attention in an email.
As for how often it's appropriate to reach out, it's all about toeing the line between ensuring they remember your company without becoming a nuisance. Sending a message once a day? Probably too much. Once a week? That may still be a bit excessive. Once a month? That's a little more reasonable. Once a quarter? You're probably in the safe zone.
Since email can be a bit of a bottleneck, it is acceptable to send follow-up emails if you didn't get a response to your original message. Again, it's just important to not cross the line by littering their inbox with dozens of follow-up emails. Simply put, use your best judgment.
Now, on the other side of the coin, if you do get a response, jump on it. Respond promptly. Trimiew says, "We're still operating very much out of the 'move fast principle.'" If you wait to respond, they'll likely move on and down their list of vendors.
Moving Forward with Supplier Diversity at Facebook
Trying to land a client such as Facebook is daunting. We get it – we've been there. Luckily, their Supplier Diversity program is set up to help instead of hinder diverse companies. Heck, the head of the department was willing to sit down for an interview to talk about the entire process just so we could write this article!
Cutting through the noise and differentiating your company from other diverse suppliers is a big part of the game, however, there are a few simple tricks that can help your company stand out.
Take advantage of Supplier Spotlight
Use video to promote your value
Do your homework on Facebook before any meeting
Don't lead with your diverse supplier certification
Facebook also actively uses its own platform, so be sure to keep an eye on the company's Supplier Diversity Facebook page, check for news and updates, and communicate with the team via Messenger.
If you're interested in implementing video into your strategy for connecting with Facebook's Supplier Diversity, or other enterprise corporations, we'd be happy to help.
Learn more about navigating supplier diversity at enterprise-level corporations here:
Schedule an introductory planning conversation or download our free creative messaging brief to start outlining the vision and goals of a marketing video.