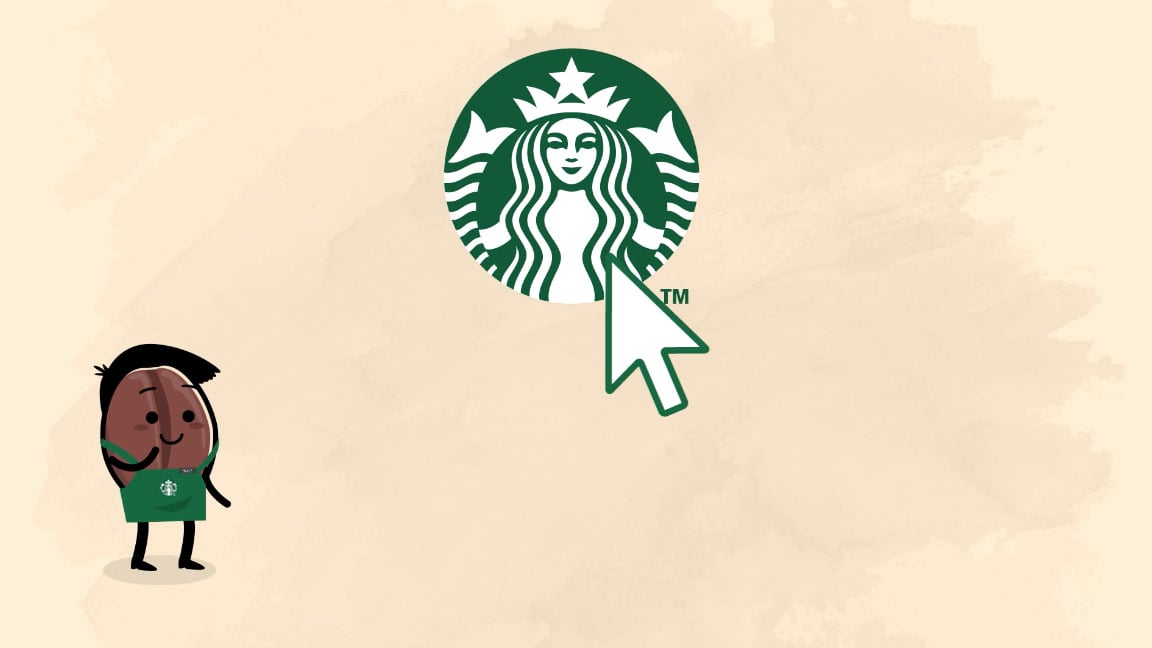 VMG Studios is headquartered in the Seattle, WA area, meaning Starbucks is a huge part of our culture, both personally and professionally. We are a current, approved supplier for Starbucks and it's not just because of our proximity to the coffee giant.
In fact, after connecting with Supplier Diversity, it took VMG Studios, which is a certified women-owned business, a year and a half to secure our first project with Starbucks.
It all started thanks to a connection through the regional partner group, WBEC-Pacific, a branch of the Women's Business Enterprise National Council (WBENC).
This is where VMG's CEO and founder, Kelly Sparks met James Hing, who now leads the supplier diversity program at Starbucks.
Kelly and James crossed paths several more times before VMG decided to do some research on Starbucks and offered to create video content for the Starbucks Chorus benefit show, a passion project for James where he serves as the director, with no strings attached.
From there, a relationship was formed. A year later, that relationship turned into a meeting, which turned into a master service agreement which then turned into a project, and we've since been building that relationship ever since.
We've also had to follow all the proper steps of registering as a diverse supplier for Starbucks and decided to reach out to James Hing to see how other diverse suppliers could get their foot in the door.
This article will dive into Starbucks' supplier diversity program including best practices in building a long-lasting partnership.
Navigating the Registration Process
As with most supplier diversity programs, the first step in becoming a potential vendor for Starbucks is registering your company.
Starbucks lays out the process on their website while providing guidance and resources for who qualifies for the program through third-party certification agencies such as the National Minority Supplier Development Council (NMSDC) or WBENC. Currently, Starbucks accepts 13 different certification types representing diverse-owned businesses.
Starbucks also has a Supplier Diversity FAQs and Resources page which, frankly, couldn't be more straightforward when it comes to registering.
Once you're logged-in to your account, you'll create a diversity profile.

In your diversity profile, you'll provide the basics such as your company's name, address, annual revenue, products and/or services, as well as your diverse certification.
This whole process is simple and takes no more than 10 minutes (it's the easiest portal VMG Studios has registered in of all the WBENC corporate members).
Once you fill out your profile and hit submit, you're a Starbucks vendor, right?
Well, not so fast.
As mentioned earlier, registering is simply the first step in the process and a way for Starbucks to get to know your company, the services or products you provide, and to start determining if your company is the right fit.
It would be wise to check the supplier diversity page for a list of supplier opportunities. As listed on its website, this list includes but is not limited to:
• Food and beverage
• Store development
• Print
• Logistics, distribution, and transportation
• Capital equipment
• Office and MRO suppliers
• Energy
• Facilities management
What's unique is Starbucks also lists which opportunities they are not actively pursuing. At the time of this writing, this list includes information technology software and staffing, promotional products, human resources staffing/consultancy outsourcing training and development, marketing and legal.
Hing says they offer this transparency so that entrepreneurs can pursue opportunities at other companies and don't "spin their wheels" with Starbucks if they're not the right fit.
In keeping with its transparent business model, Starbucks also publicly lists its supply chain criteria. This includes providing information regarding Starbucks' terms and conditions, safety and security requirements, supplier expectations, and references.
Doing research to see if you'd be a good fit for Starbucks leads into one of the main tips Hing provided for prospective suppliers….
Research Starbucks
Just like you likely wouldn't go into a test without doing some studying, it's important to study Starbucks to better understand how your company can support them and the solutions you have to offer.
Hing says you can research Starbucks through its investor website, by listening to investor meetings, and by learning about Starbucks' social impact, just to name a few.
Researching can help your company identify products or services Starbucks may be lacking or how your offerings can help elevate the Starbucks brand.
Hing said it best, "If you do knock on our door, we're not just looking for you to bake the same blueberry muffin. You have to elevate the muffin, right? Are you making it with protein? Are you making it with clean ingredients? Do you have something different other than a blueberry, a Goji berry, or something? That elevates the brand and that can really get your foot in the door really quickly."
He added, "We're looking for a match of your capabilities to our needs."
How do you identify what Starbucks' needs are? Research.
Hing says it's also important to research Starbucks to ensure your company is the right culture fit.
"What makes Starbucks unique is that we are a relationship-based company," Hing said. "So that extends into our sourcing activities. Who are you? Who are you as an individual? Who are you as a company? We have to see a mirror reflection of our own mission and values for us to determine if we can do business with you regardless of what you do."
Tips for Communicating With Starbucks
Once you're in Starbucks' system, it might be easy to assume that you could simply become a number or get lost amongst the dozens of applications.
Well, here's some good news. Hing says they reply to every single inquiry.
He added, "We pride ourselves in that because it's part of the legendary customer service experience Starbucks is known for."
While this is great news, this doesn't guarantee a meeting. You'll likely need to request a capability meeting or matchmaker session through the supplier diversity process. The supplier diversity team is the gatekeeper to the buyers within Starbucks' various groups.
With that said, it's important to remember to toe the line between checking in periodically and becoming a nuisance. Instead, Hing recommends being "patiently persistent."
What does that mean?
Hing says he tells prospective suppliers to "keep pace with us." This brings it back around to the research stage. You can "keep pace" by watching investor meetings or by checking Starbucks news and press releases to see what's going on in the company and to identify areas in which your business could provide value.
As far as how often you should reach out, remember to be patiently persistent and respectful. Don't just reach out to reach out. Come with a purpose. This leads to some advice Hing provided for when you do decide to check-in.
1. Talk About Your Company
An easy crutch to fall back on when communicating with supplier diversity teams at enterprise-level corporations is to ask what's going on with them and inquire whether they might have work for your company.
Hing, instead, suggests the opposite.
Simply put, he says to talk about yourself, your company. He added, "Tell me what's going on in your world. Toot your own horn."
He even cited VMG Studios as an example. He remembered a time that VMG's founder and CEO, Kelly Sparks, reached out to tell him about a new, enterprise client VMG landed. He says this showed VMG had a new level of sophistication and posed the question to himself, "If companies like that are hiring VMG, why aren't we hiring them?"
Hing says he keeps track of this kind of information – updates on services, new customers, new products, etc. – internally.
Besides being brave enough to brag about yourself, Hing says don't sell yourself short.


Just because Starbucks is a large company, doesn't mean they don't do business with smaller companies. In fact, it's quite the contrary (we are a team of just 20 people here at VMG Studios). Hing says, "It's okay to be small, we look at those (small companies), and we appreciate those."
He added, "I know some people might second guess themselves, thinking, 'Gosh, could I really contact Starbucks? Should I bring out that tenacity.' We like to see that tenacity because typically that means somebody is being very entrepreneurial, and if they're being entrepreneurial, they're probably going to be innovative."
Selling yourself is an important piece of advice, but it's important to pair that advice with the next tip…
2. Be Concise in Your Messaging
This is a pretty simple piece of advice and covers not only a yearly email you may send to check-in, but also includes any other marketing materials such as an explainer video, product video, or PowerPoint presentation.
Hing says, "Keep it short and sweet, to the point. Who are you? What do you do? What makes you good at what you do? What's the value?"
He says a great way to show your value is through customer case studies. To bring it back around to the short-and-sweet part of his advice, you can condense a lot of information from a case study into a two-minute long video. Plus, research shows that when both video and text are available on the same page, 72% of people would rather watch a video.
When it comes to your messaging, as they say in the world of journalism, don't bury the lede. What's your headline? How can you grab someone's attention in just a few words?
Starting off strong in any kind of communications will increase the likelihood of someone consuming your entire message.
Hing also shared a PDF that shows what to include in a capabilities PowerPoint presentation:
• Provide your mission, vision, and values
Pro tip: VMG Studios also showed how our values align with Starbucks' values
• State how your products and services can elevate the Starbucks experience
• What sets your company apart from other suppliers?
• Supporting visuals and/or case studies
• Introduce your leadership team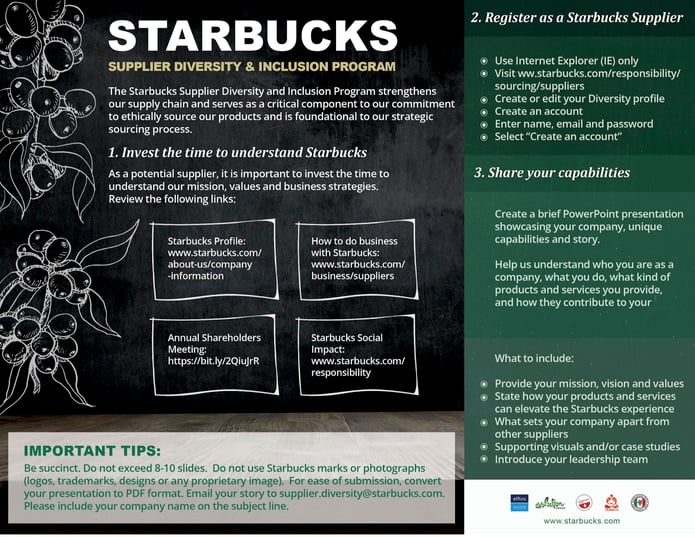 The PDF even outlines how long your presentation should be (no longer than 8-10 slides) and how to submit your story.
How Starbucks is Supporting Diverse Suppliers
Starbucks is focused on customer satisfaction and that kind of service extends to its partners and vendors.
Hing says a goal for diverse suppliers is longevity. "It's always crawl, walk, run," he says. He looks for companies that aren't going to be a "one-trick pony." Because of this, and because of the competition and quest for innovation, companies often need to reinvent themselves and expand the products or services they're providing.
This is where Hing says he offers as much guidance as he can (this is proof of why relationship-building is so important): "I become your mentor and coach. I'm great for bouncing ideas off of whether you're hitting a roadblock or you're trying to get new business."
Hing says even prior to COVID-19, they've had a consistent virtual outreach strategy which includes regularly scheduling matchmaker sessions between suppliers and different groups within Starbucks.
Now, Hing says they are actively researching more virtual connection opportunities with diverse-owned suppliers so that Starbucks could host digital mini summits on how to do business with Starbucks as well as matchmaker sessions.
Ask About Their Industry Groups Connection
Upon securing that first meeting or matchmaker session with Starbucks' supplier diversity team, you might think it's imperative to talk only about Starbucks. While identifying how your business could help Starbucks is important, of course, it's also an opportunity to leverage other connections.
This is where industry groups come into play.
Hing, who leads the Food & Beverage Industry Group, says most industry groups meet at least twice a year while some meet quarterly. No, you can't join these groups as a supplier (these are restricted to corporations and supplier professionals to commiserate amongst themselves to share best practices), however, Hing confirms they do talk about vendors meaning there's a chance for a referral.
Regardless if you're meeting with Starbucks, Hing suggests you ask these questions to any supplier diversity professional:
• Are you a member of an industry group?
• Is there anybody in those industry groups I could contact?
• Is there a way to make a business pitch in front of your peers?
People network and it doesn't hurt to ask to tap into someone else's network, even during the first meeting.
However, you can really leverage someone's network by building a real relationship with them. And the basis for any relationship, and the true starting point to building a foundation to form a lasting relationship, is being aligned on your mission and values.
As Hing says, "Most procurement organizations first rely on their existing relationships. So, if you don't have an existing relationship, that's step one, you've got to build that relationship."
Think about it this way. You're more likely to recommend a close friend for a job than someone you went to high school with whom you haven't spoken to in 15 years, right?
The same can be said for the supplier diversity industry.
Hing says the referral system has a lot of power. He may be able to refer you to other companies where he knows there's an opportunity, even if that opportunity isn't public-facing. He can also "buddy you up" with other diverse suppliers who exist within the Starbucks supply chain.
Leveraging industry groups is also an especially timely strategy due to the COVID-19 global pandemic as conferences are being canceled into 2021.
Becoming a Starbucks Supplier
Securing a vendor number or landing a multi-million-dollar project with Starbucks won't happen overnight. Just like learning to fly a commercial plane doesn't happen overnight.
It's all about learning and researching how your company could support Starbucks, identifying if you're a good culture fit, and building long-lasting relationships to facilitate opportunities within industry groups.
It's also important to remember that most initial opportunities won't be a multi-million-dollar deal. Most start small and build over time assuming your business continues to innovate and provide value to the Starbucks brand.
Speaking of brand, Hing offered some more sound advice: don't get blinded by one aspect of any corporation's brand. "Think broadly about all the brands they represent and how you might add value to, perhaps, the less obvious or less iconic brand," he says.
For example, most people forget (or don't realize) that Starbucks is also a juice company (Evolution Fresh), they have the Seattle Roastery and Reserve Roasteries, and they have consumer packaged goods opportunities via their relationship with Teavana and Nestle. This, of course, is on top of Starbucks' own manufacturing operations for its tea and coffee and its 30,000+ stores worldwide.
If you're looking for a Starbucks supplier diversity "cheat sheet," here are some important tips to remember:
• Register your business (and follow directions)
• Research Starbucks to present your value proposition specific to Starbucks' business
• Be patiently persistent
• Don't sell your company short
• Be concise
VMG Studios is a proud vendor of Starbucks and we've gotten to do some pretty cool projects for them, including creating these pretty adorable Bean Stock characters.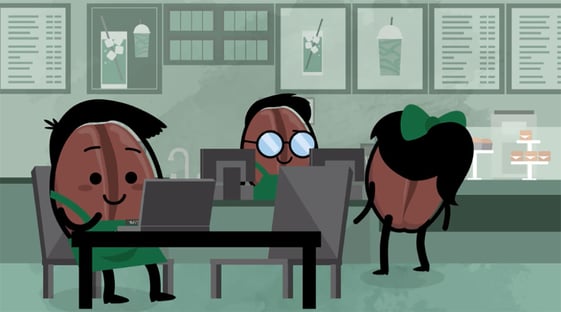 If you need help with your marketing materials such as an explainer video or a capabilities presentation for a diverse supplier matchmaker meeting, for example, VMG Studios has you covered.
Learn more about navigating supplier diversity at enterprise-level corporations here:
Click the image below to schedule an introductory project planning conversation