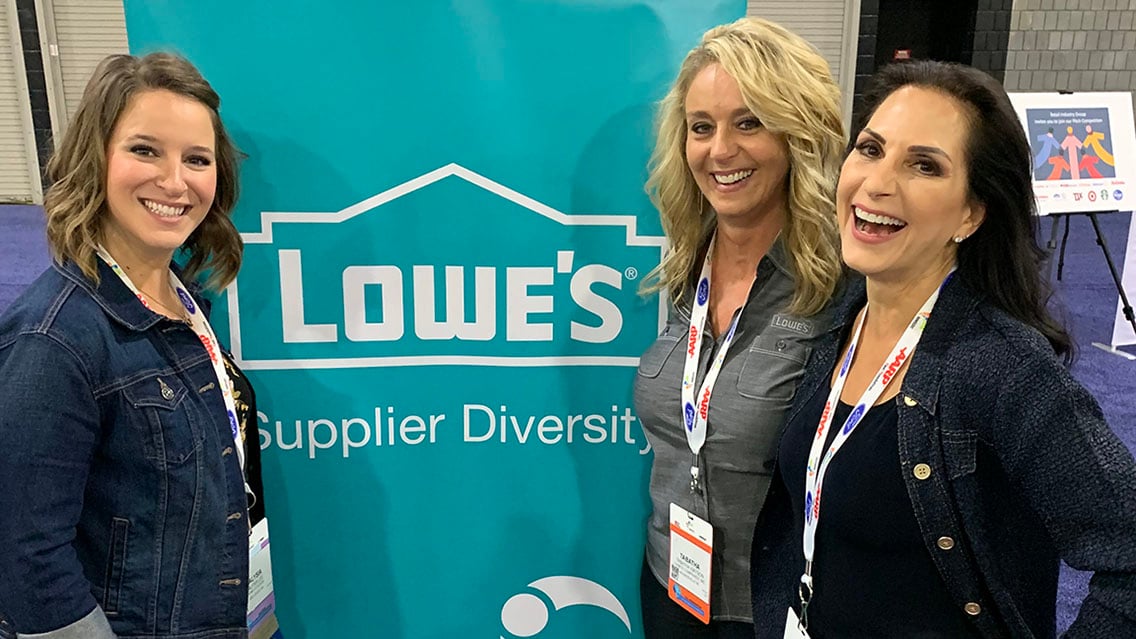 VMG Studios CEO and founder Kelly Sparks and VP of Key Accounts Alysia Lee with Lowe's Supplier Diversity Manager Tabatha Watson
As a certified women-owned business, VMG Studios participates in many enterprise-level corporate supplier diversity programs.
In fact, we are now a preferred vendor for several companies, including Microsoft, Facebook, Amazon, T-Mobile, and Starbucks. We were able to establish many of these relationships by attending diverse supplier conferences such as the Women's Business Enterprise National Council (WBENC) National Conference & Business Fair.
It was there, in 2014, that our founder and CEO Kelly Sparks met Lowe's Supplier Diversity Manager, Tabatha Watson.
Since then, VMG Studios has cultivated a relationship with Tabatha where we learn from each other. She provides the supplier diversity perspective and we give the vendor point of view. We've learned over the years that we can support each other without being a company vendor.
We wanted to pay it forward and support other diverse suppliers as they navigate Lowe's Supplier Diversity program. So, we sat down with Tabatha to talk about the program, understand best practices for becoming a vendor, and learn how diverse businesses can stand out from the crowd.
The Process
According to Tabatha, it's important for potential vendors to carefully complete applications and documents according to the directions provided. They are the potential vendors' roadmap. Unfortunately, not paying close attention to provided direction is one way your business could get lost in a competitive business environment.
The first step in the process is to register in Lowe's prospective supplier portal.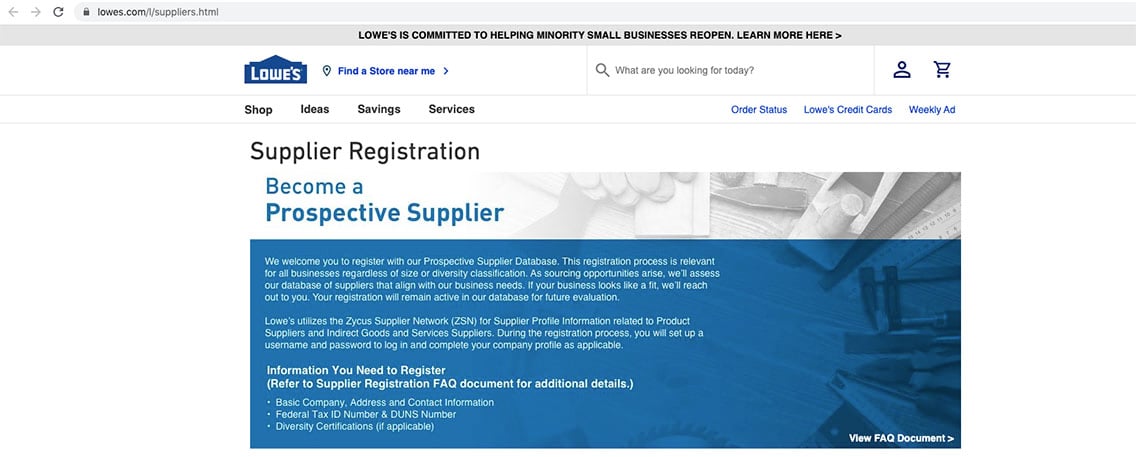 Before registering, the webpage identifies information you'll need to gather to complete the registration process, including:
A contact person
Company address
Federal tax ID number and DUNS number
Diversity certifications (if applicable)
Diversity certifications can come from a number of third-party certifiers such as WBENC (VMG Studios is certified through WBENC). Lowe's has an FAQ resource page that includes information on how to qualify as a woman, minority, veteran, disability, or LGBTQ-owned business.
The FAQ page is a great resource to reference when preparing your materials for registration. It contains general registration information as well as what to expect after you register.
Lowe's segments its prospective supplier database into two main categories: Merchandising (product supplier – resale) and Enterprise Strategic Sourcing (indirect goods and services supplier – not for resale).
After choosing your business' category, you'll need to complete a form specifically for the option you chose.

Once you've created a profile, you'll upload your diversity certification(s) and capabilities statement in the appropriate locations in the portal. You can provide information that showcases your company's offering and capabilities by uploading documentation to your company profile. Take a moment to review Lowe's FAQ document for additional information.
"Although registration does not guarantee business or inclusion in any bid, a supplier must register in our prospective supplier portal to be considered for any potential opportunity," Tabatha said. "Once they complete their registration and upload their capabilities information, their profile is available for all Lowe's buyers to review."
Businesses may email supplierdiversity@lowes.com with questions. If additional instructions are given, it's important that the supplier responds as requested. Following this process will allow Lowe's Supplier Diversity to have easy access to your information.
"Supplier Diversity is the liaison between your company and Lowe's buyers," Tabatha said. "Our role is to partner with Lowe's buyers to understand upcoming bid opportunities. Having your information in our database will allow us to identify your company and determine if your capabilities are a potential fit for the bid opportunity. Set your company up for success by following the process."
It's important to note that completing the registration process does not mean your company will automatically receive a vendor number. If your business is selected, you'll need to complete another process to become a Lowe's vendor.
How to Stand Out
In the past, as with many large companies, Lowe's has relied on in-person conferences and networking opportunities to find new, potential suppliers. While this strategy is now suspended due to COVID-19, Tabatha's advice about how to stand out remains the same:
Know Lowe's
Follow directions
Build a relationship
Let's now dive a little deeper into each piece of advice.
Know Lowe's
It's about more than just knowing when Lowe's was founded or how many store locations there are throughout the country – it's about knowing how your company fits within Lowe's.
What problem are you trying to solve for Lowe's or its customers? What solutions do you offer? How can you differentiate your product or service from the competition?
Research the products and services Lowe's currently provides, audit your competition, and identify how your company can fit into the mix.
Being certified will give your business a greater opportunity of getting a foot in the door. But it's your product or service and how it's differentiated from the competition that will lead to a long-lasting relationship.
Tabatha notes that a diverse supplier designation doesn't mean you're guaranteed business within Lowe's.
"Supplier Diversity actively seeks small and diverse suppliers to be considered for potential bid opportunities, but first and most importantly, we must bring the right product or service solution to our organization for internal or external business purposes," Tabatha said.
Follow Directions
We've already mentioned this, but it's worth reiterating. You should follow the step-by-step process provided by Lowe's if you want to be considered for a vendor opportunity.
As mentioned, it's a good idea to use Lowe's frequently-asked questions PDF as a reference.
Build Relationships
Regardless of which company's supplier diversity program you're navigating, it's common to get a "we-don't-have-an-opportunity-right-now" response.
Does that mean you forget about the contacts at that company or that you shouldn't pursue a relationship with them?
The answer is 'no.'
Just because there isn't an immediate opportunity, doesn't mean there won't be one in the future.
Tabatha mentioned a tip during our conversation: supplier diversity managers talk to one another.
There's a reason it's called networking.
VMG Studios is another example of the power of strong relationship building. As mentioned, VMG Studios is not a Lowe's vendor, yet here we are writing an article about navigating Lowe's Supplier Diversity process.
Our business development team which includes CEO and Founder Kelly Sparks, VP of Key Accounts Alysia Lee, and Sales and Marketing Specialist AJ Noel, have built a multi-year relationship with Tabatha, connecting with her at networking events and communicating through social networking channels. It's important to know that we are not connecting to sell, we are connecting to add value, exchange ideas, and share best practices. Thanks to this genuine connection, we know that Tabatha would recommend us to other supplier diversity managers if she became aware of an appropriate opportunity.
Communicating with Lowe's Supplier Diversity
An important piece of successfully navigating any organization's supplier diversity program is understanding how best to communicate with company contacts.
As explained in the registration process, Lowe's is transparent in regard to how they'll follow-up and communicate with potential vendors.
However, if you're meeting with a specific contact, whether it's at an in-person event or a virtual matchmaking session, ask their preferred method of communication.
In fact, Tabatha says in those cases (mainly in-person conferences), she often outlines a timeframe for when potential vendors should follow up with her, such as three months, six months, or next year. She also stresses that if a timeframe is provided, it's best to follow through on it.
As Tabatha puts it, "be patiently, professionally persistent."
She also assures that Lowe's registration process is designed for success, and your profile won't be lost.
"It's not a black hole," Tabatha said. "This is how we manage our traffic flow, and it helps us archive the information and keep it in a space where we can easily access it."
Messaging is also an important part of the follow-up process. Tabatha has some simple advice: be brief; lead with your service offerings; try not to overwrite.
"Give me what you think my problem might be and how you're going to immediately solve it," Tabatha said. "It's also important to establish the basics of your company – what you would include in an elevator pitch – and get to it right away. For example, although it's great that you're a third-generation president of a company that has been around for 150 years, that's not the kind of information that will establish how you can support Lowe's."
A simple, yet important tip is to use bullets to provide information. It makes your information quickly and easily digestible. Also, include your company name in the subject line of your email (e.g., "XYZ Corporation follow up"). This is especially important after an event where Tabatha or other supplier diversity managers likely met hundreds of suppliers.
Becoming a Vendor
Lowe's Supplier Diversity program isn't a mystery. They've outlined it to help guide you through the system and see if your company is the right fit.
It's important to follow directions and do your research to identify how your business can support Lowe's in a unique way. Establishing and maintaining relationships with company contacts is also imperative.
As we've learned here at VMG Studios, you never know who's connected to whom.
Learn more about navigating supplier diversity at enterprise-level corporations here:
If you need assistance via an explainer video or capability deck, VMG Studios would be happy to help.