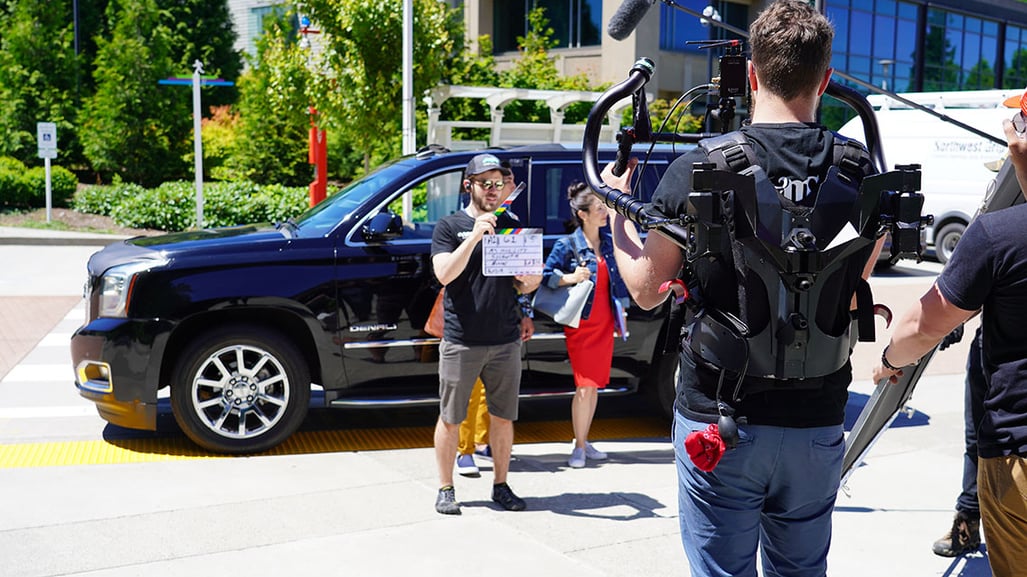 Video marketing has a proven track record in providing value for many businesses, so deciding to add video to your organization may be an easy choice. However, you may be wondering what are the next steps? Where do you get started? How can you accomplish this?

The answer is hiring a video production company.
Sure, this article is coming from an agency (so we may be a bit biased), but in our 15 years of working with diverse organizations from small to mid-sized companies to enterprise-level corporations, we've learned how we can best support our clients' messaging and goals.
This article will break down the 5 main benefits of hiring a video production agency, and how they can even help save you money in the long run.
1. Video Production Companies Have Expertise and Experience
Would you ever have your best friend perform any kind of surgery on you if they had little to no training? Probably not. While this is a bit of an extreme comparison since surgery includes decisions that toe the line between life and death, you get my point, right?
Because of access to technology, tutorials, and online forums, many people believe they can easily make a video themselves. While this is true for personal videos such as a vlog or an anniversary montage set to "Love" by Nat King Cole for your grandparents, DIY'ing your video assets when it comes to a professional business video isn't as easy as it seems.
A video production company brings expertise that isn't easily learned overnight. These skills include lighting, shooting, audio, directing, editing, after-effects – the list goes on and on.
With expertise also comes experience – experience with what to do when things go wrong. Experience with quick-turn projects. Experience with hiring actors and finding a studio space or location to film.
You could learn to do all these things on your own, but it will cost you money and time, which brings me to the next benefit….
2. Video Production Companies Save You Time
Even if you have someone on staff, or a member of your own family willing to help out, chances are it will take them significantly longer to produce a highly professional video than handing it over to a production agency.
And, if you assign someone to learn the ins and outs of video production so that you can make video content internally, even that educational process will take time.
Now, don't get me wrong, I love to learn, and I love teaching people new things (hence why I write educational articles for a living). However, you must be dedicated and devoted to diving into the process of video production to truly turn out a finished product that has a positive impact on your business.
Producing a video, even with the production team, is a lengthy process, but you (as a client) can help save time by defining your involvement in the process from the get-go and opening clear communication channels. If you try to produce a video on your own, you risk the process taking even longer, or having to go back and fix things later on.
Here's a quick overview of how long it takes to produce an animation and live-action video, respectively.
3. Hiring a Video Production Company Saves You Money
If you just scoffed or laughed at the above title, I don't blame you. It may seem impossible that outsourcing your video needs to someone else could save you money. But this falls under the same category of how a production company can save you time.
You know all that expensive equipment and software needed to make a video? A production company already has all those things (and knows how to use them). Sure, you may think if you buy all the video equipment you need, you'll save money in the long run.
In actuality, just like a smartphone, computer, or car, production equipment breaks or becomes outdated, so you'll likely still find yourself paying for new equipment or software every few years.
Production companies also can finish your video sooner, meaning you can implement it into your business or marketing strategy, and start (hopefully) seeing a positive return on investment earlier.
If you're operating on a budget (which aren't we all?), you can still find a production company that's the right fit for you.
4. People at Video Production Companies are Storytellers
Besides just the technical skills that production agencies bring to the table, they also bring their creative expertise, which may be easily overlooked in the planning process.
Concept ideation is much harder than it seems. Writing a video script isn't necessarily something anyone can do (or is confident enough to do).
Part of video is the art of storytelling. Having the eye to convey a message with a simple motion of the camera, or the note a director gives to an actor that takes their emotional monologue to the next level can help boost the production level of your video.
As Bryan Johnston, Creative Director at VMG Studios, says about scriptwriting, "There has never been a good movie that has a bad script. All the star power and special effects in the world can't make up for non-compelling dialogue and poor storytelling."
READ: How to Write a Video Script
5. Video Production Companies Are On Top of the Latest Trends
Some people like to stay away from trends because they don't want to be like "everyone else," however, there are plenty of reasons it's important to stay up with trends, especially in the marketing world.
Trends are deeply tied to storytelling. It's important to be informed of social change, cultural movements, and stereotypes when coming up with the creative idea for a marketing video. Make sure your messaging aligns with your target audience in their current political, socioeconomic, and cultural spaces.
The other benefit of keeping up with trends is knowing when a trend has been overused. If everyone has a commercial featuring real-life "superheroes," it makes sense that you'd want something different. Keeping up with trends can inspire you to be a trend-setter by expanding one idea into your own.
There are also trends when it comes to the way production companies film and edit things. You might not always notice it as a viewer (which is kind of the point), but how stories are captured helps set the tone and mood of your video. You can read more about 2021's video trends to see what we're talking about!
FREE DOWNLOAD: Top Creative Trends of 2021 eBook
How to Find the Right Video Production Company
I understand if you're taking all the aforementioned information with a grain of salt since this is coming from an agency that provides video production services. Of course, I'd like you to choose to work with a production company.
If you aren't convinced, that's okay! Do more research and see if you can do it all in-house. In fact, we have a helpful article you might want to check out, How to Shoot Your Own Video: The Beginner's Guide to Equipment.
If you're still trying to decide if you'd like to partner with a video production company, remember these benefits:
Expertise and experience
Save time
Save money
Storytelling skills
Trend-setters
The next step in producing great video content is finding a video production team to partner with. Luckily, we're here to help with 10 Questions to Ask a Video Production Company Before Hiring Them (there's even a video!).
Utilize the many benefits of video marketing by putting your best foot forward.