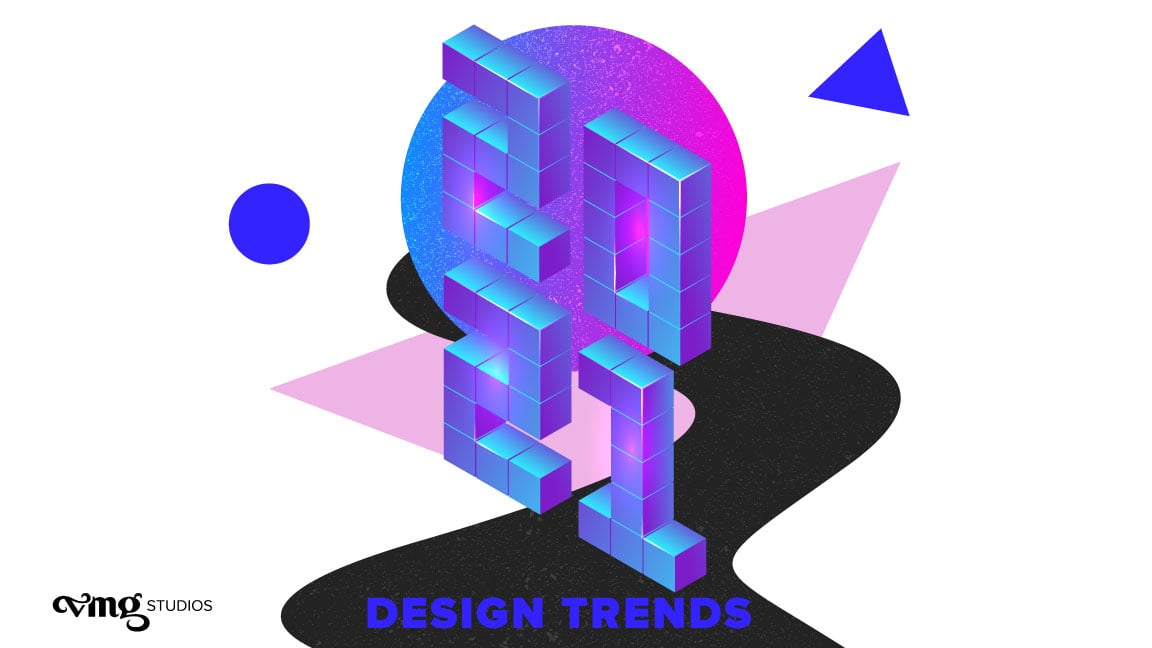 Raise your hand if it's fair to say that you spent more time on your phone and computer in 2020. 👋 If you're like me and the millions of other people whose screen time increased this year, you probably noticed an increase in sponsored posts, branded posts, and targeted ads.
Most companies had to shift their marketing strategies this year due to the COVID-19 global pandemic and focused in on social and digital approaches to reach their target audience, and graphic design played a big role.
High-quality design is always important in elevating a brand, regardless of a global pandemic, and that likely won't change. A study found that 94% of consumers will leave a website with poor graphic design.
Keeping an updated, branded design asset library helps marketing teams effectively create and distribute content across different platforms such as the company website and social media networks. This is more important now than ever before as consumers increasingly discover and interact with brands online.
As the senior graphic designer at VMG Studios, I am constantly looking for inspiration and consulting with other designers and animators on our team on what's trending or what's new in the design world. We worked together to put this list of graphic design trends we're seeing that we hope will be useful for brands looking for creative inspiration in 2021.
1. Retro Futurism
Technology in the modern age continues to evolve at a rapid pace and has shaped and improved almost every part of our lives. If you're like me, it sometimes makes you stop and think, "Am I living in the future?"
When we think of the "future," it's fun to compare to how we envisioned things would be back in the '80s and '90s and how incorrect those projections were.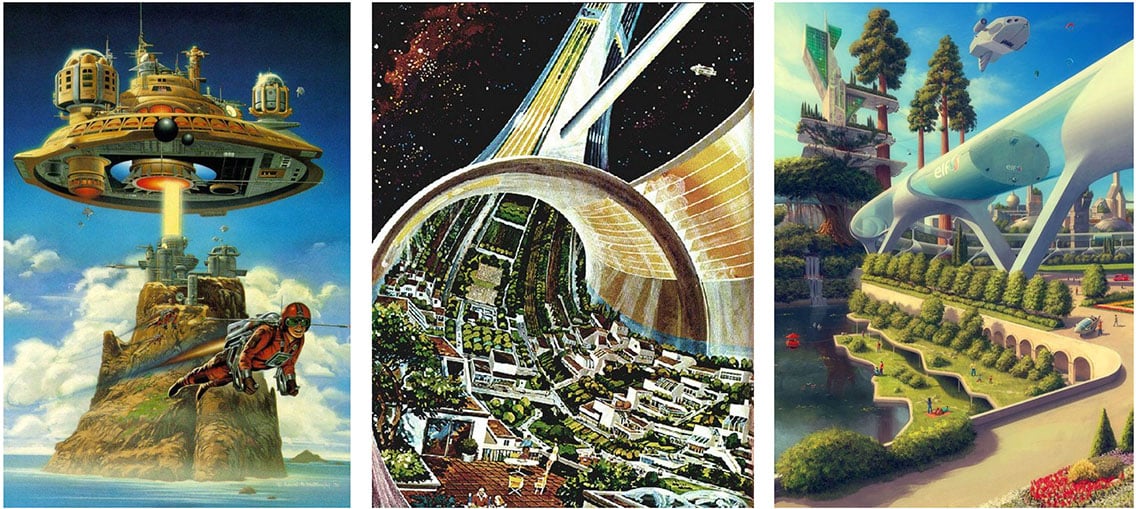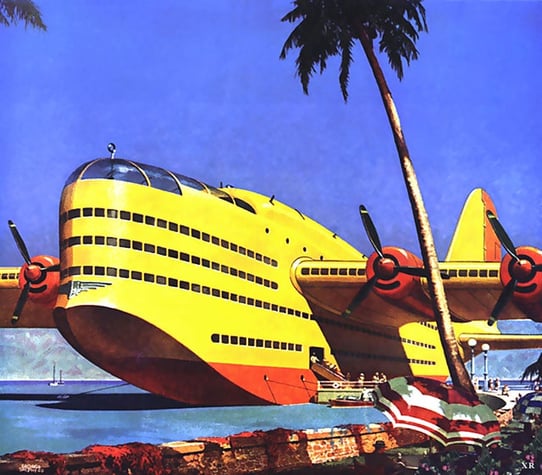 True modern-day technology focuses on simplicity, minimalism, and easy-of-use. Retro futurism is an exaggerated and almost unnecessary form of sci-fi technology. Things like outer space, neon colors, and surreal illustrations are about taking the viewer out of our current reality and putting them into a new reality where the future turned out very different.
It lets the designers show how they would envision the future and allows them to control what things like transportation, scenery, colors, fashion, lighting, and people would look like. They can then build narratives that take place within these worlds and push the boundaries of design and physics in new and creative ways.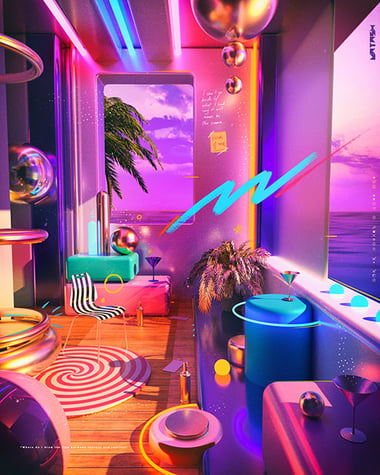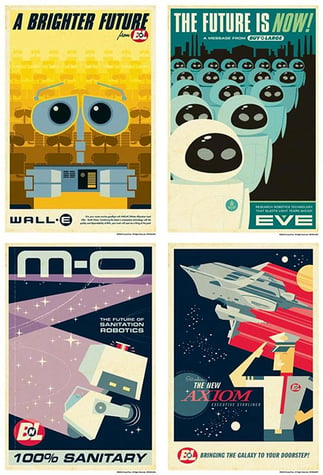 For marketing purposes, retro futurism provides a wide spectrum of aesthetic options. With an emphasis on bright colors, typography, curves, edges, and computer-inspired details, you can go with a more vintage and textured look, or you can go for a sleek and polished look that all falls under the same category.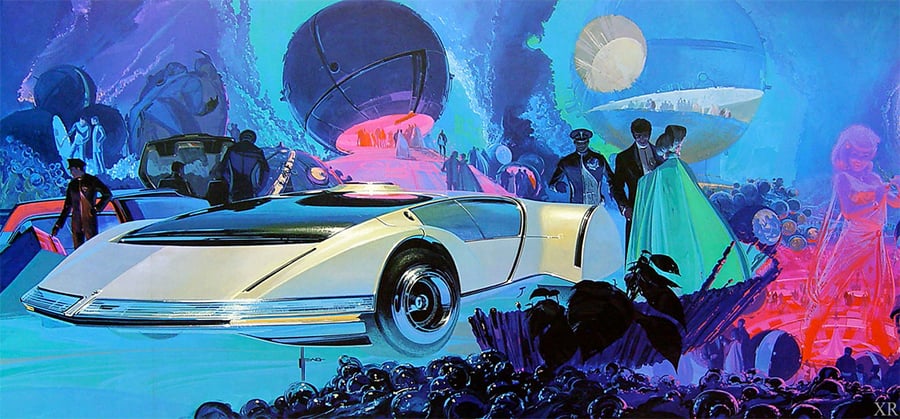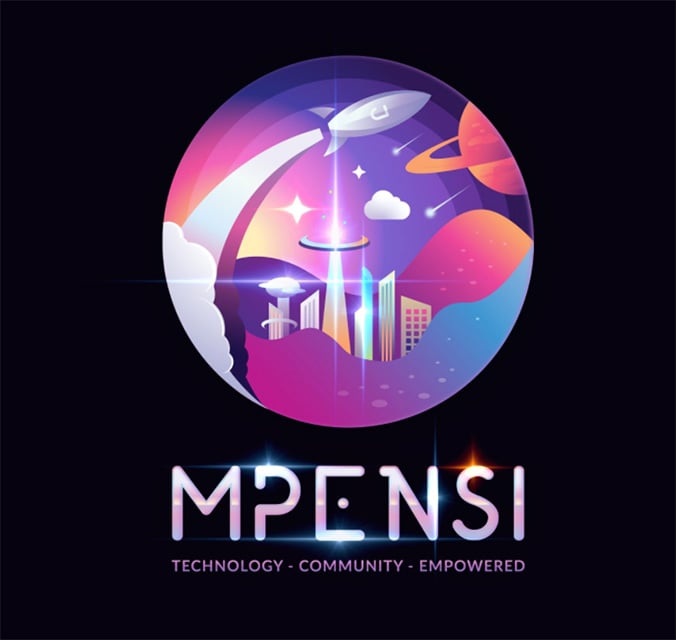 Science fiction and futurism can inspire people to create new aesthetics that can have powerful marketing capabilities. Combining sci-fi with a more old-school vintage approach makes technology more relatable and creative on a global scale. Expect many new futuristic worlds to be created in 2021.
2. Socially Conscious Design
2020 was definitely a turning point for social justice and civil rights. When a global pandemic that overruns hospitals and shuts down the economy also coincides with a high-stakes presidential election and spotlight on racial injustice, people become active and mobilized to make big change.
The #BlackLivesMatter movement gained a bigger global spotlight and opened up a world-wide dialogue about police brutality and the dire need for systemic change. This dialogue was manifested and spread through social media, particularly through graphics, memes, videos, and stories. All of this content had a massive impact on both young and old voters.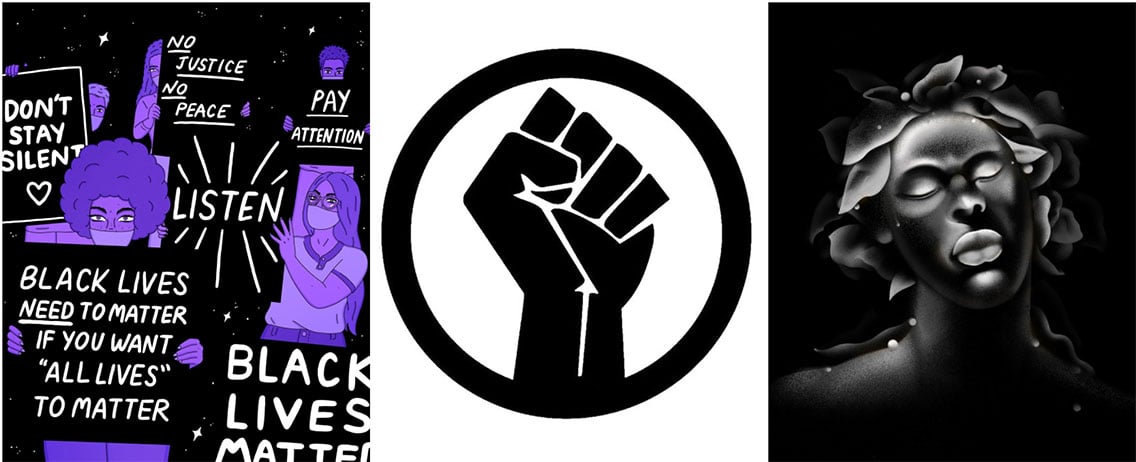 This led to people having new and uncomfortable conversations about our government, our society, and our history. It made us look at our social dynamic with our communities and our jobs and realize where we need to be more inclusive.
These movements, powered by social media, have led to some of the largest protests in our world history. Sharing and retweeting posts, and inspiring others to create shareable things, inevitably creates a bigger spotlight and continues the dialogue. As media and information becomes more accessible, the more people realize how much we need to change in order to adapt to where the future is headed.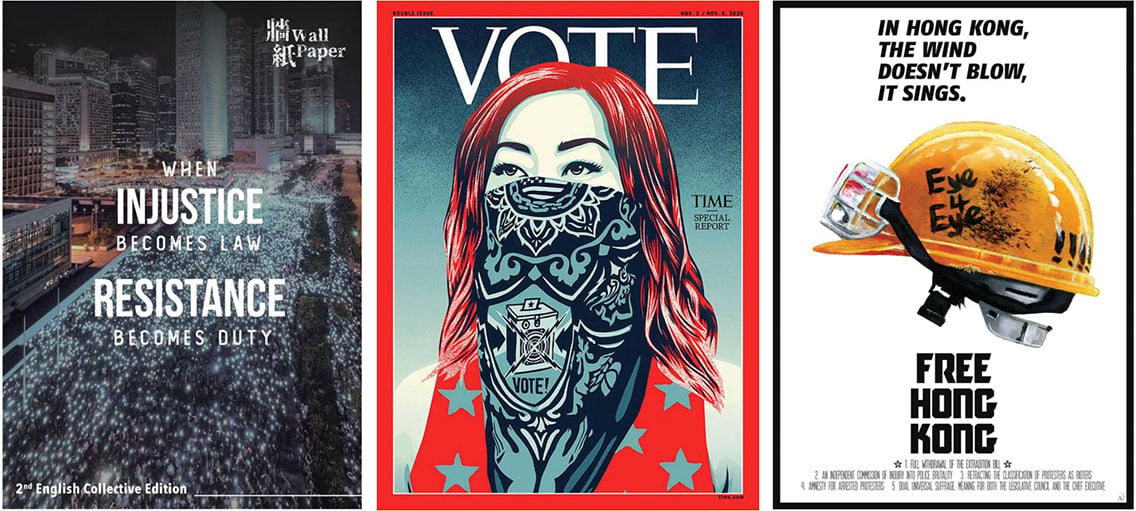 3. Environmental Activism Design
Following social justice activism is environmental activism. This rapidly growing movement is all about inspiring artists, designers, and creatives to spread the message about the dangers of climate change and what we can do to act.
Data has repeatedly shown us that the way our society and global economy is currently functioning is unsustainable to the health and longevity of our planet, which will dramatically alter our climate, landscape, and ecosystems. If we want to survive against the biggest threat or our lifetime, it requires us to make big changes to each aspect of our lives.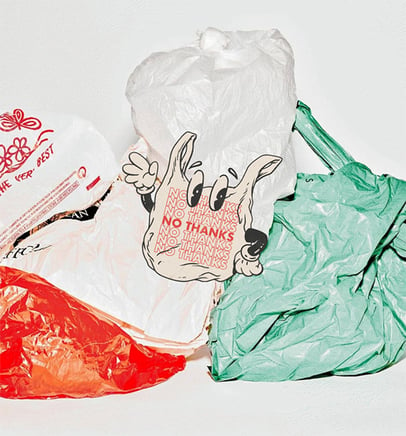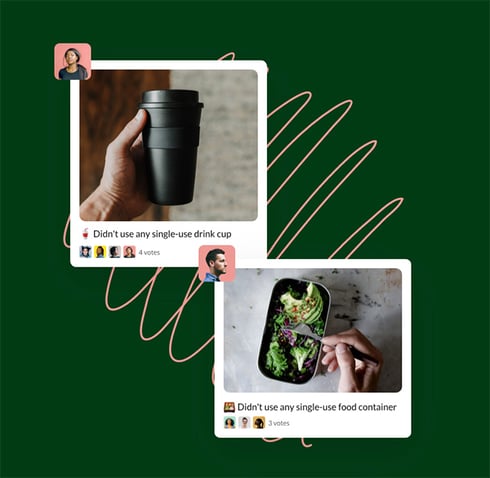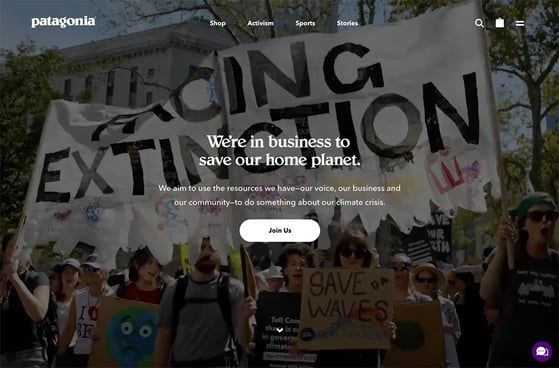 Design can help transform the world into a climate and eco-friendly place by spreading information on how people can learn and make lifestyle changes. We're seeing many campaigns focused on waste management and green transportation, as well as putting spotlights on corporations that are both helping and badly hurting our planet. We're seeing more focus on sustainable materials, plastic alternatives, as well as technologies and applications that can help us seamlessly transition into a more sustainable lifestyle. Overall, our economic climate is shifting to favor eco-friendly and sustainable companies over the cheap and fast.
The draw towards environment activism design goes beyond the activism itself. Many people are drawn into the pleasing aesthetic of nature. In fact, nature was a trend we identified in our 2020 design trends series.
As we said last year, "Nature is an element that's universally relatable. No matter who or where you are, the outdoors is always a constant. Whether it's plants, animals, landscapes, or weather, nature is making its way back into the design space."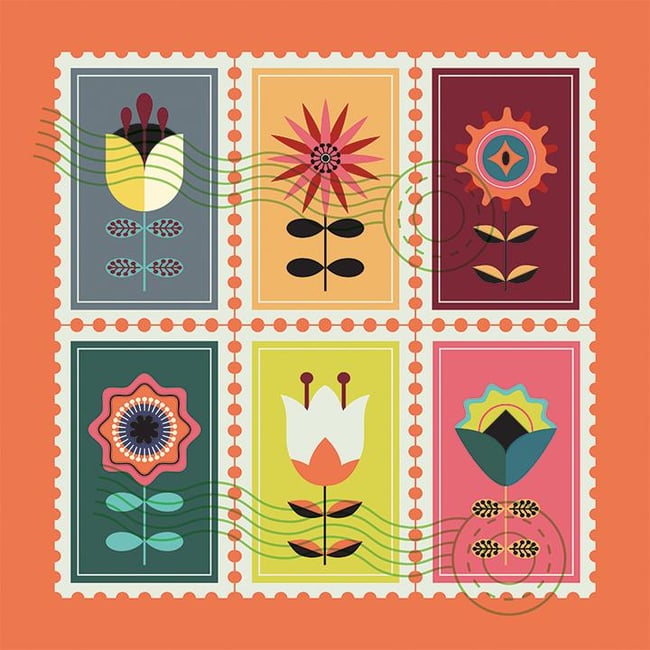 4. Authentic Representation in Design
This trend also follows suit with the concepts of "design activism" and designing for change. The media and entertainment industry has a long history of "whitewashing" and excluding minorities from representing brands or being leading roles in TV and film. 2020 was a turning point year where people stopped being soft-spoken and started being direct about the dire need for equality and representation in the media.
It has been proven that representation matters a lot in marketing. If consumers are able to see others who look like them in marketing assets, it's easier for them to make a connection and see themselves incorporating the brand or product as part of their daily life. It also makes people feel valued, safe, and empowered to be their true authentic self, which can build a positive emotional connection to a brand.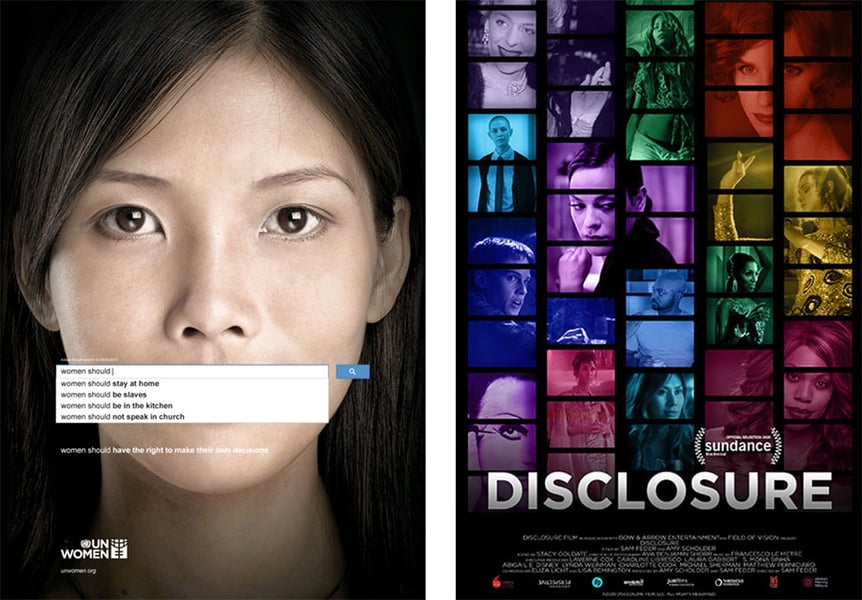 It's also not enough to just focus on skin tone and making sure that diversity is represented from a visual standpoint, but also making sure people of color are included in creative decisions.
Due to a long history of systemic suppression of minorities in the tech and creative industries, it's very likely when searching for new talent that most applicants will be white and male. While it might seem obvious to go with someone you're comfortable with due to cultural similarities or experience, fostering an inclusive environment means taking risks and making sure people of all backgrounds can bring their experience to the company.
If the goal is to work on projects featuring diversity and inclusion, it's imperative that your company is diverse and inclusive.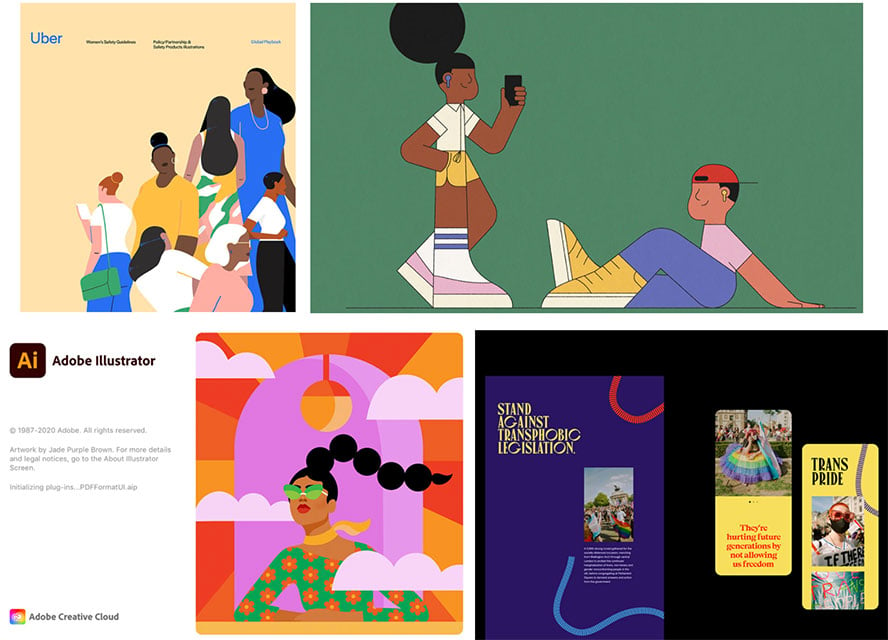 In 2020, we definitely saw an increase in representation in our mainstream media, and as we continue to grow and become more diverse as a society, this will become less of a trend and more of an industry standard. The days of exclusivity and suppression are coming to an end, and the days of authenticity will become the norm.
5. Optical Illusions
People love (and also hate) optical illusions. The main goal of an optical illusion is to trick the viewer into not being able to identify what they are seeing. There's something fascinating about looking at an image and seeing something one moment and then something completely different another. It's intriguing to see what our brains focus on first and what we discover second.
Optical illusions are becoming more of a graphic design asset as our technology evolves and we have more control over image manipulation. Some of the most famous examples we think of when we hear "optical illusions" were hand-drawn illustrations or photographic anomalies.


For marketing purposes, optical illusions are a gold mine. With the amount of content out there, especially digital content, you're lucky if someone spends a split second looking at your designed ad or post. Optical illusions are meant to stop someone in their tracks. They are meant to draw people in while their brains digest what they're seeing.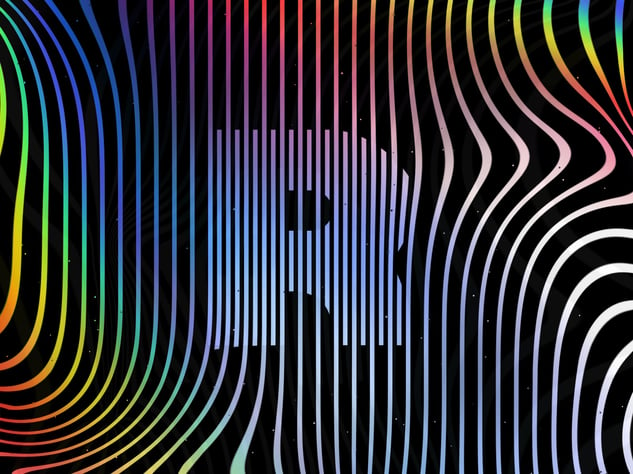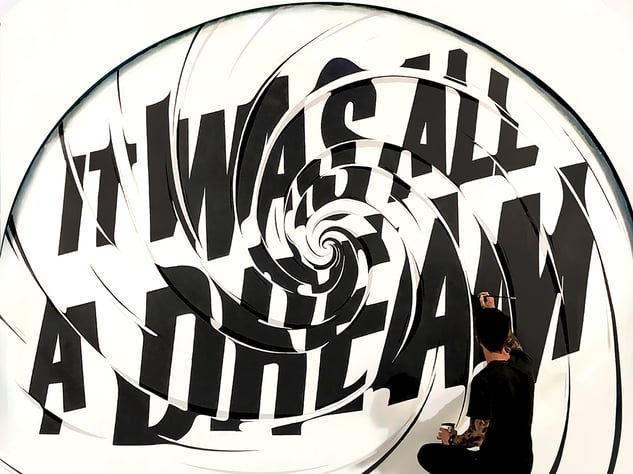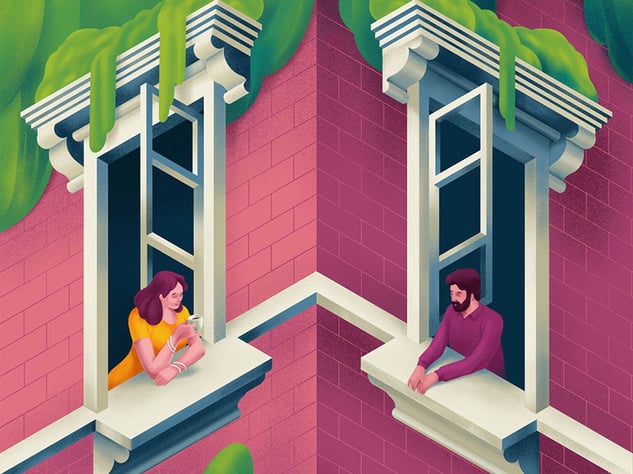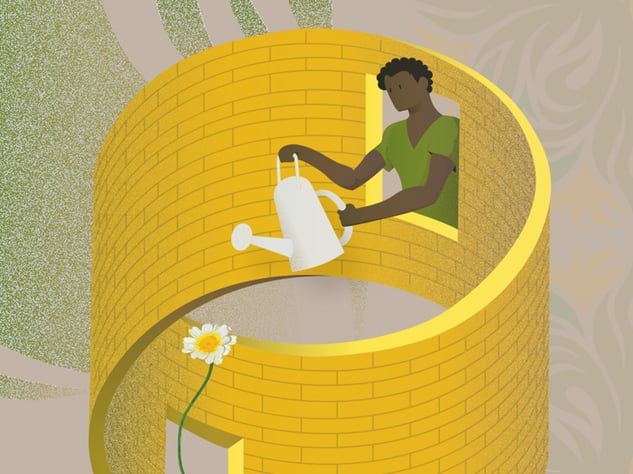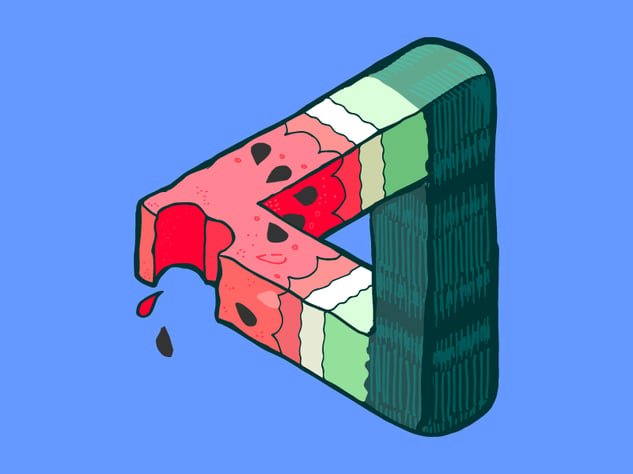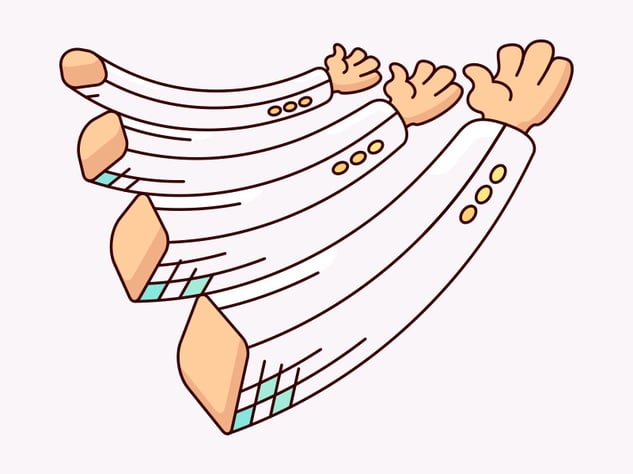 If you're looking for a unique way to draw in your target audience, optical illusions can help do that. Optical illusion designs also often elicit a sense of sharing (such as "what do you see when you look at this?" or "how cool is this image?") which can spark a dialogue between others ultimately expanding your brand's initial reach.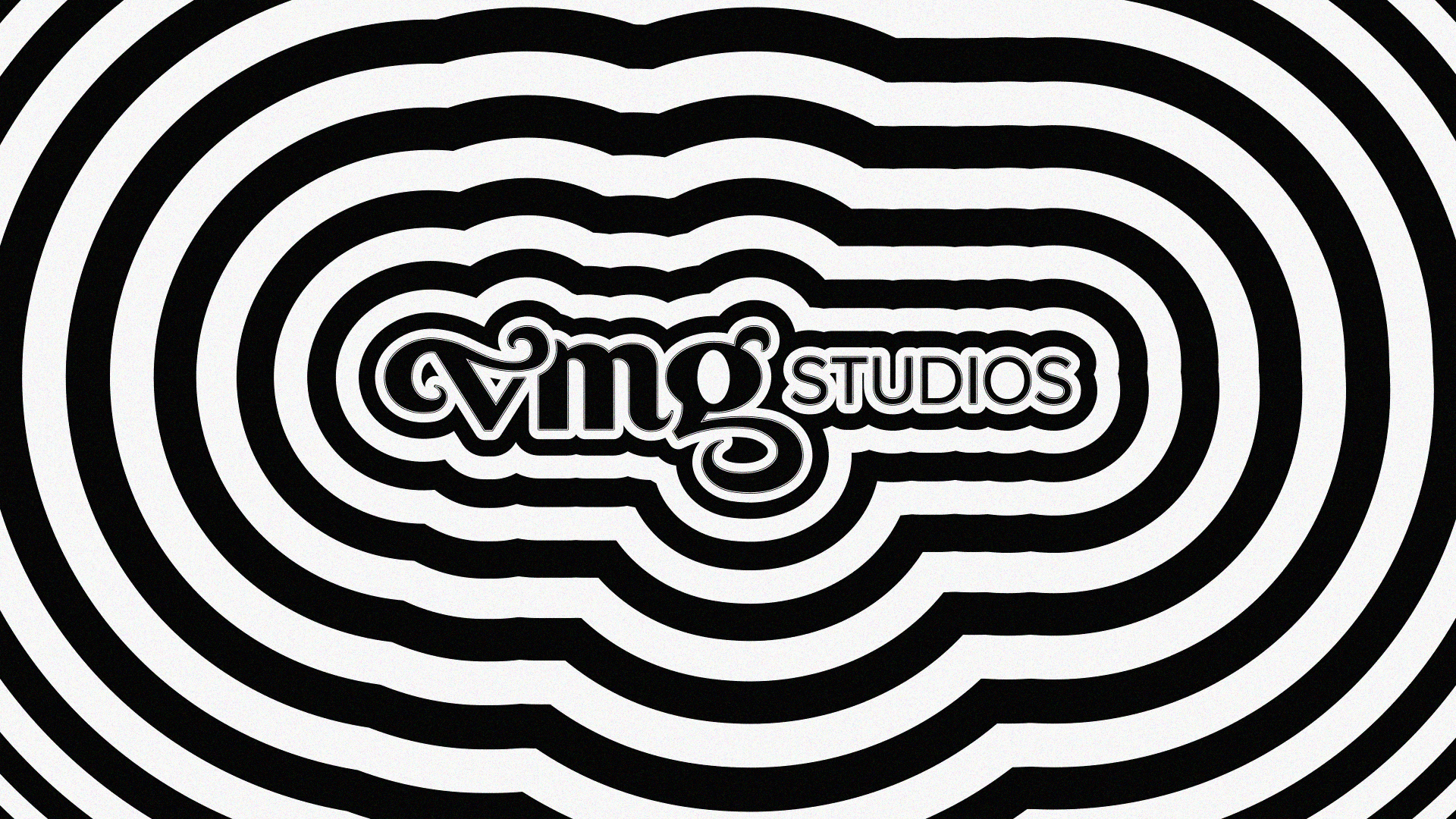 Moving Forward with Graphic Design in 2021
Whether you need to refresh your graphic design assets or completely build your design asset library from the ground up, implementing some of the inspiration from this list can help elevate your brand and its reach.
Consumers are interacting more with brands online, meaning compelling design is more important than ever before in capturing their attention. Identify your target audience and buyer personas and produce creative content they'll want to interact with and share with others.
Styles of design to consider in 2021 and beyond include:
Retro futurism
Socially conscious design
Environmental activism design
Authentic representation
Optical illusion
Building the aesthetic aspects of your brand is an ongoing task, and while it requires a lot of work and dedication, these assets can help build brand awareness and separate your brand from the competition. VMG Studios has a team of designers waiting to bring your brand to life, visually, and elevate your messaging. You can learn more about our design and branding service offerings to see if VMG is the right creative partner for your needs.
To find more creative inspiration in animation & motion graphics, graphic design, and social media, click the image below to download our free 2021 Creative Trends eBook!
2021 Animation & Motion Graphics Trends