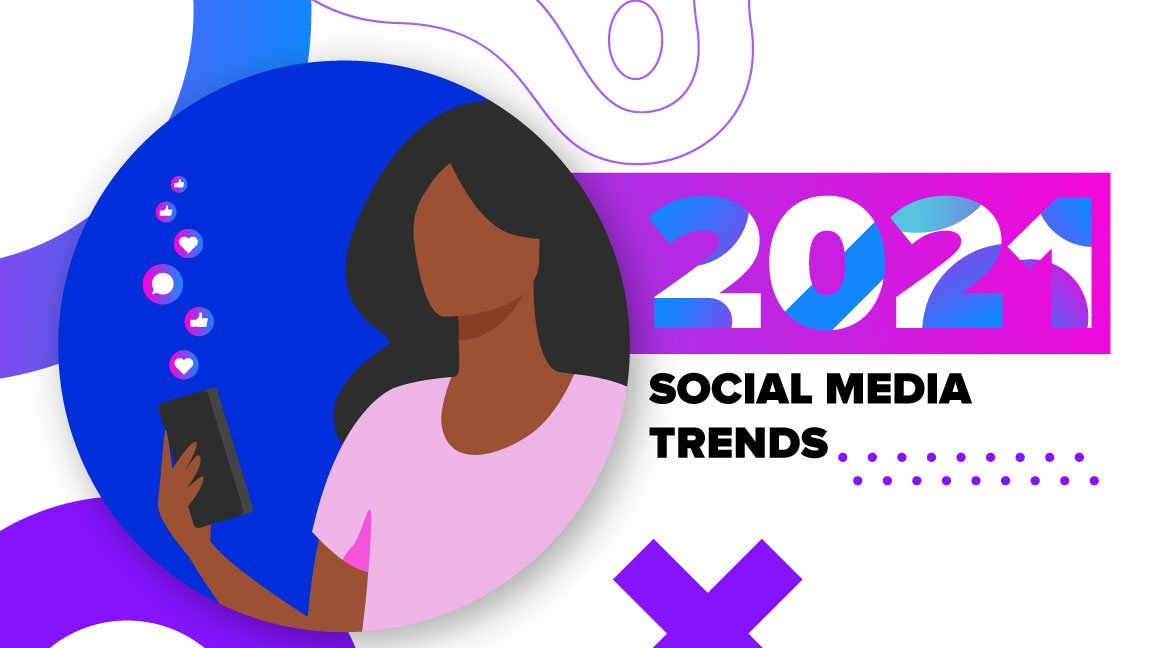 The social media landscape changes so frequently that it might seem impossible to keep up with the latest trends, especially as a social media manager or marketer. But, just as there are short-lived trends, there are also trends with longevity that are worth paying attention to.
Social media is still relatively new as far as marketing strategies are concerned, however, its importance and relevance for businesses continues to grow.
2020 was no exception in terms of growth. In fact, 2020 seemed to accelerate social media growth, from personal to professional use, because of COVID-19.
VMG Studios also had to pivot our strategies as it relates to social media to connect with our audience and showcase our capabilities. As a hybrid creative marketing agency that produces all kinds of content, including social media assets, we are constantly researching and educating ourselves on the latest apps, trends, features, etc., so that we can best support our clients.
Our team, especially our social media manager, worked to put together a list of social media trends we're seeing so that we can continue to help our clients and other businesses and marketers successfully navigate the saturated social media market in 2021.
1. TikTok
TikTok exploded in 2020, becoming the fastest-growing social media network with an estimated 800 million active users and a 58% increase in downloads in the first quarter of 2020. Part of the surge in popularity and downloads is attributed to COVID-19 and more people spending time on their mobile devices and social media.
The video-based platform, where people can share clips up to 60-seconds in length, is especially popular with the teenage demographic, however, studies show it is growing in popularity among adults.
TikTok is also becoming an increasingly popular network for brands to interact and engage their target audience, particularly since video marketing is one of the most effective tools, according to research.
The good news here is that longer videos, up to three minutes in length, are currently being beta tested for larger creators, while some accounts are trialing the addition of a link in their bio, which will help with conversions.
Brands like the NBA, The Washington Post, MAC Cosmetics, Chipotle, and BMW have had success on the platform, which shows that TikTok is more than just dancing videos (which are still hugely popular, by the way).
Part of the appeal of TikTok is its approachability with content that isn't overly produced. Even brands that have the bandwidth to up-level their video quality are making their content feel spontaneous, which helps humanize the brand and the people who work there.
Additionally, TikTok's algorithm is designed so that anyone can go viral; even small accounts with little to no following can rack up hundreds, thousands, or even millions of views. The opportunity for organically expanding your reach is extensive!
Some of the most successful viral brand building sometimes doesn't even come from the brands themselves, demonstrating the power and benefits of robust branding.
This year, we saw an unprecedented example with the iconic TikTok of a potato laborer, Nathan Apodaca, "filming himself cruising to work on his longboard, lip-syncing to Fleetwood Mac's iconic song, 'Dreams,' all while gulping down a carton of Ocean Spray Cran-Raspberry after his pick-up truck broke down."
The video exploded online, capturing more than 69.2 million views and being remade more than 100,000 times. Talk about organically expanding reach and building equity through social.
2. Instagram
While TikTok made a big splash as a newer social media network, Instagram continued its dominance as one of the most popular platforms in 2020, meaning Instagram isn't going anywhere in 2021.
Instagram rolled out new and revamped features in 2020, many of which are geared towards brands and the commercial side of the platform. These features include:
Let's dive into these features a bit more.
Instagram Reels
Instagram launched this in-app video sharing feature in August of 2020, ultimately, as a way to rival the growing popularity of TikTok. Users can create videos up to 30-seconds in length and share it through their feed, stories, and in the Reels tab.
When it first launched, VMG Studios identified numerous ways brands could utilize and benefit from Reels. This includes:
• Educating your audience
• Showcasing company culture
• Humanize the business and make new connects
• Have fun!
Similar to TikTok, Instagram Reels are easy to edit and don't always need to be highly-produced, making them an approachable medium to engage your target audience.
To accommodate this feature update, Instagram redesigned the layout of their platform to prioritize these vertical short form videos, meaning Reels are definitely here to stay.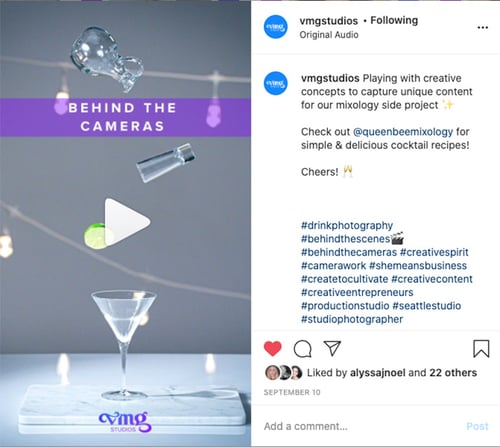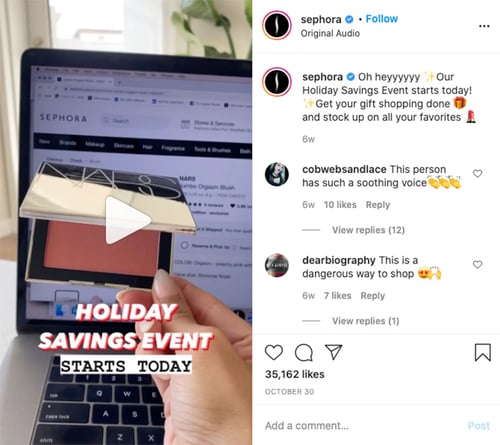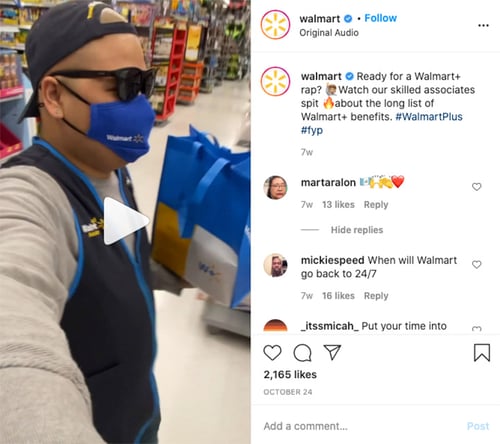 READ: The Marketer's Guide to Instagram Reels
•

Instagram Shop
Instagram is becoming more commercialized due to influencer marketing, paid ads and promotions, and now the shop feature.
The social media app expanded its shoppable posts by implementing the Instagram Shop tab where users can discover and shop brands directly within the platform. Brands can direct users to their website to purchase or they can use the "checkout feature" which allows users to buy directly on Instagram without leaving the app.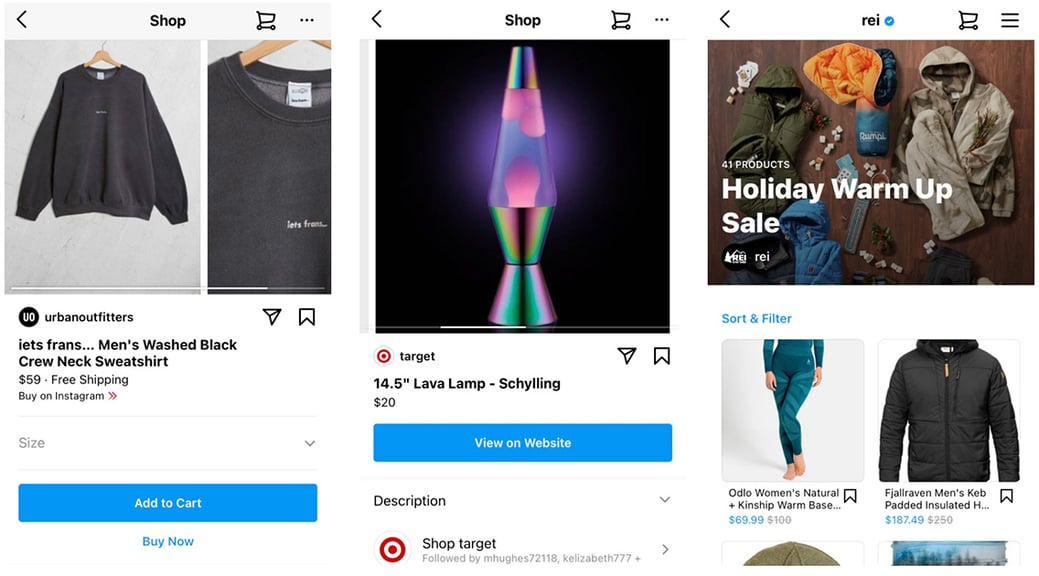 Now that Instagram Shop has its own dedicated tab on the app and the ability for seamless in-app purchases, this is a great feature for businesses to take advantage of considering 130 million people tap on an Instagram shopping post every month.
Instagram Guides
Guides were originally introduced with a focus on wellness content to provide resources during the COVID-19 pandemic, but they have since been expanded to all users.
Instagram classifies guides as "a way to more easily discover recommendations, tips and other content from your favorite creators, public figures, organizations and publishers."
The curated flow of posts is especially useful for step-by-step guides. It's also a way to leverage your content by giving it a longer shelf life in the form of a guide.
Additionally, guides can be created using any public content on Instagram. This creates great potential for content creation and collaboration and removes what we would call a "content creation barrier" for those who have plenty to share about a subject but not necessarily the ability or time to produce the content itself.
For example, at VMG, we could pull 5 different posts about cameras from other users on Instagram and then write about the cameras to establish authority on the subject.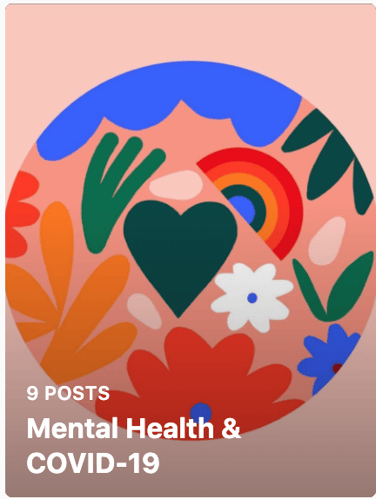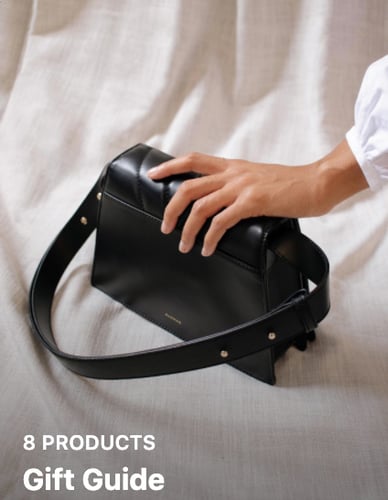 Right now, there are 3 different guide formats to choose from:
• Places
• Products
• Posts
Users can find product guides within the Shop tab of the app, making it an intriguing feature for brands looking to sell directly on the app.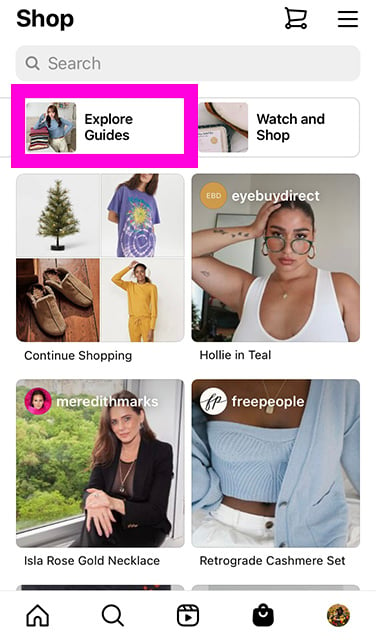 Guides are relatively new (they became accessible to all users in November of 2020), meaning it could be a unique offering for brands to target their audience with helpful, curated content in 2021.
Other Instagram Trends
Instagram is a beast of a platform and brands can utilize it in many different ways. Some other trends to keep an eye on concern the ever-changing algorithm and SEO of the platform.
Hashtags will still play a major role in boosting posts and finding new followers, however, now users can search for specific keywords as opposed to being limited to profiles, hashtags, and locations.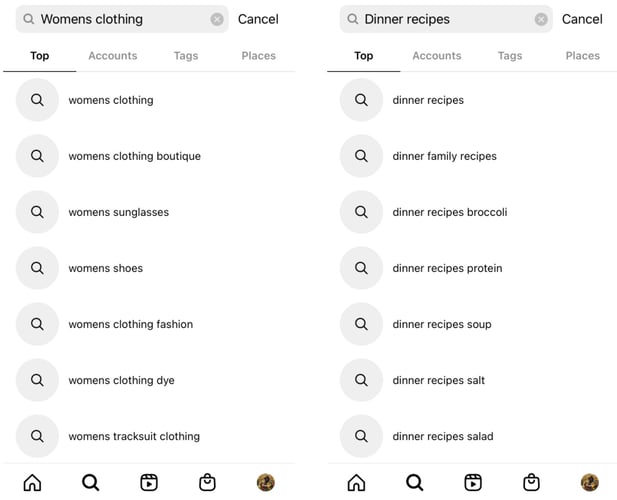 Another trend we are likely to see continue in 2021 is longer, in-depth captions that tell a story intending to make strong, genuine connections with an audience. Many users are starting to use Instagram as a microblogging platform. Research found the average caption length has more than doubled since 2016, and in 2021, the average caption length is expected to be 405 characters which is 65 to 70 words.
3. Live Videos
Several platforms now offer live video options including Instagram, Facebook, YouTube, Vimeo, Twitter, Twitch, and LinkedIn. While research shows only 35% of marketers use live video as part of their social media strategy, 82% of people prefer live video from a brand over standard social media posts.
The appeal of live videos is its ability to offer direct access to a brand's audience. Social media users can interact in real-time and build genuine connections with brands they support, which can help instill brand loyalty. Similar to Instagram Reels and TikTok, livestreams are generally less produced and are perceived as being more authentic.
Kathy Klutz-Guest wrote in an article for Convince and Convert, "Use streaming to create conversations, give customers important information, and highlight fans, partners, employees, and new technologies (and share the spotlight). Sharing behind-the-scenes glimpses is yet another way to thank your biggest fans and enable them to help share your brand story. When done well, these approaches have generated returns for brands in the areas of publicity, engagement, downloads, lead generation, and influencer marketing."
Live videos on social media platforms exponentially increased in 2020, particularly due to the coronavirus pandemic. In the early days of quarantine, Instagram says it saw a 70% increase in livestreaming in the U.S. in just a month. While the growth in livestreaming has mainly plateaued, it'll still be a popular way for brands to interact with their audiences online.
4. Vertical Videos
This is likely no surprise, but vertical video is here to stay! We're actually getting close to the point of no longer calling this a trend and simply viewing it as a norm. Vertical video has exploded in the last few years due to social media platforms like Instagram and Snapchat, in particular, and smartphone usage.
One study found that more than 75% of video viewing is mobile, while another study found that smartphone users hold their phones vertically about 94% of the time.
For a quick overview of the battle of horizontal vs. vertical video, be sure to check out the video below.
Even YouTube, one of the last few remaining horizontal video platforms, introduced vertical video ads in 2018, and we expect more brands to take advantage of the feature due to the vast amount of mobile viewing.
5. Shoppable Posts
Shoppable features on social media are engaging, easy to use for customers, and help drive conversions. Paired with a steady increase in online shopping, the presence of shoppable posts on social media will likely increase in 2021.
Many platforms have implemented shoppable posts, meaning most brands can find the right avenue for reaching their target audience.
Instagram Shoppable Posts
Instagram dove headfirst into the shoppable features part of social media, as earlier discussed with Instagram Shop, and we are seeing this trend continuing and spreading to other social media platforms.


Facebook Shoppable Posts
To no surprise, Facebook (which owns Instagram) now also has a shop feature on its platform. Facebook Shops is described as "a mobile-first shopping experience where businesses can easily create an online store on Facebook for free. Shops let you choose which of your items you want to feature, merchandise with product collections and tell your brand story with customizable fonts and colors. In Facebook Shops, you'll be able to connect with customers through WhatsApp, Messenger or Instagram Direct to answer questions, offer support and more."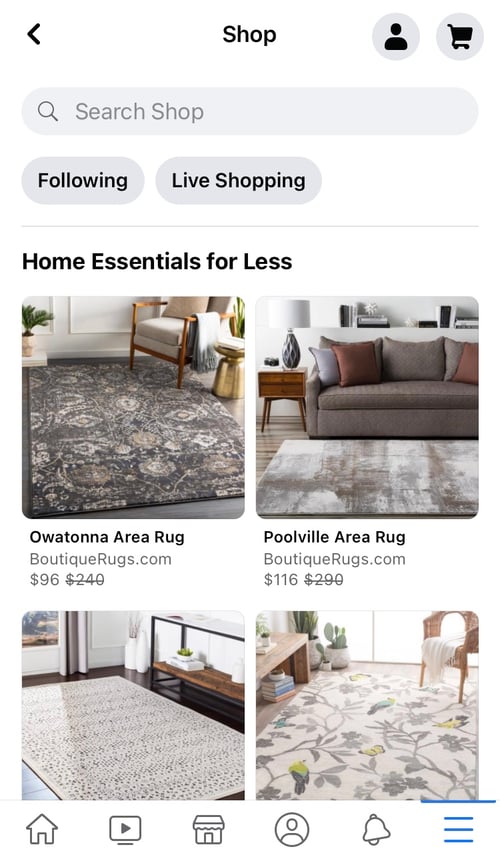 YouTube Shoppable Videos
YouTube offers interactive, shoppable features such as "cards." Cards, which are icons that appear in the upper right corner of a video, can appear on-screen at specific moments in a video. Users can link to outside websites, such as links to buy products that are being featured in a video, however, there are some terms and conditions that apply. Users must join the YouTube Partner Program which outlines its monetization policies and requires more than 1,000 subscribers (among some other requirements).
READ: What Are Shoppable Videos? (Definition & eCommerce Examples)
Pinterest Shoppable Posts
Pinterest, the internet's favorite place for home décor and recipe ideas, also implemented shoppable features through product pins.
Pinterest describes product pins as "enriched with metadata and formatted to let people on Pinterest know that they're shoppable. They contain pricing info, availability, production title and description."
Brands can also create product groups to filter and organize their product pins, and then create shopping ads to promote those groups.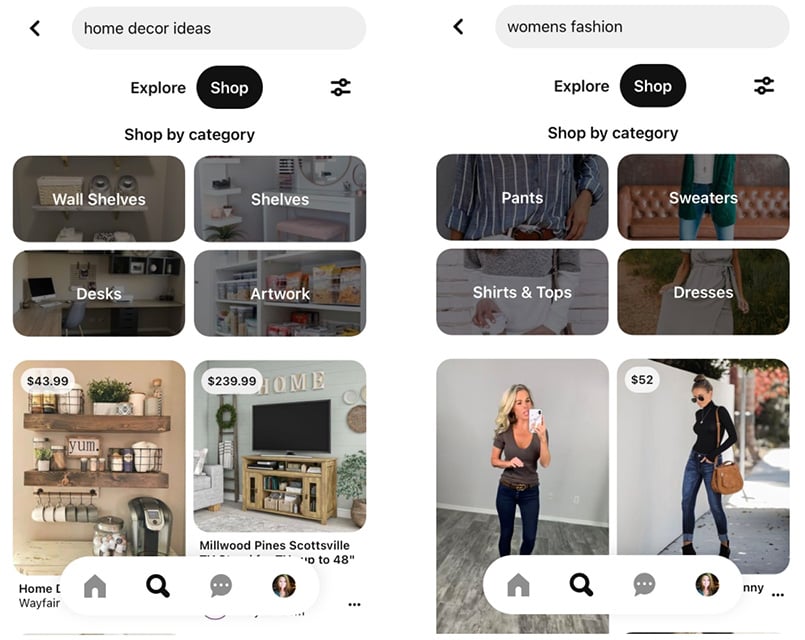 6. Participating in Viral Challenges
Viral challenges on social media have been around for years (remember the Ice Bucket challenge to raise money for ALS research?), and thanks, in part, to COVID-19, we don't see those going away anytime soon.
From dance and song challenges that are extremely popular on TikTok and Instagram to photo challenges on Facebook, brands that participate can become more humanized and relatable to their target audience, engage with their customers, and even promote their company values.
Brands can even create their own challenges to promote their products and engage users on various social media platforms, such as the Cinnamon Toast Crunch voice box challenge and the Oikos one trip challenge.
Honorable Mention Social Media Trend: Twitter Fleets
We would be remiss if we didn't mention the latest social media platform to jump on the "stories" bandwagon! In November of 2020, Twitter introduced its own stories feature called "Fleets."
That thing you didn't Tweet but wanted to but didn't but got so close but then were like nah.

We have a place for that now—Fleets!

Rolling out to everyone starting today. pic.twitter.com/auQAHXZMfH

— Twitter (@Twitter) November 17, 2020
Similar to stories on Instagram, Facebook, and Snapchat, Fleets stick around for 24 hours and users can Fleet text, reactions to tweets, photos, or videos. People can also respond to Fleets through direct messages. As of the writing of this article, Fleets are only available on the mobile version of Twitter.
It's still unknown how many people are utilizing Fleets and if they will make an impact on the platform, but it's definitely something to keep an eye on as the feature updates and likely expands in 2021.
Building Your Social Media Strategy for 2021
Social media is fluid, meaning what's popular one day might not be the next. Regardless, social media is becoming an increasingly important part of marketing for brands of all sizes. Especially with COVID-19 and quarantine, social media has kept the world connected including keeping consumers in touch with the brands they trust and support.
It's safe to say that social media is not cooling off in 2021 and ramping up instead. When strategizing how best to utilize social media for your business, remember to consider the following trends:
TikTok
Instagram

Instagram Reels
Instagram Shop
Instagram Guides

Live Videos
Vertical Videos
Shoppable Posts
Viral Challenges
While the end of COVID-19 is getting closer, continue to connect with your target audience on social media and show that you're committed to your consumers no matter the circumstances.
-Co-authored by Bridget Raftery
To find more creative inspiration in animation & motion graphics, graphic design, and live-action video, click the image below to download our free 2021 Creative Trends eBook!
2021 Animation & Motion Graphics Trends