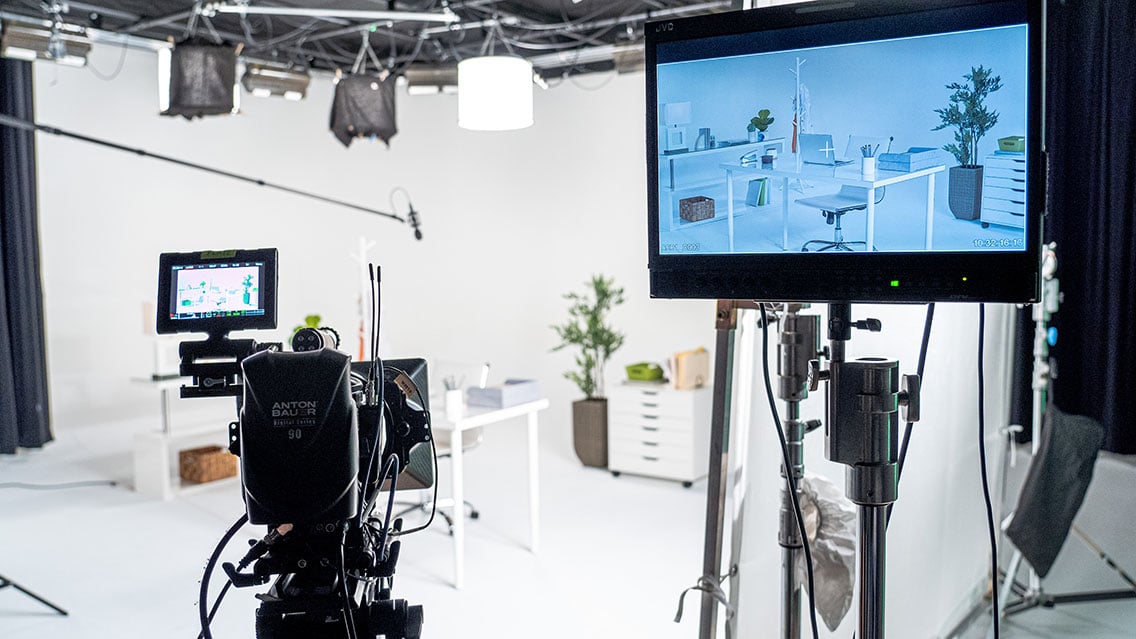 Choosing a partner for your creative content needs can be overwhelming. There are hundreds of choices to choose from and it can be difficult to whittle down the options, whether you're looking for a specific service, a certain budget, or a culture fit.
We understand that research is a big part of selecting the right supplier, and our goal is to be as helpful as possible when it comes to who we are, the services we provide, the clients we support, and what differentiates our company from others.
VMG Studios, by the way, is a hybrid creative marketing agency and video production studio, meaning we offer a long list of services including marketing strategy, animation and motion graphics, design and branding, interactive media, and content marketing, just to name a few.
However, our bread and butter and where it all started back in 2004 was in video production. The business started in a garage with just 4 employees. Since then, we've expanded to a team of more than 20 people and moved to a 7,100 square foot building complete with our studio and audio booth.
Becoming the hybrid agency we are today boasts many benefits due to our variety of service offerings, however, the simple point of us having our own studio space also helps set us apart from similar agencies.
This article will dive into the advantages of partnering with an agency, like VMG Studios, that has its own studio space, and outline the benefits within 3 main categories:
Overview of VMG's Studio Space
Before diving into the benefits of having our own space, let's quickly summarize the features of our 30' x 24' two wall hard cyclorama stage.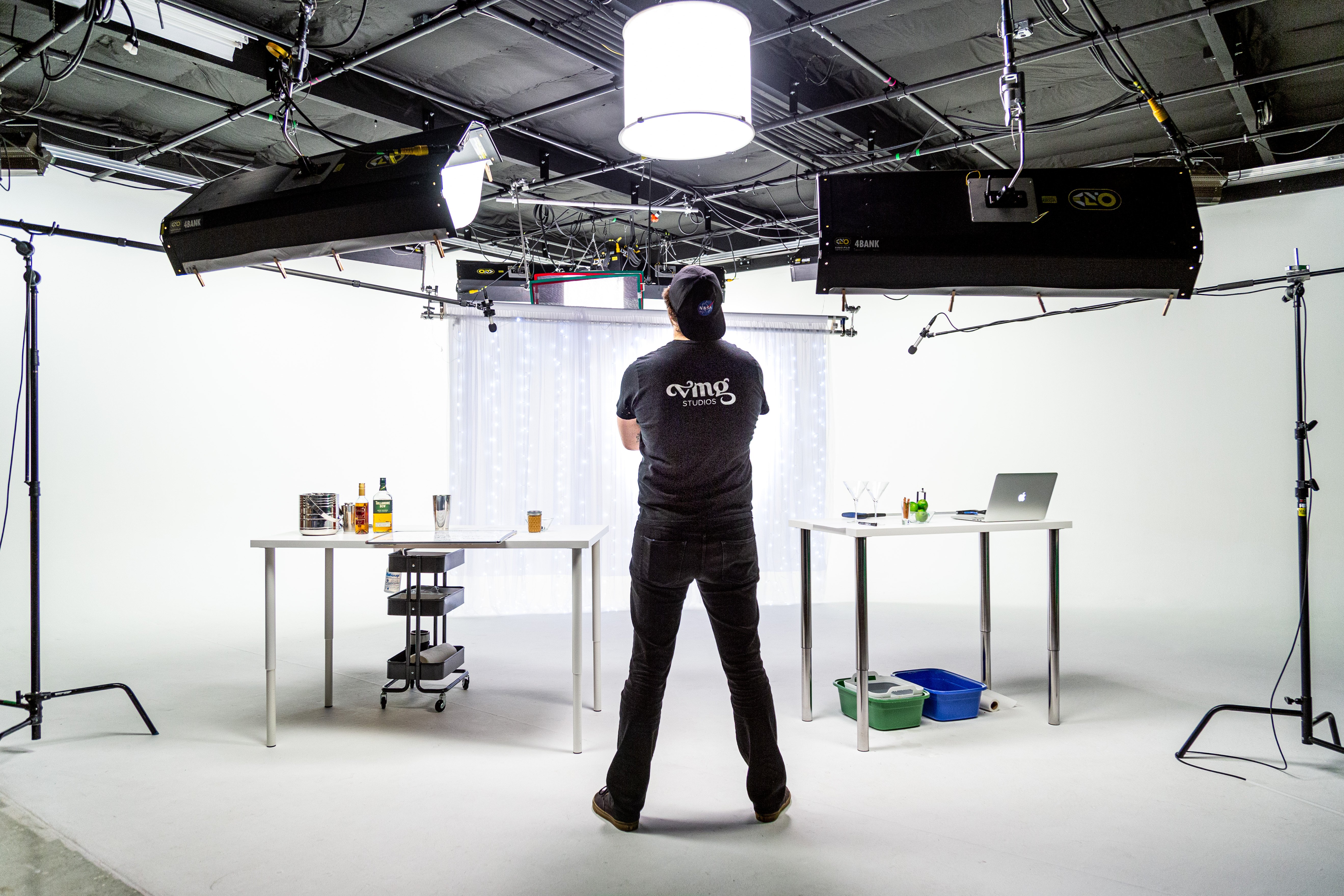 The studio space amenities include:
Green room with makeup and wardrobe areas

12' ceiling

16' x 9' green screen

Roll-up garage door

Sound reduction curtains

Private entrance

Private editing suite

Audio recording booth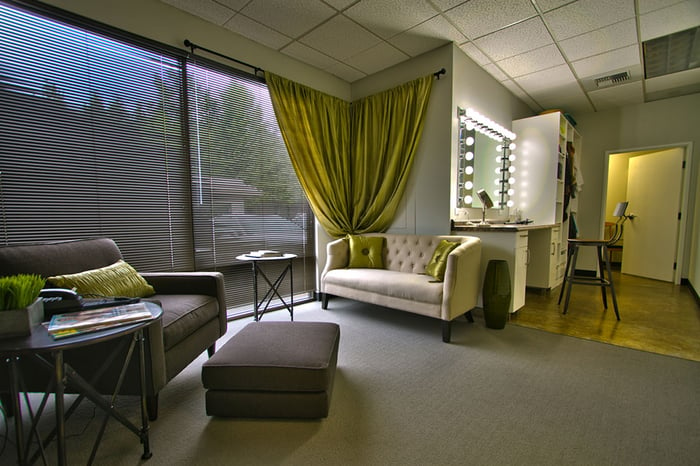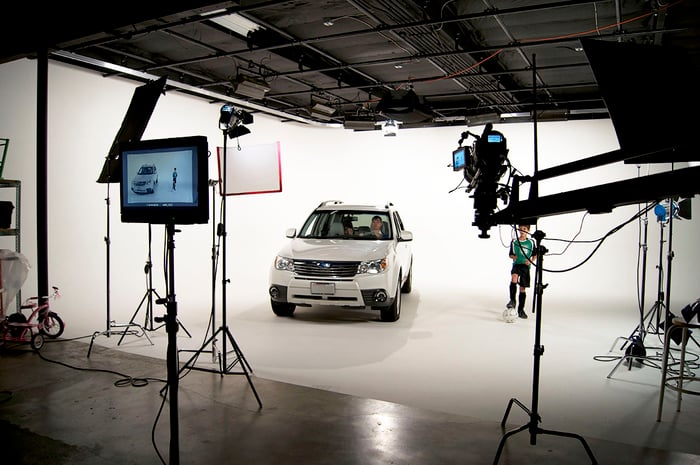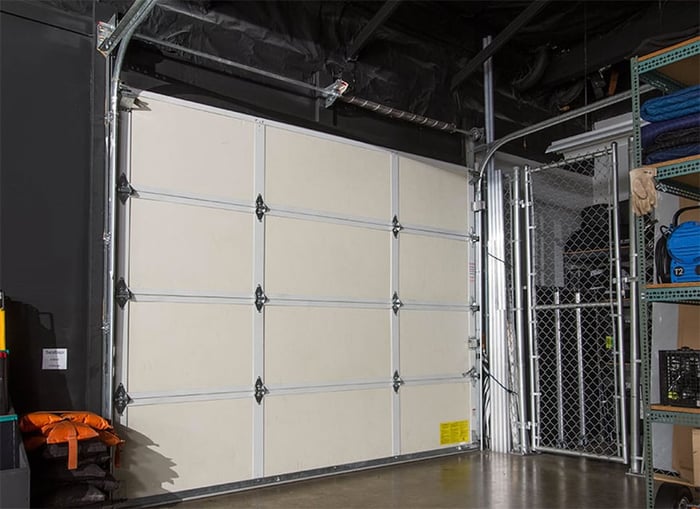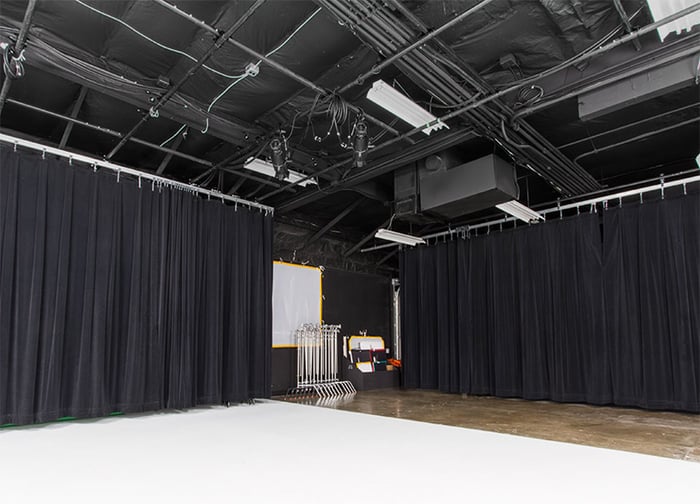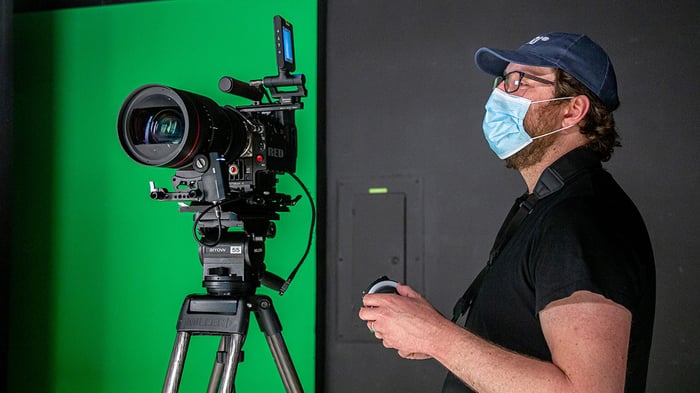 Benefit #1 of Having Our Own Studio: Scheduling & Access
Wouldn't it be great if your home came with a gym or a swimming pool? Maybe you'd work out more because it was more convenient. Maybe you'd host more summertime barbecues and pool parties. Having our own studio is like having a gym or pool at our house.
Our quick and easy access to our studio and all of its features gives us many advantages when it comes to executing our clients' video visions, specifically when it comes to scheduling.
When renting an external studio space, you're at their discretion in terms of scheduling. You might need to wait longer for the studio space, ultimately pushing back your initial deadline, or you might feel rushed into a timeslot and not properly prepare all the pre-production assets.
We, obviously, own the scheduling in terms of our studio, meaning we can find time to fit in our client's project within their expected timeline.
Control of scheduling our studio especially comes in handy regarding:
Quick-turn projects

Last-minute changes or additions

Priority levels
In terms of quick-turn projects, if a client comes to us with a tight turnaround time, having access to our studio and scheduling capabilities helps ensure those deadlines will be met. We can save our clients a lot of time (and money, but more on that later) by not having to outsource and find a place to rent.
This rarely happens, but if there's ever a time where something was missed on the initial shoot day or a last-minute change has been implemented, our team also can immediately walk into our studio and address those changes, as long as there isn't a renter already using the space under a signed contract.
Speaking of renters, we do rent our studio space to outside organizations. However, when we have client projects of our own on the docket, we make sure to prioritize their deadlines and block time accordingly.
READ: How to Safely Shoot Video Content In Studio During COVID-19
Benefit #2 of Having Our Own Studio: Equipment & Expertise
Just like it's beneficial to have the space itself, we also have all the necessary equipment and expertise to go along with it! Our extensive equipment list includes, but isn't limited to:
Cameras

Lenses

Filters

Tripods

Microphones

Recorders

Lighting

Teleprompter
In addition to the equipment itself, all of which is on-site, we also have a green screen, green room, and an audio recording booth.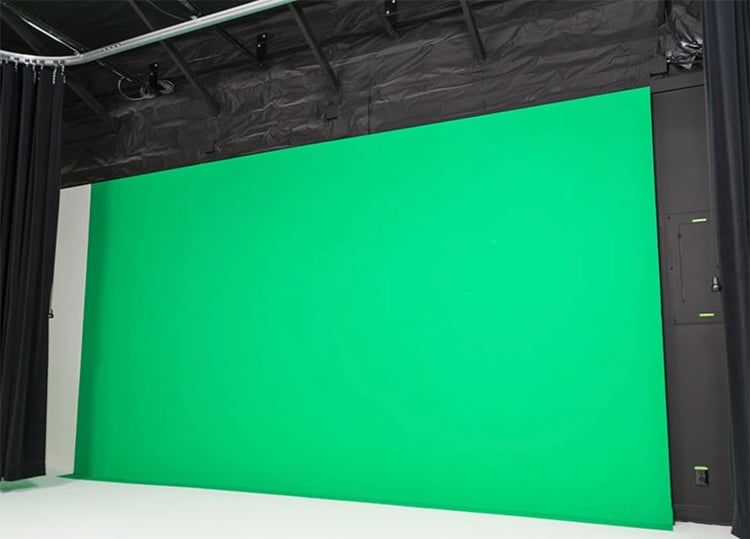 Our Director of Photography, who is also our studio manager, is acclimated to the space, meaning he can work quickly and efficiently with any necessary setup. We also have many other team members including producers, coordinators, and production assistants ready to jump in and support wherever is needed.
Speaking of setup, we can easily transform the space into whatever our client needs. From painting walls and floors to building sets to even driving cars into the space, we don't need to ask permission to do so like we would if we had to rent an outside studio space.
Benefit #3 of Having Our Own Studio: Cost
Just like it is beneficial that we control the scheduling of our studio, we also control the cost. We don't have to outsource and pay someone else's fee, allowing us to be flexible when it comes to working within our client's budget.
If we're operating on a tight budget or we're getting close to going over budget on a project, we have the wiggle room to find solutions to keep our client's projects within scope.
Beyond flat rates for the rental itself, many additional fees can add up when renting a studio space that not everyone is aware of. This can include fees for bringing pets on set as well as overtime hours like starting early, staying late, or weekend work. We don't have to pay those additional fees, meaning there aren't hidden costs that clients need to factor in when outlining their budgets.
Partnering with VMG Studios
There is a lot more that goes into a live-action video project besides the shoot day. From pre-production considerations like scripting, graphic design, hiring talent, and creating shot lists to post-production needs like editing, color grading, motion graphics, and sound design, VMG Studios is equipped to take on your project from start to finish.
If you don't need us the entire way, that's okay, too! We are happy to step in wherever you need support, whether you simply need a team to execute your vision on shoot day or only require post-production editorial assistance, VMG will act as an extension of your team to deliver a best-in-class final product.
When conducting your research on viable creative content partners, factoring in whether an agency has access to its own studio can give you peace of mind regarding:
1. Scheduling and access
Quick-turn projects

Last-minute changes or additions

Priority levels
2. Equipment and expertise
Available equipment on-site

Additional amenities such as a green screen, green room, and audio recording booth

Cross-trained team members

Ability to transform the space (i.e., painting, set builds, etc.)
3. Cost
Control over all of the cost factors

Flexibility regarding working with specific client budgets

No additional fees to consider for things such as overtime or pets



If you're interested in learning more about VMG Studios and how we can best support your creative content needs, we'd love to connect and set up an introductory planning conversation. We're here to answer any and all questions you may have to help make your decision-making process easier.
If you're still in the research and vetting stages, we invite you to download a free list of 10 questions to ask a video production company (or any kind of agency) before hiring them by clicking the button below.