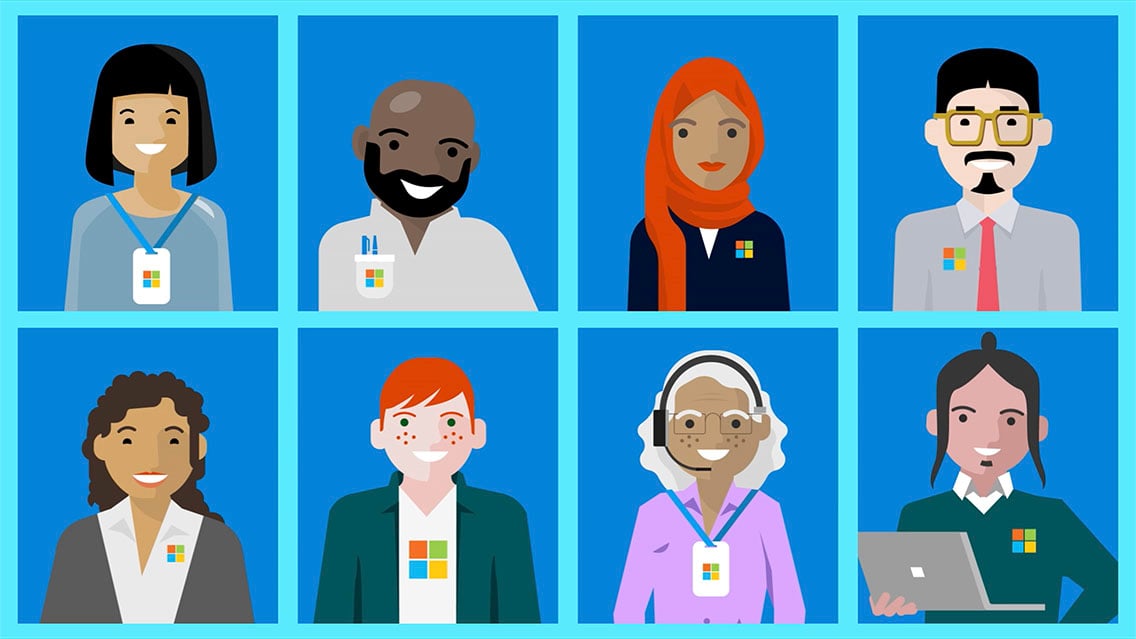 One of the most frustrating things when researching a company is not being able to deduce exactly what they do or provide based on their website. Whether it's convoluted corporate copy, generic stock images, or simply no website at all, it's a sure way to turn away potential customers.
Even if you have a well-designed website with multiple pages spelling out your service offerings and outlining your values and company culture, something that can really help your business stand apart is an explainer video.
As you'll learn in this article (and it's something you likely already know), people love video. It's a way to attract, engage, and retain your target audience into hearing your important messaging.
When companies come to VMG Studios for creative content, we often ask if they have an explainer video for their brand. If not, it's one of the top tools on our list of recommendations to help boost a marketing strategy.
An explainer video is a simple concept, really; it's giving an overview of your company in just a few minutes. While simple in nature, the return of an explainer video is much more in-depth and comprehensive.
Let's dive into reasons why every business should have an explainer video and how best to utilize it in their marketing strategy.
What is an Explainer Video?
An explainer video is a marketing tool to succinctly summarize your brand's core offering and give your target audience an insight into who you are and what you do.
The most popular form of an explainer video is a company overview. However, there are other types of explainer videos to educate your audience.
Company overview
Product/service overview
Hybrid meet-the-team
Regardless of which route you decide to take for an explainer video, the benefits outlined below can help elevate your video marketing strategy.
1. People Prefer Video When Learning About a Company or Product/Service
This is redundant, as I'm sure everyone understands the value of video marketing, but it's always worth mentioning.
People love video.
A survey found the average person watches more than an hour and a half of online video content per day. And we're not just talking about Instagram Reels, beauty tutorials, and funny cat videos (although, people spend plenty of time watching those, too).
Consumers also want to see videos from brands in every stage of the buyer's journey, especially during the awareness stage. A survey found that 96% of people have watched an explainer video to learn more about a product or service and 86% have been convinced to buy something after watching a video.
Part of any successful marketing strategy is fully understanding the mindset of your target audience, meeting them where they are, and providing relevant, educational content geared directly towards them.
So, if your audience (and most audiences for that matter) prefer video over text, why not customize your deliverables to their preference.
FREE INFOGRAPHIC: BENEFITS OF VIDEO MARKETING
2. Explainer Videos Save Time
Besides video being a preferred medium for most consumers, this is the other top benefit of explainer videos that cannot be oversold.
In general, VMG Studios recommends explainer videos are no longer than 3 minutes. With the power and experience of creativity, you can condense a lot of information in that short timeframe. Just take a look at some of the examples below.
In the fast-paced environment we all operate within, optimizing your time each day is imperative to staying on track with your short-term and long-term goals.
Your customers likely also face the same time challenges, meaning it's important to respect your customers' time as well.
An explainer video gives a potential new customer a high-level overview of your company, which can help them more easily (and quickly) decide whether they're interested in moving forward with your services.
Besides an explainer video being beneficial for your target audience, they are also extremely helpful for your sales team.
I think it's universal for most salespeople to constantly be racing against the clock and wishing for more time.
Enter explainer videos.
When setting up meetings with new leads, sales representatives can include an explainer video in their email or calendar invite. The customer can then get to know your business through the explainer video and it will likely answer some basic FAQs they may have such as where you're located, how long you've been in business, the services you provide, etc.
By providing an explainer video before an initial meeting, your sales team can free up time in an introductory meeting to focus on the clients' needs and answering more specific questions instead of spending 10 minutes talking about what your company does.
This is beneficial in any kind of pitch presentation, too. By showing an explainer video off the top, you can quickly move into the nitty-gritty of your presentation and how your business can support the person or company you're pitching to.
And don't just take it from us; this is something supplier diversity managers at Facebook and Microsoft have told us as a way to organize your messaging and presentations as well as stand out from the crowd.
3. Explainer Videos Are Attention-Grabbing
Besides the notion that there isn't enough time in the day to get all your tasks completed, another challenge many people struggle with is a short attention span. (I, myself, can't count how many breaks I've taken writing this article and I'm only about halfway through.)
If you feel the same way, you're not alone. Studies show the average attention span of a human is just 8 seconds.
With this in mind, it's important to capture your target audience's attention right away, and this is true for any marketing video. Luckily, since more people would prefer to watch a video over reading text, you're already a leg up when it comes to hooking your audience with an explainer video.
Animated explainer videos, specifically, are a great way to creatively showcase your business in a visually appealing way.
If a live-action video is more suitable for your company, storytelling combined with thoughtful, purposeful b-roll can help paint a picture of who your company is and what you have to offer.
4. Explainer Videos Can Help Improve SEO
Whether you want to admit it or not, search engines run our lives. From Google to YouTube to Bing to Amazon Alexa, we turn to technology to help answer both the most basic and most complicated questions.
Video plays a huge role in this.
Remember how I said most people prefer to watch a video when learning about something (I mean, how could you forget, I keep mentioning it!)? Search engines recognize this preference and reward websites that promote video.
Video drives a 157% increase in organic traffic from search engine results pages (SERPs).
By placing an explainer video on the homepage of your website, you're only increasing your search ranking potential which can help new customers find your brand.
5. Explainer Videos are Easy to Share and Can Be Posted Anywhere
Besides putting an explainer video on the homepage of your website, it's also a great asset to use across your various social media channels.
Sometimes, a new lead might come across your company's LinkedIn, Facebook, or Twitter pages first. If so, you can pin your explainer video to the top of your profile to give new users an introduction to your company. You can even use it as your "trailer" on your YouTube channel, just like VMG Studios has done, or include a link to it in the bio of your Instagram account.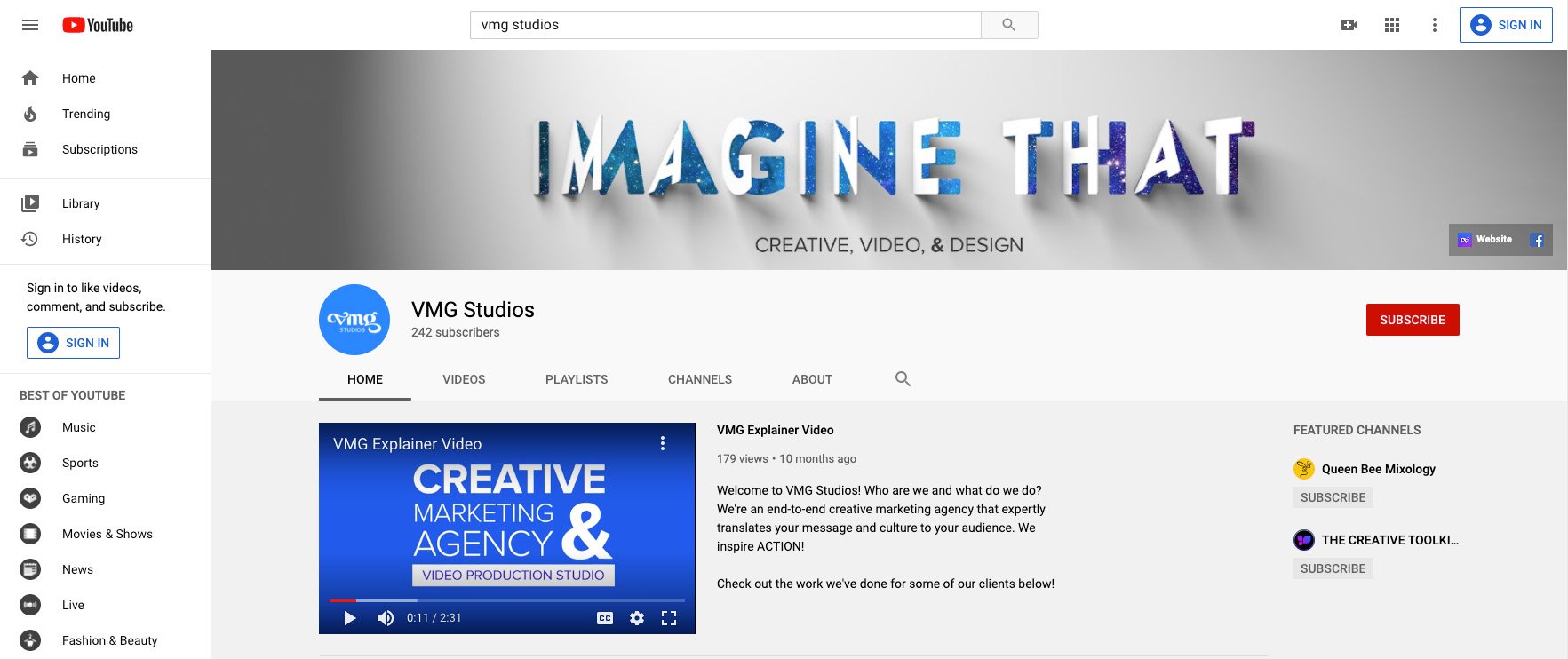 As previously mentioned, you can also easily share a link to your explainer video with prospective clients through emails, social media messaging, calendar invites, and more.
The power of sharing is beneficial when it comes to referrals, too. If one of your client's wants to recommend your company to a friend or colleague, they can send your explainer video in addition to a link to your website.
Bonus: One study found that people are twice as likely to share video content with their friends than any other type of content.
6. Explainer Videos Can Be Repurposed
Just like how an explainer video is easy to share and post across several different mediums, it can also be repurposed or cut down for other marketing assets.
You could create a shorter version to adhere to Instagram's time parameters or use footage captured for the explainer video in future marketing videos, which is a cost-effective way to get the most bang for your buck.
If you opt for an animated explainer video, an additional perk is being able to repurpose design assets and/or characters for future use whether it's more animated videos or graphic design deliverables such as infographics, presentations, website landing pages, and social media.
7. Explainer Videos Build Brand Awareness
Did you know that it takes 5 to 7 impressions before someone will remember your brand? With this in mind, sprinkling (or showering, really) in your brand's personality, colors, logo, slogans, and voice in an explainer video can only assist in increasing brand recognition.
Consumers want to feel like they have an understanding of the people behind a brand – their mission and values – all of which can be conveyed in an explainer video.
And, if you take our advice on cross-promoting an explainer video on your website and social media channels, you have a greater chance of hitting that 5 to 7 impressions.
Implementing an Explainer Video Into Your Marketing Strategy
Contracting new business is often like going on a first date; two people getting to know each other over dinner and drinks.
While you likely aren't going to a swanky restaurant with a potential new customer, you'll still want to put your best foot forward and make a good first impression.
Explainer videos can help serve as that ice breaker during an initial meeting.
Not only does it give a quick overview of your company, but possibly more importantly, it will help free up more time for you to learn about the other person – their marketing goals and project needs.
When thinking about producing an explainer video for your business, remember the following benefits:
People love video
Saves time
Attention-grabbing
Improved SEO
Easy to share and can be posted anywhere
Repurposing
Build brand awareness
Don't leave a potential customer wondering who you are and what you do – guide them through your core offerings in a timely and engaging manner.
When you're ready to let your customers get to know you, VMG Studios would be delighted to help you find your messaging and voice.
Start planning your explainer video by downloading our free creative messaging brief!