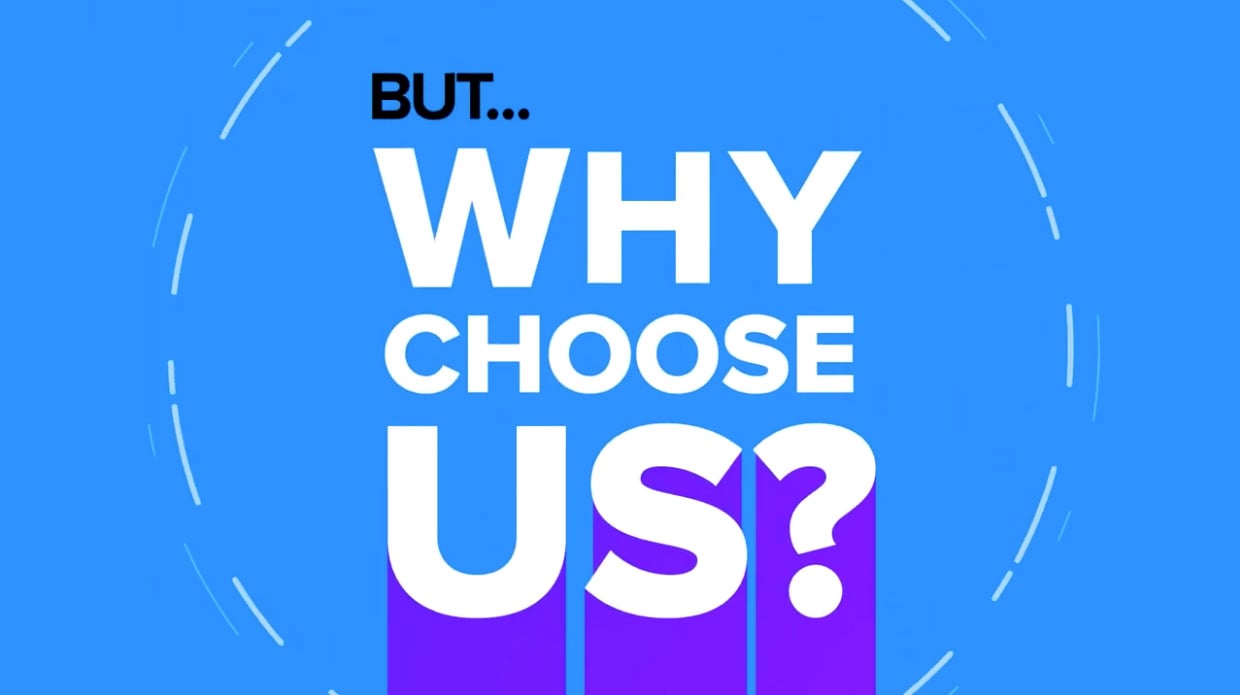 Whether you're on a first date, taking an online college class, or at a networking conference, ice breakers seem to be pretty common.
What's one unique thing about yourself you want to share?
How many places have you lived in your life?
What do you do for work?
These ice breakers are designed to quickly get to know someone, and the same basic information is important for consumers when trying to choose a company to hire or a product/service to purchase.
In our fast-paced world of endless to-do lists, getting quick facts or a quick overview of something is preferable for most people.
Explainer videos serve as a bridge for those who want to research a specific company or product but might not necessarily have the time to do so thoroughly.
As a creative marketing agency, VMG Studios has been recommending explainer videos to our clients for years. And it's not just us. We've interviewed supplier diversity managers at places like Facebook and Microsoft who say explainer videos can help set companies apart when pitching new partnerships.
This article will outline the benefits of an explainer video including the different types of videos that can help elevate and optimize your video marketing strategy.
What is an Explainer Video?
An explainer video is a marketing tool to introduce your company and summarize the basics of your brand such as your product and services.
Ultimately, an explainer video answers the questions, "Who are you and what do you do?"
Beyond the multitude of benefits of an explainer video, they're also a great way to engage potential customers. That's because, in general, people prefer video over text. One study found that landing pages with explainer videos have an 86% better conversion rate than those without.
FREE DOWNLOAD: 5 BENEFITS OF VIDEO MARKETING INFOGRAPHIC
Benefits of an Explainer Video
Besides video being most consumers' preferred way to learn about a company and their product or services, they're also beneficial for your internal team, particularly your sales department. Let's break it down.
1. Explainer Videos Save Time
Condensing the basics of your business into a succinct three-minute-long video saves time for both the consumer and your sales team, making it a win-win situation for everyone involved in the sales process.
For consumers, instead of having to read pages upon pages of copy on your website (which you should still provide since there are some people *cough* me *cough* who still prefer reading), they can watch a single video and decide if they'd like to continue researching your company or move on.
Ultimately, it's a good self-qualification tool for customers who know exactly what they are looking for whether it's the product itself, budget restrictions, or company fit.
I truly believe, though, that this benefit is the top-selling point for your sales team. Part of any sales process is explaining what your company does. This can easily get redundant and time-consuming if you need to follow up on each inquiry with such information. If it's condensed in a video and posted on the homepage of your website, there's a good chance a potential client may have already watched it before reaching out to learn more. If not, it's a great introduction to your company and can help answer some of the FAQs before an initial meeting.
Here at VMG Studios, we've found it extremely helpful in our pitching process, especially when we have a limited time for an initial meet-and-greet. If a potential client is able to watch the video before the meeting, or if we're able to show it right off the top, then we can focus the rest of the meeting on the client – their project needs, concerns, and questions – instead of having to spend 10 to 15 minutes covering the basics.
2. Explainer Videos Are Easy to Share Across Multiple Mediums
Explainer videos, just like other marketing assets, are meant to entice your target audience to choose your business over a competitor. Part of the equation is ensuring people actually see your content in a cluttered digital space. Thanks to the beauty of technology and social media, though, your explainer video doesn't need to (and shouldn't) live in one place.
You can post it on your website and your social media channels such as YouTube, LinkedIn, Facebook, Instagram, and Twitter. You can include it in presentations and marketing email campaigns. You can even include it as a link in your email signature, like our own CEO and Queen Bee, Kelly Sparks, does next to the question "WHO is VMG?"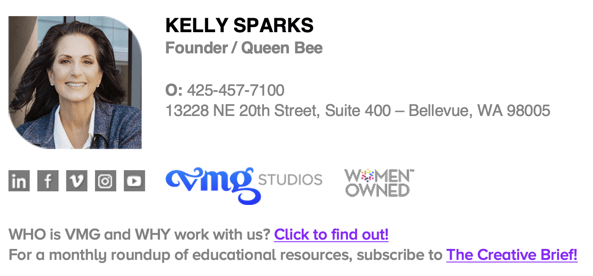 The power of sharing is also beneficial when it comes to referrals. One study found that people are twice as likely to share video content with their friends than any other type of content.
3. Explainer Videos Build Brand Recognition
Explainer videos present a great opportunity to build brand recognition, whether it's through your brand colors, the tone of your messaging, or by putting the CEO of your company as the on-camera talent.
Research shows people prefer to buy from familiar brands and one way for consumers to get to know you is through the marketing content you provide.
Explainer videos are designed to be personalized, a reflection of who you are as a company, and showcasing your brand's unique qualities can help attract the right customer base.
Different Kinds of Explainer Videos
While the core of any explainer video is the same, there are different approaches to take when it comes to what you'll be explaining. In general, the most common kind of explainer video is a company overview, but there are more to give a try. We generally like to break them down into 3 main categories.
Company overview
Product/service overview
Hybrid meet-the-team
We'll begin by diving deeper into a company overview explainer video, as we highly recommend this as an asset to have in your marketing toolkit.
Company Overview Explainer Videos
We've already touched on this, but this is where you summarize the basics of your business into one cohesive deliverable. You can think of it as a way to address and answer your FAQs.
Naturally, there's likely a lot you'd like to convey in an explainer video when talking about your company as a whole. However, you don't want your video to drag on for too long either because even though consumers prefer video, statistics show they don't want videos to be too long, either. Explainer videos are generally designed to be somewhat short and easy-to-consume.
Let's break down VMG's own explainer video and see what we were able to address.
In three minutes, we were able to outline the following:
Who we are including when we were founded and where we are located
Our diversity certification
What we do (our services and expertise)
Who we work with (our client list)
Our awards and accolades
Portfolio pieces
We were also able to showcase our brand including our colors (which are important in building brand recognition), voice, and mission.
If your company offers a multitude of products or services, like VMG, a company overview explainer video can help condense a lot of information into a nice, neat package.
Here's another example of a VMG-produced explainer video for Tenhulzen Residential that gives a brief overview of the company and then shifts focus to their processes:
Product/Service Explainer Videos
There are some brands that primarily sell a single product or service. Crocs or Michelin, for example. Therefore, instead of doing a company overview, those companies might decide to produce an explainer video about their core product, instead.
These videos also fall under the product video category, but they can be produced in a more explanatory way and be a bit more in-depth than a 30-second commercial spot.
Let's take a look at an example of a product explainer video VMG Studios produced for Milo Misting Lotion.
This two-minute long video includes a product demonstration, highlights the intended results of the product, and incorporates a deep dive into the product's ingredients and its benefits.
While this video doesn't necessarily introduce a wealth of information about the company, the viewer is still able to learn a bit about the brand such as their commitment to natural ingredients and a dedication to educating their viewers.
VMG has also produced a series of animated explainer videos for Microsoft Azure which offer in-depth explanations of Azure's capabilities.
Azure is one of Microsoft's main products so it makes sense why they dedicated several product-specific explainer videos to highlight why a customer should choose Azure over the competition.
Hybrid Meet-the-Team Explainer Videos
Company culture videos are another way for customers to get to know your brand. They help humanize your company.
For the most part, VMG likes to recommend animated explainer videos because they are more easily updated, and therefore have a longer shelf life. However, depending on your product and services, a live-action video may be the best option.
This is where you can combine some company culture with a company overview.
In addition to the animated explainer video shown earlier, VMG also produced this hybrid meet-the-team/company overview video for Tenhulzen Residential.
This kind of video works well for companies with long-term employees who likely won't leave (meaning the video will boast a longer shelf life) and are comfortable on-camera. It also humanizes the company by allowing the viewer to get to know the owners.
FREE INFOGRAPHIC: TIPS FOR FEELING COMFORTABLE ON-CAMERA
Producing the Perfect Explainer Video for Your Business
It's important for customers to know who you are as a brand, and a great way to connect with your target audience is through an explainer video. By summarizing your company from where you're located to the products or services you provide to accolades and customer reviews, you can give customers a 360-degree view.
Explainer videos assist both the customer and your sales team when it comes to saving time, they are easy to share which is essential for referrals, and they can help build brand recognition.
The bonus is there are different types of explainer videos that you can produce that best align with your business:
Company overview
Product/service overview
Hybrid meet-the-team
When people come across your company in their search for a product or service, don't leave anything unanswered. Showcase your brand's core, build rapport, and create delightful content your customers will be excited to share.
If you need help producing an explainer video, VMG Studios is ready to jump in! Start outlining your explainer video by downloading our free creative messaging brief below.