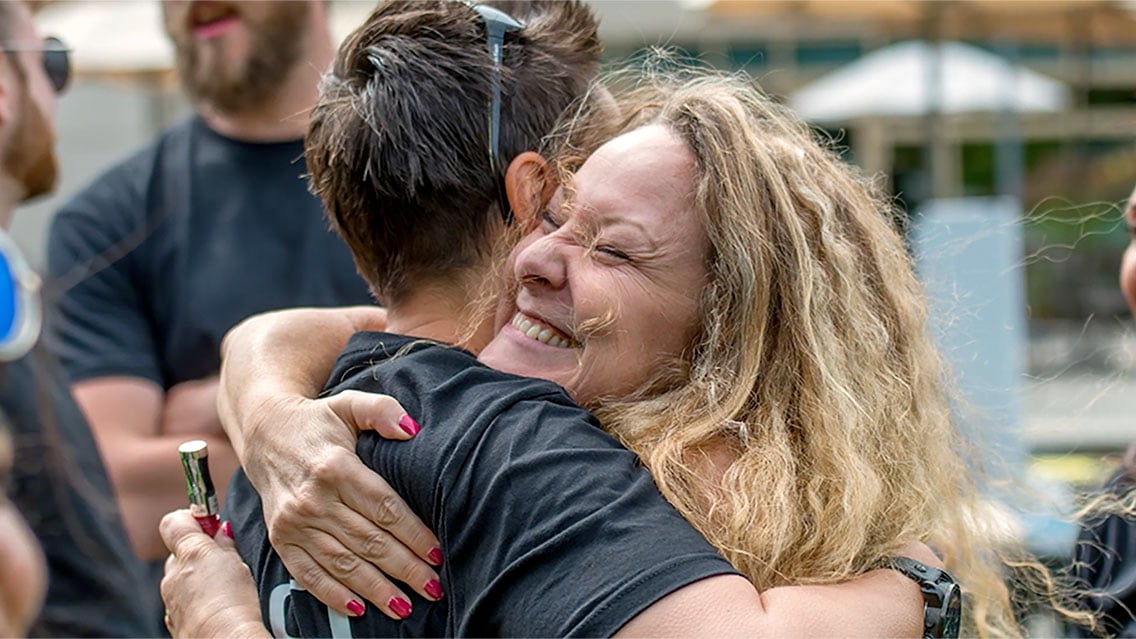 Before commercials, businesses increased their customer base through word-of-mouth. Person A would buy something from Company 1 and would be so impressed with their product and service that Person A would then tell Person B, who had the exact same experience and then proceeded to tell Person C. By making one customer happy, Company 1's reach increased by an order of magnitude.
Good word-of-mouth is like compound interest, it just builds on itself.
Word-of-mouth advertising may be as old as the hills but guess what? It's still one of the best ways to increase your business and boost your bottom line. The medium has simply changed.
People now share their opinions and reviews online for the masses to see, and this is where testimonial videos come into play.
Companies could just rely on Google or Yelp reviews to draw in new customers, but there's great power in putting a high-quality video of a happy customer on your own website. If someone is already on your website, for instance, and sees a positive testimonial video, they might not need to look elsewhere for reviews to be convinced to convert.
As a company that has testimonial videos on our website, and as a creative marketing agency that has produced several of these types of videos over the last 16 years, VMG Studios has seen the benefits of them first-hand.
In this article, we're going to outline the advantages of testimonial videos including why they may be one of your best marketing tools.
What Is a Testimonial Video?
"Testimonial" is simply another term for referral or review, and you don't need me to tell you how important positive reviews and referrals are for both B2B and B2C companies. It's marketing 101.
Testimonials were effective 100 years ago and will continue to be effective 100 years from now (no, we aren't psychics, but we've been at this long enough to have a pretty good idea).
People want to feel like they are making smart choices, especially when it comes to spending money.
This is why people rely on Yelp, Google reviews, product reviews, or even their friends and family to help inform their choices on whether to purchase product X or product Y. If product X gets more positive reviews than Y, you can take it to the bank that product X will have higher sales.
Stat alert! Nearly nine out of ten consumers read reviews before making a purchase. Not only that, but studies found that 93% of consumers say that online reviews influenced their purchase decisions.
What does that tell you? It tells you that virtually everybody looks at reviews, and that's precisely what a testimonial is.
The digital space has made it easier for consumers to vet companies, products, and services, which can be both a blessing and a curse.
It's great to see those 5-star reviews, of course, but there's always a possibility of a negative review – one you cannot control. Sure, you can have your marketing and PR team respond to a bad review to mitigate or diffuse the situation, however, that negative review virtually lives on forever in the digital stratosphere.
The beauty of your own website and social media channels is you get to control what content is on there. This is where testimonials – particularly videos – come in handy in converting your ideal customer.
Let's break down the main benefits of testimonial videos and why they should be included in any marketing strategy.
5 Ways Testimonial Videos Benefit Your Marketing Strategy
1. Testimonials Videos Allow You to Strategically Control the Narrative
As mentioned, there are some avenues of reviews you cannot control. People have the liberty to rate, review, and leave comments across a spectrum of online mediums such as Google, Yelp, and personal social media channels.
They cannot control your own content, though.
Testimonial videos that your company produces allows you to control the narrative. You can select your favorite clients, use their best sound bites, and strategically position your company to draw in your target audience.
You can highlight specific products in a testimonial video, or showcase a specific, unique tactic to separate you from your competition or do a more in-depth case study of a success story related to your services. Choose the angle of your testimonial video to speak directly to your ideal client.
If you think having individual testimonial videos per client would work best for your strategy, go for it! If you think a compilation video of short praises from several customers speaks more to your target audience, give it a try.
There is no "one-size fits all" when it comes to testimonial videos because each customer base is unique. Get into the mindset of your consumers and speak directly to their needs and concerns.
Now, this doesn't mean we are saying your video should be scripted. The most successful testimonial videos are ones that elicit genuine, truthful responses (more on that later).
If you're worried about getting the "right" answers or the "perfect sound bites" from your client, bringing in a seasoned team like VMG Studios can help.
We have the necessary experience to know how to get the most effective responses from the interview subjects. We know the right questions to ask. We know how to put people who aren't used to being on-camera at ease. (It usually involves wine. I'm kidding.) We have the editorial experience to string together a cohesive final video you'd be proud to display on your website and share with potential new clients.
We can even suggest live-action alternatives if your ideal subject doesn't want to or can't go on-camera, such as an animated video with a voice-over from a client, for example.
2. Testimonial Videos Establishes Industry Leadership and Builds Trust
When you hear someone say something positive about a company, likely, your initial reaction is that that company must be successful, or they wouldn't be getting such praise. We, as a species, are drawn to success (unless you're a Seattle Mariners fan, but that's another story).
I'm sure you've heard of "jumping on the bandwagon." It's where people join in on something because other people are doing it as well. They think that's what the cool kids are doing. It's our desire to be right; our need to feel included. And it's a powerful draw.
While popularity – or what we like to call brand awareness and recognition – is still important, consumers are increasingly looking to support trusted brands that align with their core values.
A survey found 75% of people worldwide say they will continue to buy a brand they trust, even if another brand suddenly becomes trendy.
When a company is able to get a consumer to not only talk highly of their company, but to do so on-camera, it's a sign they are likely a loyal customer. Loyal customers are often repeat customers, which can signify to a prospect that you're a trusted brand to work with or purchase from.
Research found that 92% of people will trust a recommendation from a peer. That statistic probably isn't a huge surprise, since most people generally trust the opinion of people they know. However, that same study found that 70% trust recommendations even if they're from somebody they don't know, which means you don't need a big celebrity to convert your audience. Even the "average Joe" customer – one who is genuinely happy with the service your company provided – can help tip the scale.
While that's great news, you still don't want to just throw someone on-camera without any strategy or planning. Ask yourself this question when watching a testimonial video, "Would you buy a car from this person?" It's an old adage but still holds water.
This is (once again) why having a seasoned professional helping to create your testimonial video is so important. If you just throw anyone on-camera to say nice things, but that person comes across as a low-rent politician, you're likely not doing yourself any favors.
However, if the person on-camera looks and feels authentic, it is a slam dunk that the viewer will be positively moved by their message. When the person giving the testimonial appears trustworthy, that trustworthiness carries over to your brand as well.
Since trust and transparency are becoming increasingly important for consumers, help put their minds at ease by showing real-life customers who had a positive experience with your brand.
3. Build Strong Relationships With Current Clients
It's safe to say that not everyone wants to go on-camera or fill out a survey or even leave a review, however, it generally feels good when someone wants to feature your opinion on a topic.
In the case of a testimonial video, if a company asks you to be a part of one, it shows that they believe you've been successful in your own right. Naturally, their ultimate goal is to highlight how they helped you, but it also shows that they recognize your success enough to want to put you on their website as a brand ambassador.
This can be a great way to build rapport with your clients.
You're essentially approaching them with a two-way-street offer. Let's highlight your success and expose our client base to your company/products/services while you speak highly in regard to how we supported you in achieving such success.
Asking clients to take part in a testimonial video also shows that you value their business, the relationship you've built and that you're committed to continuously provide excellent service so that their testimonial stands the test of time.
4. Testimonial Videos Are Memorable & Shareable
This is a universal note about video. Video is sticky. Much more than text. Research found that 90% of information transmitted to the brain is visual, and visuals are processed 60,000 times faster in the brain than text. Also, studies show viewers retain 95% of a message when they watch it in a video compared to 10% when reading it in text.
Not only is video positive in regard to a viewer retaining your message, but most people prefer video over text when learning about a company and their product or services.
I could go on and on about the benefits of marketing videos (our bread and butter is video production, after all), but I'm sure you've also read all the same statistics I have and understand the power of video marketing.
One benefit we don't want to overlook, though, is the fact that videos are shareable. Earlier, we talked about word-of-mouth advertising and how it's still a staple in the world of consumerism but has evolved into the digital space. Word-of-mouth advertising now primarily lives on social media and video is a huge part of it.
This is one of the beauties of video testimonials. They can be shared, or retweeted, or emailed, or sent by carrier pigeon (okay, maybe not carrier pigeon). When content is electronically sharable, it has the same benefits as in-person word-of-mouth—the message can spread.
Think of the emergence of the "viral video," and how often you see your friends and family sharing funny or powerful or emotional video clips on social media with the caption, "You've gotta see this!"
While a testimonial video probably won't gain viral video status, the sentiment of it being easily shareable is the same.
FREE DOWNLOAD: Benefits of Video Marketing Infographic
5. Testimonial Videos Combine Emotion and Logic
Ultimately, most consumers make purchasing decisions based on logic, however, they're often hooked by emotion.
For example, one of the most popular Super Bowl ads in 2020 was Google's "Loretta" commercial. It featured the voice-over of a man remembering his late wife by telling Google to store details about her and their life together. This one had many people reaching for the tissues, which likely intrigued some consumers to look into Google's products.
Did those consumers immediately make a purchasing decision based on that commercial? Probably not. How do I know this? Well, research shows the average person consumes 11 pieces of content before making a purchasing decision, and earlier, we established that nearly nine out of ten consumers read reviews before making a purchase.
This means it's highly likely that a customer will seek out reviews of some sort before they buy. Hopefully, they'll find your highly-produced video on your website and/or social media channels.
So, how does this relate back to the emotion/logic consumer formula?
If both logic and emotion play a role in how your target audience shops, testimonial videos can combine both of those things. You can show a happy customer's face – the emotional side – talking about the positive ROI your service provided – the logical side – for a best-of-both-worlds approach.
Implementing Testimonial Videos into Your Strategy
Testimonial videos are a tried and true method for helping drive customer engagement, instill trust, and spread the word about everything that is great and wonderful about your company.
Customers have more power than ever before when it comes to the success of a brand thanks to online reviews, both negative and positive.
Testimonial videos allow your company to recapture the narrative and (pardon the cliché) put your best foot forward. While it definitely doesn't hurt to include written testimonials on your website, statistics show that video continues to reign supreme as a preferred marketing tool across all consumer demographics.
If you're worried about asking clients to be part of a testimonial video or if you're concerned about interviewing them and eliciting the best responses, we're here to help. Besides having a team of creatives equipped to visually tell and sell your message, we also have writers and former journalists on staff who know how to craft the perfect questions as well as producers dedicated to seeing your vision come to fruition.
We'd love to connect with you (and your favorite clients) to produce a testimonial video you'd be proud to display, and one that will help convert new customers.
Are you curious about the cost of live-action videos such as testimonials? Click the image below to download a free price guide.