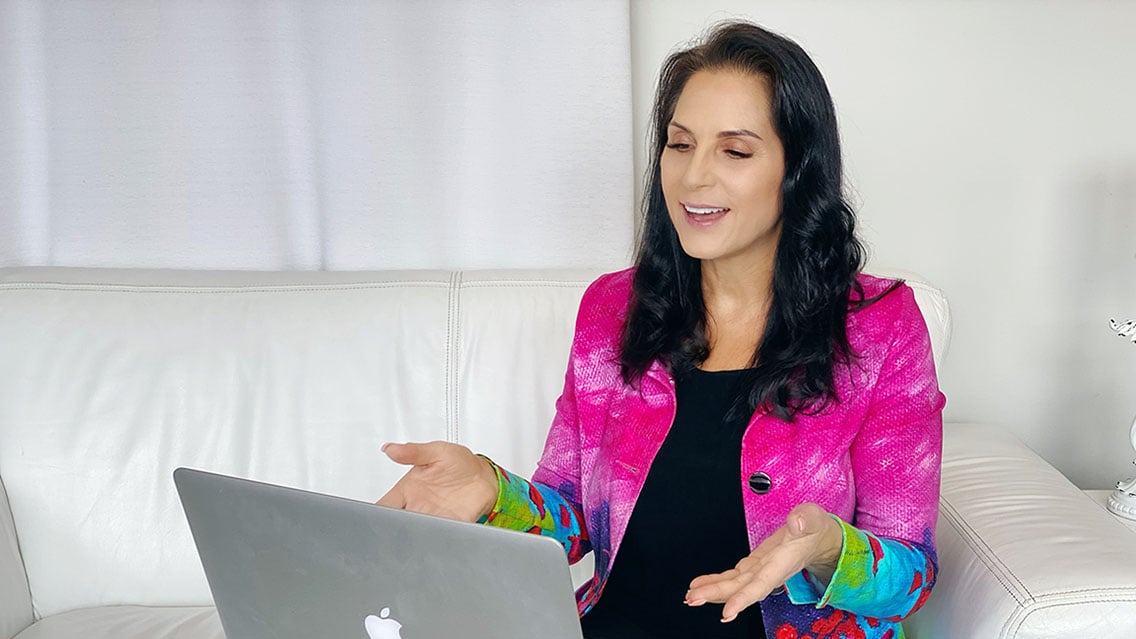 It's 10 o'clock on Sunday morning. You're enjoying a relatively relaxing morning with a cup of coffee. Your family is now switching from PAW Patrol to NFL football.
As you watch your people snuggle onto the couch, ready to watch the Seattle Seahawks dismantle their foes (or whichever team your rooting for, we aren't biased here 😉), you get a little notification from your phone.
It's the weekly screen report.
"Let's see how much time I spent on this little device," you say to yourself. You notice your screen time has increased 10% from the prior week.
Curious about what caused the increase, you suddenly remember you watched that whole tutorial series on Photoshop tricks so that you could edit family pictures for your grandmother's upcoming 85th birthday.
After reading some articles comparing the top photo editing software, you had decided on a free trial of Photoshop.
That purchase (even if it's just a trial) illustrates the power of content marketing. More specifically, it shows the power video plays in a successful content marketing strategy.
I'm sure you've all heard this before (heck maybe you've heard me spew this off in an article or video I've created as the content manager at VMG Studios), but video is often the most effective method to attract, engage, and connect with your target audience.
In this article, we're going to highlight the following:
•Benefits of content marketing and video marketing
•Types of content marketing videos with examples
•Overview as to why video should be at the forefront of your content marketing strategy
Benefits of Content Marketing and Video Marketing
Content marketing is a strategic inbound marketing approach focused on creating and distributing valuable, relevant, and educational content digitally to attract, retain, and qualify potential new leads.
Traditional "outbound" marketing interrupts your audience with content they don't always want, while "inbound" marketing forms connections they are looking for and solves problems they already have. It utilizes a search engine optimization strategy to target keywords relevant to your brand's service offerings.
Basically, your target audience discovers your company instead of the other way around.
Due to the continuous shift towards digital marketing and purchasing over the last few years, content marketing has emerged as a top strategy for many companies.
VMG Studios implemented content marketing in the fall of 2019 and we've quickly seen the power it holds when it comes to increased SEO and brand awareness. In combination with our own experience and training, we've identified 7 main benefits of content marketing which include:
Improved Search Engine Optimization (SEO)
Lead generation and increased conversions
Establishes thought leadership and expertise
Increases brand awareness while building trust and transparency
Develops a connection with a target audience
Assists the sales team
Grows social media channels
As a creative marketing agency that has specialized in video production since our inception in 2004, we also understand how video plays a role in the purchasing habits of most consumer bases.
A survey found that when presented with text and video on the same page, people prefer to watch a video.
With this in mind, and thanks to our experience and expertise in supporting our clients with video content, we've also identified the 5 main benefits of video marketing:
Higher sales and conversions
Return on Investment
Increased Search Engine Optimization (SEO)
Increased engagement
Builds brand recognition and trust.
Now, if you look at the benefits of content marketing and the benefits of video marketing side-by-side, I'm sure you'll immediately see the parallels. Improved SEO. Increased leads and conversions. Established brand awareness and trust.
This outlines why video is an essential piece of the content marketing puzzle. Of course, articles (like this one) and other content offerings like eBooks, infographics, and worksheets are important too, but video is likely where you'll see the highest results.
For example, after a few months of being published, one of our articles, Horizontal vs. Vertical Video: Social Media Best Practices, ranked on the first page of Google for the search query "horizontal vs. vertical video." In the following weeks, we remained in that same position. While we were thrilled to still be on the first page, there was room for improvement.
We ended up producing a corresponding video that summarized the article into a 3-minute-long video, and once we attached the video to the article, the article jumped up 3 positions on the first page in just 15 minutes.
In real-time, we witnessed the positive effect video plays in regard to search engine optimization. Research shows video drives a 157% increase in organic traffic from search engine results page (SERPs), and it's safe to say that we agree with this statistic.
Types of Content Marketing Videos
Content marketing videos aren't just a one-trick pony. You can use your video content in numerous ways.
This includes during the pre-sales process (your website) for prospects who are vetting your company, during the sales process to engage and educate active leads, on social media to build brand awareness, or even in your email signatures.
Let's take a look at some categories of videos to include in your content marketing strategy.
Website Videos
Your website is often the first place to start when implementing any new marketing initiative. It's also a best practice to audit your website a few times a year to ensure you're optimizing your site effectively or conduct an audit when launching a new strategy such as content marketing.
Your website is often your company's first impression when it comes to new leads and prospects, so it's important to put your best foot forward (as cheesy as that is).
Here are some website videos that allow prospects to get to know your company and your product/service offerings better to increase the chance of a conversion.
Explainer Marketing Videos
This essentially goes back to the basics in terms of a marketing video. Tell your target audience and prospective clients perusing your website who you are! This is also a great way to highlight the key differentiators that set you apart from the competition.
More so, how many times have you heard the excuse, "I didn't have time to look through your website?" Or better yet, how many times have you used that excuse (guilty)?
An explainer video is an effective way to portray a lot of information in a nice, neat package for those prospects who have little time for a deep dive and need the cliff notes version of your company.
Service/Product Videos
Showcase your service/products in a clear, concise way so no one is left wondering, "Wait, what exactly is it that they offer or sell?"
This is especially beneficial when it comes to more service-based companies or B2Bs. Sometimes, your prospects might not understand how your service can be applied to solve their needs. It's your job to show them.
By providing prospects with use-case scenarios explained through a service or product video, you allow your prospects to start connecting the dots on their own and qualify themselves before reaching out to set up a sales call or start making a transaction.
Testimonials
It's one thing to upsell your own company, but nothing beats a happy client touting the success they achieved leveraging your company and expertise.
Testimonials are essentially positive customer reviews.
It's safe to say that regardless of which industry you're in, there's more (or at least stiffer) competition than ever before which is why reviews play a bigger role in consumers' purchasing decisions.
Never underestimate the power of a referral.
Case Study Videos
Often, case study videos and testimonials are thought to be synonymous, however, case studies can include more in-depth storytelling and offer more perspective beyond a positive customer review.
An in-depth case study that highlights a particular story is also an effective way to show value to a potential customer during that pre-sales cycle (research and vetting phase) while also benefiting any partners, stakeholders, and your team by showcasing your expertise. It's a win-win for all those involved.
Gated Content Videos
Part of any content marketing strategy is educational call-to-actions (CTAs). CTAs – such as an eBook, infographic, worksheet, or template – allow for the opportunity to capture potential client's information, such as their email, in exchange for the relevant educational, downloadable offer.
If you are leveraging gated content to provide value to your customers while obtaining their information, video is a great way to connect a face to the content they are downloading and help curb any fears they may have about filling out a form.
By including a simple video telling your audience exactly what they will be getting and how their information will and won't be used, you can build trust while also increasing the number of downloads.
Educational Videos
While I will argue that all the aforementioned videos are, in fact, educational, there is a difference between videos with the intent of selling and videos with the intent to educate.
The content marketing philosophy is all about education.
Naturally, the true intent is to sell, but the point is to not make that blatantly obvious to the reader or viewer. You're simply looking to help them and build brand recognition and trust so that if they do decide they're in the need of your product/services later on down the road, they'll remember your company and come to you first.
Pro tip: create an educational YouTube channel for these videos to live, in addition to being somewhere on your website. YouTube is the second largest search engine, and since Google owns YouTube, this can help your search ranking for your desired keywords and queries.
Here are some buckets of educational videos (which should also live on your website) that we've found useful in our content marketing strategy.
Topic/FAQ Overview
Topic-specific videos that cover your expertise can help address frequently asked questions meaning these kinds of videos are extremely helpful in both the pre-sales cycle and sales cycle.
Prospects can either find the answers to these FAQs on a learning hub on your website before an introductory sales call/meeting, or your sales team can easily send an educational FAQ video to a lead when they ask one of those questions instead of having to type out a long explanation in an email.
For VMG, for example, our most frequently asked questions per service offering are "how much does it cost?" and "how long does it take?" We've been able to address those questions regarding video production and animation in an educational way that doesn't outwardly sell VMG.
You can also address more topic-based or industry-wide questions that relate to your services but aren't quite as specific as the cost of something.
For example, as a video production company, we always recommend clients use closed captions and/or subtitles to make their videos accessible to everyone. So, since we're often asked what the difference between the two are, we decided to answer it in a video.
How-To/Tutorial Videos
How-to videos are some of the most popular types of videos on YouTube and it offers an opportunity to educate your audience while establishing your expertise and thought leadership within your industry.
A how-to video is where you can subtly sell your company's offerings a bit more while keeping the main intention of providing educational resources.
Take this video VMG produced about how to record high-quality video from your computer.
Our goal with this video is truly to educate someone who is looking to create their own video content from home. However, by offering this transparent step-by-step process while also showing off video production skills, we are showcasing our expertise (and personality!) in case a viewer decides they don't want to record their own video and would rather hire a company to help.
Behind-the-Scenes Videos
Who doesn't like a glimpse behind the curtain? If you don't have the bandwidth for a full-length tutorial, behind-the-scenes videos can help quickly illustrate a process in a unique way.
Here's a quick video that shows how we created the illusion of items floating in the air while filming a cocktail video for Queen Bee Mixology.
Interview/Podcast Style Videos
Sometimes, a little chit chat is all that's necessary to educate your audience. You don't always need the "glitz and glamour" of a highly-produced video.
Covering educational topics through interview-style or podcast videos are ideal for the on-the-go learner who can still understand the content by listening and not necessarily actively watching.
Naturally, podcasts are traditionally audio-only, but recorded video podcasts are on the rise. Offering a video version of a podcast can help humanize your brand and put a face to the voice your audience is listening to.
Video podcasts are relatively easy to record, edit, and distribute. The content can either be entirely scripted or more of a candid conversation between hosts or interviewers/ees.
Adding Video to Your Content Marketing Strategy
If you're relatively new to content marketing or are looking for ways to improve your current strategy, producing video content might seem overwhelming.
Believe me, I get it. An article can be written by one person in a relatively short amount of time, while a video generally requires more bandwidth.
However, I also think the numbers speak for themselves. A study found using videos on landing pages will increase conversions by 86% and people spend 2.6x more time, on average, on pages with video than without.
There are several different types of video content to implement into your content marketing strategy, too, so you can find what works best for you and your business. Let's recap the main two video categories so you can start organizing your next steps.
Website videos

Explainer marketing videos
Service/product videos
Testimonials
Case study videos
Gated Content Videos

Educational videos

Topic/FAQ overview
How-to/tutorial videos
Behind-the-scenes videos
Interview/podcast style videos
Video is queen of content. It isn't going anywhere, and it's increasingly becoming a way to attract and connect with your target audience.
If you're still feeling overwhelmed, that's okay! We have 16 years of experience in creating such videos here at VMG Studios and we're ready to help take your content marketing strategy to the next level.
To start outlining your content marketing video strategy, click the image below to download our free content marketing 101 worksheet!