When you hear the term "animation," your initial thought is likely Disney or cartoons. This is normal since most of our exposure to animation is through this kind of content – whether it's reminiscing sitting in your pajamas watching Saturday morning cartoons as a kid, having your own kids ask to put Frozen on for the umpteenth time, or even enjoying adult cartoon shows such as The Simpsons or BoJack Horseman.
While animation is a steadily popular form of entertainment, it's increasingly becoming popular in the world of marketing.
Animated marketing videos boast many benefits from their eye-catching nature to the ability to create out-of-this-world things – such as VMG's latest mascot, a dragon-cat hybrid named Chester – to their long shelf life.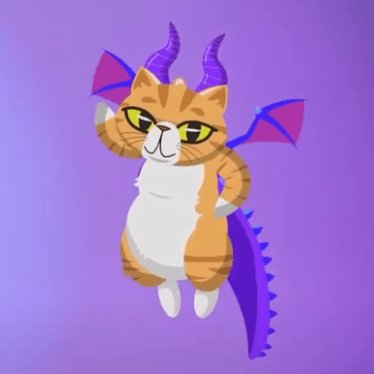 Meet Chester!
Animation is an effective way to reach your target audience through marketing and corporate content. However, there isn't just one style of animation to select when planning your next project.
Here at VMG Studios, a creative marketing agency that specializes in animation, the two main styles of animation our clients are often deciding between for their video campaigns are 2D and 3D animation.
Naturally, there are advantages and challenges of both styles, and we're here to help you make a decision on what will work best for your creative expectations, budget, and deployment strategy.
What's the Difference Between 2D Animation and 3D Animation?
Animation is a broad term and there are many styles of animation to choose from regarding your marketing or corporate videos. You can think of it in terms of pizza – if you want pizza for dinner, you'll still need to decide on the toppings, sauce, crust, etc. (okay, now I'm hungry). Well, the same goes for animation.
VMG classifies 5 main styles of animation:
Traditional animation
2D animation
3D animation
Motion graphics
Stop motion
FREE DOWNLOAD: 5 MAIN STYLES OF ANIMATION ONE-SHEET
For this article's sake, we're focusing on 2D animation and 3D animation – both of which are popular styles of animated marketing and corporate videos.
The difference between 2D and 3D animation is pretty straightforward. 2D animation represents more of a flat image while 3D gives viewers a 3-dimensional view of the environment.

When it comes to marketing videos, there's argument for both styles of animation. Let's dive into the factors to consider when deciding which option will work best for your upcoming marketing projects.
What Is 2D Animation?
2D vector-based animation is arguably the most common style of animation. 2D represents graphics that are created in 2-dimensional graphics programs such as Adobe Photoshop or Illustrator.
While these graphics can be manipulated to look 3D (more on that later), ultimately, if you can't rotate the object to get multiple views, it's 2D animation.
Advantages of 2D Animation
2D animation is the most widely used for branding and marketing due to the scalability and ease of distribution. The main benefits of 2D animated videos compared to 3D animation include:
1. 2D Animated Videos Are Cost-Effective
In general, animated marketing videos range in cost from $15,000 to $35,000. Because 2D animations are easier to produce, they will often be less expensive than a 3D option.
The main cost factors that determine the final price tag include: amount of detail in the design, complexity of the animation, video length, voice-over, music, and distribution.
2. 2D Animations Are Faster to Produce
Since 2D animations are "flat images," this kind of project is less labor-intensive, therefore, the timeline for creating this kind of video is often shorter.
Typically, animated videos take between 6 to 8 weeks to produce, but depending on the complexity of the animation or the length of the video, that timeline can be scaled and accelerated according to meet quick-turn deadlines.
One way to accelerate the timeline of an animated project is during the creative development stage when it comes to mood boards, style frames, and storyboards through prompt review and feedback.
3. 2D Animations Are Easy to Update
In general, this is a major benefit of animation especially when compared to live-action videos. Since 2D animations are generally less complex to create than 3D animations, updating assets down the line for whatever reason is more feasible.
Thanks to the ability to update, animated videos also have a longer shelf life, which is another major selling point to choosing animation over live-action options.
4. 2D Animations Can Be Adapted and Expanded to Print and Web-Based Materials
Since 2D animations operate in a 2-dimensional space, they can easily be transformed into static graphic design elements. This can include website assets, PowerPoint designs, infographics, postcards, business cards, etc.
Repurposing marketing assets, such as animated elements, can help justify its cost and can even build brand awareness through consistent and recognizable visual assets.
Challenges of 2D Animation
On the technical and production side, there are many pros of 2D animated videos, but naturally, there are some cons that are often noticed in the design style.
Honestly, sometimes 2D animation is boring or can become redundant. And by boring, we mean boring in comparison to 3D animations. Since you aren't getting a full 3-dimensional view, there isn't as much depth to whatever is on screen. While you can still create beautiful, eye-catching 2D assets, it might not engage or delight your target audience as much as a 3D animation.
If you look at Disney movies throughout the years, you can see how the animations have advanced technologically from the early days of Snow White to the likes of Moana and Frozen. I remember seeing the trailer for Frozen 2 when it first came out and being blown away by the entire ocean scene.
2D animations don't always have that "wow factor" and you can often be limited to certain design aesthetics based on budgetary or timeline constraints.
What Is 3D Animation?
3D animations are graphics that were modeled in a 3-dimensional environment and then animated. You can rotate the assets around in 360-degree space to get whatever angle you want for the composition.
Modeling 3D scenes, objects, and characters to create visuals is computer-generated imagery, better known as CGI.
One of the really cool things about 3D animation is, sometimes, you don't even realize it's animation! Take this video VMG Studios produced for Rena Ware. When I first watched this, the pots were so life-like that it took me a second to realize they were talking utensils, and therefore, animation!
Advantages of 3D Animation
Thanks to technology, 3D animation is becoming more common in the entertainment world. However, from a marketing standpoint, it isn't utilized as much, making it a unique option. Here are the main benefits of 3D animation:
1. 3D Animation is Eye-Catching
This has already been touched upon, but it's truly one of the biggest advantages of 3D animation. The visual appeal of 3D can help elevate your marketing videos and drive home your key messaging points to your target audience.
Your target audience may even be more inclined to watch your video in its entirety, which is often a major pain point for video marketers, simply due to the beautiful animation style and detail. It's also different and unexpected, which can help you maintain innovation in your content deployment for increased reach and content retention.
2. 3D Animation is Dynamic
Because 3D animation operates within a 3-dimensional space, there are more options for dynamic and visual storytelling. Also, thanks to the advanced technology used to create the 3D imagery, your creative options are virtually limitless.
For example, you can show off an animated/mock-up version of your new, upcoming product from every angle, highlight every feature, and give a realistic-looking overview for the ultimate customer viewing experience.
Being able to create assets that don't exist in real life or are hard to mimic in real life through animation can engage potential customers and drive conversions.
3. 3D Animation Boasts a Positive Return On Investment (ROI)
I'll be honest with you. Yes, 3D animation does generally cost more money and take more time to produce than a 2D animation. However, because 3D is eye-catching, dynamic, and can help elevate the quality of your branded marketing materials, it's worth the investment.
Statistics prove video helps increase ROI. 89% of video marketers say video gives them a good return on their investment.
Plus, since animation promotes a longer shelf life and can be more easily updated than live-action options, your investment in an animated video will go even further.
4. Interactive Options for 3D Animation
Similar to how 2D animations are easily transformed into digital and print marketing materials, 3D animations can be repurposed for interactive options.
The best example of this is any kind of home remodeling service. It's much easier to imagine what a room could look like in a 3D model than from a 2D floor plan, right? 3D models that are used in an explainer video, for example, can also be designed to be an interactive feature on your website that gives customers a full view of a remodeling option. This realistic visualization could be just the ticket to converting someone into a paying customer.
Bonus points: studies have shown that interactive media results in 3 to 4 times greater viewer engagement.
Challenges of 3D Animation
We've addressed the main pain points of 3D animation which are they generally cost more and take a little bit more time to produce.
However, thanks to the growing popularity of this animation style within video marketing strategies, video production companies, like VMG Studios, are becoming more efficient in producing this style of video and finding cost-effective solutions to meet the expectations of our clients' goals.
3D animation is artistically labor-intensive, as not all animators are able to do it, meaning it's uncommon for one animator to be a jack-of-all-trades. Instead, you'll likely have several animators who specialize in specific 3D animation styles such as character animation or special effects, or techniques such as modeling, lighting, and texturizing.
You'll also need high-powered computers to run programs like Cinema 4D, Houdini, and Maya.
This is where it's important to vet potential production companies to ensure they have the people and capabilities to take on such a project.
2.5D Animation: The Happy Medium Between 2D and 3D
Surprise! We have another option for you to consider, and we call it 2.5D animation. This is a great middle-ground if you like the aesthetic look of a 3D animation, but your budget or timeline requirements lean more towards a 2D animation.
So, what's 2.5D animation, you're probably asking?
Basically, it's a 2D animation that's manipulated to look like a 3D animation.
From a technical perspective, animators can essentially create an optical illusion with tools such as layering, shadowing, and mass/weight to give 2D animations the same type of movement as a 3D animation.
As mentioned, this is a great option to consider if you don't have the full budget for a 3D animation or if your project is a quick-turn and you need something delivered on a specific, tight deadline.
In this VMG-produced example below, please keep in mind that the device is 3D animation while the interface as it comes out of the device is 2.5D.
Deciding Between 2D, 3D, or 2.5D Animations
When it comes to any kind of marketing video, there's never a one-size-fits-all option in regard to style, budget, and timeline. The beauty of having several animation options is that you can find the perfect style for your project needs and customize it accordingly.
2D and 3D are arguably the most common animation styles for marketing videos, and both are great options for reaching, engaging, and converting your target audience.
Let's take another quick overview of the advantages of each style.
| | |
| --- | --- |
| 2D Animation | 3D Animation |
| Cost-effective | Eye-catching |
| Quick to produce | Dynamic |
| Easy to update | Positive ROI |
| Adaptable to web and print materials | Interactivity |
If you're having a hard time deciding between the two options, 2.5D animation can help bridge any budgetary or timeline restraints while achieving a 3D aesthetic.
Here at VMG Studios, we'll always be advocates for animation as it's easy to update, has a long shelf life, and is fun and engaging for viewers. In our minds, you simply can't go wrong with an animated video, whether it's an explainer video, training series, or product video.
To learn more about the many benefits of animated marketing videos, be sure to download our free eBook, The Marketer's Guide to Animation, by clicking the image below.