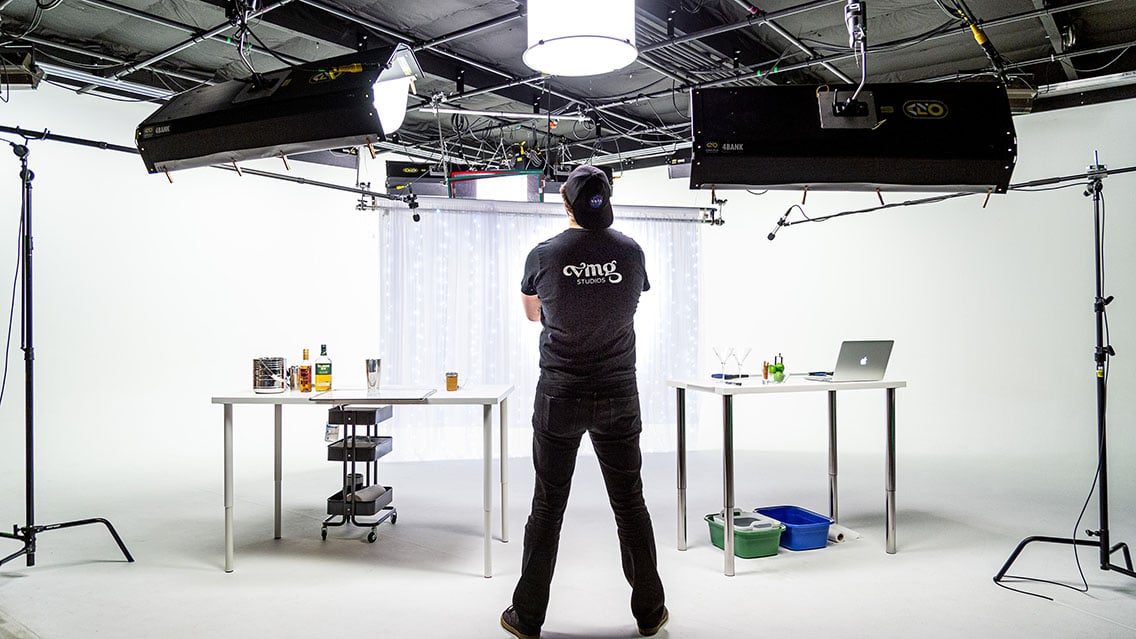 The internet has become an essential service in just about every aspect of life. It's how we communicate, conduct business, build relationships, learn, teach, and entertain. ­
You can essentially find anything you need online including products and services.
This is great for businesses, including VMG Studios, for finding and attracting new clients. It has also assisted freelance communities of all industries to grow their reach.
Freelancers, especially when it comes to the kinds of services VMG Studios provides – such as video production, editing, animation, and design – seem like an attractive option. They're great for quick turn projects and are often cheaper than hiring a full-blown agency.
We understand this. We even use freelancers from time to time to assist on projects. We've worked with great freelancers and irresponsible ones. We know that freelancers are sometimes the best option for the solution your company is seeking.
Deciding between a freelancer and agency is often circumstantial, but for most content creation needs or multimedia initiatives, we argue an agency is the best solution.
Now, we recognize that an agency like VMG may be more expensive than hiring a few freelancers. There's a reason for this.
When you hire VMG, you're gaining access to a full-service, collaborative, supportive, and talented team that's dedicated to your success. We're an end-to-end creative powerhouse that consistently delivers innovative, timely solutions that fully align with our clients' strategy.
This article will outline how we can take your project to the next level through our commitment to our clients' success.
1. VMG Studios Provides End-to-End Services
By no means are we suggesting that freelancers only offer one service or bring a singular skill to the table, but it is rare to find a freelancer who is a jack-of-all-trades.
For example, if you're looking to design a new website and create an animated training series, VMG can do both of those things in house with a collaborative team of designers and animators who will challenge one another to elevate the final product. We'll immerse ourselves in your branding and learn extensively about your target audience to ensure we help you meet or exceed your goals.
Or, if you're looking to produce a live-action marketing video, you'd likely need to source a freelancer to shoot and edit the video (who also has experience with color correction/grading as well as sound design), and a freelancer to add supporting motion graphics and special effects. Hiring two freelancers doesn't sound like too much work, does it?
Well, there's a lot more that goes into producing a video.
You'll need to come up with the creative idea, write the script, find a location or studio to shoot the video, schedule and coordinate the shoot with all involved parties, oversee post-production and review cycles, source accessibility considerations such as closed captioning, and deploy the content.
VMG Studios is equipped to do all of this for you. As an end-to-end creative marketing agency, we can take on your project (no matter how big) from start to finish.
From a creative director to help ideate the concept and write the script, to a director of photography to shoot and edit your video, to designers and animators to take it to the next level, to a dedicated producer who plans, coordinates, and oversees your project while serving as your main point of contact – you can sit back and feel confident in our experience and expertise to ensure your project is delivered exactly as you envisioned.
When hiring VMG, you're getting more than just a video production company. We offer a diverse portfolio of services to assist your marketing strategy from every angle:
Animation & motion graphics

Content marketing

Creative concepting and development

Design & branding

Interactive media

Marketing strategy

Photography

Video & audio production
If you've never worked with an agency like VMG Studios before, or you're curious about how to specifically work with us, be sure to watch the video below on how to work with an agency, specifically to learn your involvement as the client.
2. VMG Studios Is Reliable
Simply put, this is our full-time job. Everyone on staff is dedicated to your project and committed to exceeding your expectations. We have a production coordinator who schedules our team's priorities which allows us to seamlessly manage several projects at once.
We've been doing this for 16 years and even though it's a cliché to say this, we are a well-oiled machine.
It's important to note that we are not saying that all freelancers are unreliable. We have and we still do use freelancers from time to time, and we know there are many great professionals out there who are transparent, responsive, and deliver top-notch products.
However, we've also had some horror stories in regard to freelancers.
We've had at least 2 freelancers essentially ghost us. We gave them materials to work on and never heard from them again. We've also had freelancers work on a project, and since they didn't have direct supervision, the product they delivered did not align with the client's expectations.
Since then, we've created and adopted a process that allows our team to screen and test contractors for our own preferred list of trusted professionals who we train as an extension of our own team when we need additional assistance on a project.
With VMG Studios, you can rest assured that we'll deliver the product you asked for on-time and on budget thanks to our in-depth, formalized project process.
3. VMG Studios Keeps Your Information Secure
VMG greatly understands the importance of security. We recognize that 68% of business leaders feel their cybersecurity risks are increasing and we're committed to curbing those fears.
We have worked with enterprise clients for years and recognize the trust these clients are instilling in our team to keep their sensitive information protected. We have several security measures in place (which we can't spell out since that would be a security risk 🙂) and a committed director of IT who has been with VMG since the very beginning.
All of our employees have completed compliance training which includes extensive training on topics like GDPR (general data protection regulation) and data and privacy cyber security.
Freelancers most likely don't have the bandwidth for the level of security that agencies like VMG do, meaning your information may be more vulnerable. If you are hiring freelancers, be sure to learn more about their security measures and how they plan to protect your assets.
4. VMG Studios Offers Specialized & Diverse Expertise
This goes hand-in-hand with our end-to-end services. As earlier mentioned, we offer an array of services from video and audio production to animation and motion graphics to design, and we have dedicated staff members for each specific area of expertise.
Many freelancers know a little bit about a lot of topics, which can be beneficial in quick turn project scenarios. However, this can often result in a subpar final product since some elements may not be at its highest level.
At VMG, we employ 25 people of all backgrounds and specialties, who also have 45 combined awards, to create a well-rounded team that produces high-quality content for our clients.
Because of our collective years of experience, we've tackled many obstacles, unforeseen problems, and know how to quickly adapt. We can also better anticipate roadblocks and pivot accordingly to ensure your deliverable remains on track and on budget.
5. Separation of Roles
As mentioned, each of our staff members are dedicated to a specific skill set. Naturally, we employ well-rounded individuals who are cross trained in other creative areas; however, we try to evenly distribute our skill sets for maximum productivity and efficiency.
For example, as a client, it's beneficial that your producer is separate from the account manager. Your producer can truly focus on the project itself and serve as a liaison between you and the creative team to move a project along its projected timeline and help manage all review cycles and feedback. Meanwhile, the account manager can focus on financial and business considerations such as purchase orders, contracts, and payment milestones.
This separation of roles also creates our own system of checks and balances within VMG to confirm that we're all aligned creatively and financially. Having multiple perspectives also ensures that the client is happy with the final deliverable.
6. VMG Studios Offers Speed to Market
People often think it'll be faster and cheaper to either produce their own videos or hire freelancers to help. This is a misconception that we hear all the time.
In actuality, it is generally faster for an agency to complete your project.
As an experienced marketing and production agency, there isn't a learning curve to take into account. There isn't equipment or software we need to buy. We are ready to hit the ground running and won't stop until your asset is delivered.
Thanks to our streamlined processes, such as our rigorous quality assessment (QA) process, we also make sure we get your project done right on the first try which ultimately saves you time. With freelancers, there's a higher probability of more back-and-forth.
One of VMG's core values is transparency, and with that in mind, we've even created articles and videos that outline how long some of our services take to help you plan ahead for your next marketing initiative:
7. VMG Can Scale to Support Any Project Size
We might be considered "small," but we are definitely mighty. As evident in our 16 years in business, we've been able to support multiple clients at once with a team no bigger than 25.
If we do require more assistance for a large video production, for example, we have a list of preferred, pre-vetted contractors to reference. We know who to turn to for professional talent scouting and sourcing. We have partners who assist us with localization and translation to make your content accessible.
These strategic partnerships we've established over the years enables us to move quickly and scale accordingly.
Freelancers are generally more limited in regard to project size and you might find yourself hiring multiple freelancers to cover all aspects of a project, which can quickly become messy and disorganized.
Not all projects need to scale up, though. Some need to scale down due to budgetary or timeline considerations. We know how to effectively work with just one animator or one designer, depending on the project type. Our Director of Photography (DP), for example, wears many hats and can operate the camera, lighting, and audio for a smaller video shoot.
This also brings us to the next benefit of hiring VMG…
8. VMG Studios Has Its Own Studio
This might seem obvious since we have the word "studios" in our name, but believe it or not, not all creative marketing agencies or even video production companies have their own studio.
Having our own studio space offers many benefits:
Cost effective: we don't have to spend additional money finding a space.

Availability: while we do rent our studio to others, our clients take precedence when it comes to scheduling.

Amenities: clients will also have access to our green room with makeup and wardrobe areas, kitchen and lounge area, and sound recording booth (if necessary).
READ: How to Safely Shoot Video Content In Studio During COVID-19
Freelancers, in general, will not have their own studio space meaning you might be responsible for finding a studio space to shoot your video, which adds just one more thing to your never-ending to-do list.
9. VMG Studios is Easy to Vet with Transparent Testimonials & Reviews
We understand that researching and vetting is an important part of the decision-making process especially when it comes to investing in big ticket marketing materials like videos, animations, or graphic design assets.
As an established company, we have a list of customer testimonials and reviews that you can easily access on our website. Even a simple Google search will bring up Google reviews, Facebook reviews, and more. Not only that, but our current client list is outlined on the homepage of our website, plus, we have an extensive portfolio section.
Oftentimes, it can be more difficult to vet freelancers or find relevant or in-depth reviews of their work.
VMG aims to curb all of your fears up front by providing an extensive amount of transparent information regarding who we are, who we work with, and the services we offer.
If you're vetting other agencies, freelancers, or even VMG, we highly recommend checking out this video and/or article about the top 10 questions to ask a production company or marketing agency before hiring them.
10. VMG Strives to Building Lasting Partnerships
We don't like to classify ourselves as simply a vendor. We want our client's to feel as though we're an extension of their department – one they can trust, one who knows their branding and legal guidelines, one who understands their target audience and goals, and one they know they can turn to as a partner for future projects.
We immerse ourselves in our client's brand when working on a project, making it easy for us to pick up future projects with little onboarding or delay.
Freelancers look to build partnerships to solidify more work, however, they often jump from one thing to the next to keep busy or work around the clock to meet deadlines which can sometimes result in mistakes or subpar work. Agencies, like VMG, have more bandwidth and room to adjust to take on new projects from a returning client even when we're busy with other client work.
Moving Forward with VMG Studios
We want to reiterate our respect for freelancers. We have found great success with many talented creatives we've brought on to help in the past. We've also struggled with freelancers due to a variety of factors.
In short, there's a time and a place for freelancers.
If you're committed to growing your marketing strategy and engaging with your target audience, hiring a partner like VMG Studios can help take your business to the next level. VMG has been in business for 16 years and we're proud of the work we create and the relationships we've established with our innovative client list.
When deciding whether a freelancer or VMG is the right fit for you, remember to consider the following benefits VMG has to offer:
Provides end-to-end services

Offers specialized & diverse expertise

Separation of roles

Reliable

Keeps your information secure

Offers speed to market

Scale to support any project size

Has a studio space

Easy to vet with transparent testimonials & reviews

Strives to building lasting partnerships
We are looking to support enterprise clients through targeted multi-media content that drives awareness and engagement through a collaborative working partnership. If you're interested in learning more, we'd love to connect to hear how we can align with your strategy.
Click the image below to schedule an introductory planning conversation!