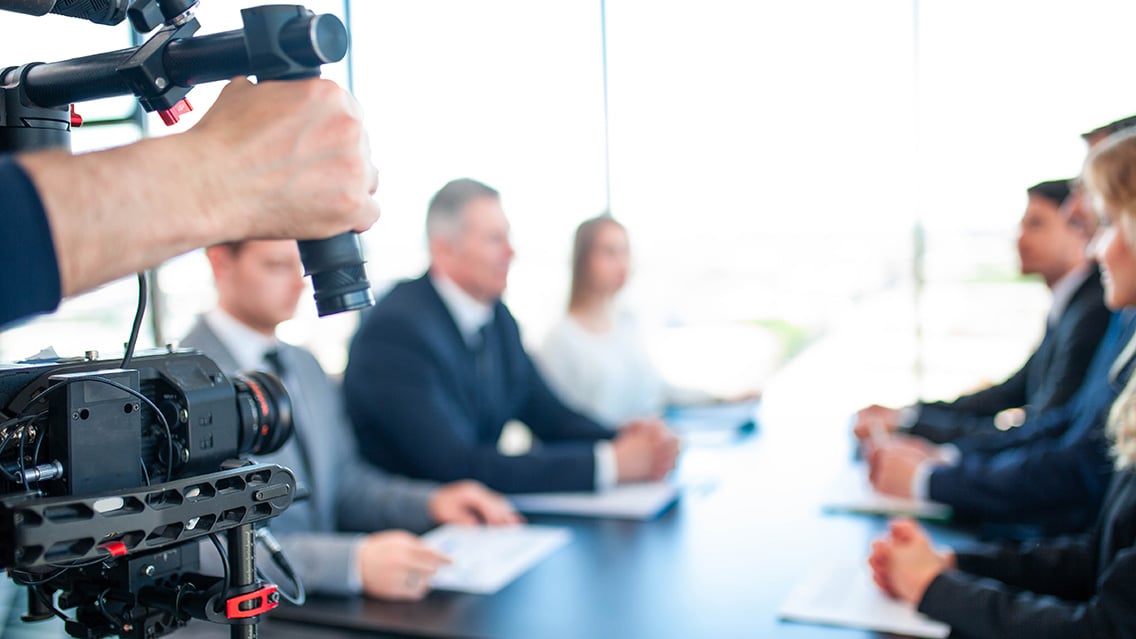 Utilizing video as part of your marketing strategy isn't new. Marketing and sales professionals have been talking about it for years, and we'll likely continue to talk about it for many more.
All marketers understand the benefits of video marketing when it comes to attracting and converting your target audience. Video increases sales and conversions. Video increases search engine optimization. Video increases brand awareness. Video builds brand recognition and trust.
You get it.
Understanding the benefits of video marketing is simply step one, though. Producing and deploying video content is a whole other story. It takes time, money, and strategy to ensure you'll see a positive return on investment when it's all said and done.
As a creative marketing agency that specializes in video production, VMG Studios has experienced both triumphs and challenges in how to successfully implement video marketing into a business strategy.
The strategy we've found most successful for both us and our enterprise-level clients is by utilizing the sales funnel to strategically develop and deploy video content. In this article, we're going to outline the types of marketing videos to use in each stage of the B2B or B2C sales funnel so that you can map out your strategy for converting your target audience.
What Is The Sales Funnel?
A sales funnel, whether it's business-to-business (B2B) or business-to-customer (B2C), is a consumer-focused model that visually illustrates a customer's journey from the first contact to the purchase of a product or service.
It's an opportunity for your sales and marketing team to get into the mindset of your ideal buyer and identify how you'd like to move them through the sales funnel.
Many argue that the sales funnel is the same for B2Bs and B2Cs. As a company that supports both B2Bs and B2Cs, we respectfully disagree. We even wrote an entire article outlining the differences. In general, the B2B sales funnel is longer than the B2C sales funnel.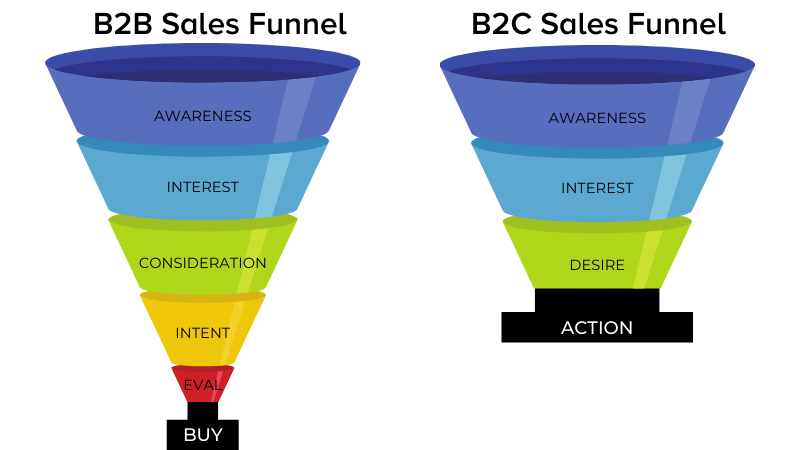 Understanding the various stages of each sales funnel is important in strategizing how to convert new leads, and as marketers, we believe video plays a huge role every step of the way.
It's no secret that marketing videos are an investment, and there are many types of marketing videos to produce. You might be wondering if it's necessary to have an explainer video, a product video, and a testimonial video in your marketing toolkit.
Our answer is yes!
Strategically leveraging specific videos in particular stages of the sales funnel can help guide a prospect through your intended process to conversion.
Even though I just made this big 'ol pitch about the B2B and B2C sales funnels being different, I am going to combine some of the stages as it relates to a video strategy. If you're screaming "WHAT?!" at your screen right now, let me explain! This is mainly because there is a lot of crossover when it comes to utilizing videos and opportunities to use the same type of video in more than one way.
So, let's dive in.
Videos To Use In the Awareness Stage
The awareness stage is where marketers thrive. It's essentially what marketers, like myself, focus most of our attention on each day: get our company name out there and flood the space with our name, logo, products/services, messaging, etc., to find new leads. Awareness is the first stage of the sales funnel for a reason.
Statistically, video is the most effective way to reach audiences.
TV commercials have been at the forefront of traditional marketing methods, and while "new" marketing strategies have emerged such as content marketing, digital marketing, and social media marketing, video still dominates those strategies, as well.
Here are some of the videos to leverage in the awareness stage of either the B2B or B2C funnel.
Explainer videos
Commercials
Social media videos
Product videos
Content marketing videos
Since the awareness stage is imperative to the rest of the sales funnel, it's natural to bulk up this section with plenty of video content. These types of videos are good for grabbing your target audience's attention and introducing your company and product/service offerings. You can also leverage these videos throughout the sales cycle, but let's further discuss how they're especially effective in the awareness stage.
Explainer Videos
This video was born to be in the awareness stage. An explainer video is a marketing tool to introduce your company and summarize the basics of your brand such as your product and services.
Ultimately, an explainer video answers the questions, "Who are you and what do you do?"
We often recommend animated explainer videos since they are more easily updated and have a longer shelf life than a live-action version. Of course, animation isn't always the best option, but adding a motion graphics package to your live-action video can elevate the final product.
Read: 7 Benefits of an Explainer Video
Commercials
In the age of digital marketing and media, some might think TV commercials aren't worth the cost. That may be the case for some brands, but it all depends on your target audience and whom you're trying to reach.
If your target audience still watches TV, commercials might be a great way to increase brand awareness and find new customers.
Commercials do go beyond traditional television, too. More people are "cutting the cord" and switching exclusively to streaming services (guilty!), however, some streaming services still include commercials based on subscription types like Hulu. YouTube is also littered with ads (except for YouTube Premium users).
Commercials can, of course, be used beyond the awareness phase – think of all the Super Bowl commercials from big brands – however, commercials are a great starting place for specific audience demographics or if you're trying to reach a specific local audience (local TV spots are much cheaper).
Social Media Videos
This is a bit of a broad term, but social media video marketing continues to expand on practically every platform. Companies can post videos to their native feeds so that people who stumble upon their profiles can learn more about who they are and what they do, which is perfect for building brand awareness.
Companies can now also take advantage of paid/promoted social media posts where you can target certain people and accounts, ultimately, infiltrating their feeds. Platforms that offer paid advertising include:
LinkedIn
Facebook
Twitter
Instagram
Pinterest
TikTok
Snapchat
Paid video ads are great in the awareness stage as more people shop on social media. More people are stumbling across new brands or products on social media, which opens another avenue to finding new prospects.
Product Videos
I'm going to warn you now: you are going to see product videos a lot throughout this article. Basically, product videos can and should be leveraged in just about every stage of the sales funnel.
There are several different types of product videos:
Unboxing videos
Product tour videos
How-to videos
Lifehack videos
Production line videos
Testimonial videos
Research shows consumers who view a product video are 85% more likely to add that product to their cart than consumers who don't watch a video.
If a new prospect converts after learning about your company through a product video, there's a good chance they'll go research other products you might have and turn into a returning and loyal customer.
Let's move on from product videos, for now, since they'll come back around in a bit.
Content Marketing Videos
If you're unfamiliar with content marketing, it is a strategic inbound marketing approach focused on creating and distributing valuable, relevant, and educational content digitally to attract, retain, and qualify potential new leads.
It utilizes search engine optimization best practices so that potential customers find your business instead of the other way around.
Think about it from the consumer point of view. Before you buy something, you probably do some research first, right? You want to ensure that you're buying the best product or service that will meet all of your needs. You'll likely turn to Google and type something like, "Fitbit vs. Apple Watch" or "How much does a closet organizer cost?"
If you own an interior design company, you'd want your business to pop up when someone puts in a search for the cost of a closet organizer.
This is where content marketing videos come into play and, if done strategically, can build brand awareness and thought leadership.
Content marketing videos are designed to educate customers, first, instead of doing a hard sell. These videos are a nice way to introduce your company to someone who is still in the early stages of the sales funnel and aren't ready to make a purchasing decision.
Here are some content marketing videos we've produced here at VMG Studios which have helped increase our organic search rankings and website traffic.
Read: Why Video is Essential in Your Content Marketing Strategy (Types + Examples)
Videos To Use In the Interest and Consideration Stages
As mentioned, the awareness stage is jam-packed with marketing video content to utilize to attract your target audience, but you can still leverage those videos in the interest and consideration stages, too.
The interest and consideration stages are when a consumer conducts a deeper audit of your company and product/services. They might compare your company to your competitors. This is where more specific and even more targeted videos come in handy in continuing to move a prospect towards conversion.
Company Culture Videos
Just like product videos are especially effective for product-based companies, company culture videos can be a secret weapon for service-based businesses or B2Bs.
When you're hiring people instead of a product, you generally want to know who you'll be working with.
Company culture videos are a good follow-up to your explainer video. Now that a potential client understands what your business does or provides, it's time for them to get to know the people who work there.
You can showcase your company culture in a variety of ways. Here at VMG Studios, we have "meet the team" videos for each employee on our website. These videos help personalize our brand to customers and showcase our goofy, fun personalities.
While these videos may not be the sole piece of promotional content that converts a new lead, per se, they could be the tipping point for a client choosing to work with you over someone else.
Product Sizzle Videos
I told you product videos were going to show up on this list more than once! Sizzle videos – also known as demo reels or promo videos – are a quick overview of a product, service, portfolio pieces, etc., produced in a fast-paced style that draws attention.
At VMG Studios, our core services are video production and animation, so we have two separate sizzle videos for each service that showcases some of our favorite projects.
A sizzle video highlighting the key features of one of your products is an effective way to specifically market that product.
This kind of video is ideal for a new product launch or if your target consumer base already has a general idea of what your company does and provides. Maybe they found out about your company through an explainer video, commercial, or social media ad, and they're now looking to learn more. Insert the product sizzle video.
Pre-Event Videos
Naturally, not every business needs to utilize event videos. However, if your company is hosting any kind of event – in-person or virtual – event videos are a great way to engage your target audience.

Show your consumer base what they can expect from your event. If this isn't the first time you're hosting, show footage from years past and entice people to attend. You can even produce personalized videos that make the event offer irresistible.
Email marketing is a huge part of promoting events. Should you include event videos in your first messaging to your target audience? Yes. Will they watch it in that first email? Maybe. By continuing to promote your event with a video, you simply increase the odds that prospects will watch your video at some point.
It might not be until the third email, where they have some knowledge and background on your event due to your previous messaging, but it could be just the ticket to get them to buy tickets.
Here is an example of a pre-event video that captures attention.

Content Marketing Videos
This is another type of video that is popping up again! Content marketing videos are all about educating your clients regarding your expertise. Consumers are savvier than they've ever been, meaning they conduct extensive research about products, services, and companies before making a purchase.
During the interest and consideration stages, your content marketing videos can be more targeted towards a prospect who is getting closer to convert.
For example, an awareness-stage content marketing resource for VMG Studios would be "Live-Action vs. Animation: Pros and Cons." This falls under the awareness category since they haven't even identified what style of marketing video they want.
Let's say the prospect chooses to move forward with animation after learning more.
In the interest/consideration stages, we'd direct the prospect to "The 5 Different Types of Animated Marketing Videos" and/or "2D vs. 3D Animation: Pros and Cons for Marketing Videos."
Next, in the evaluation/buy stages, we'd address those important and final considerations with "How Long Does it Take to Make an Animated Video?" and "How Much Does an Animated Video Cost?"
As you can see, content marketing never stops, and videos educating your target audience can help them feel more confident when making a purchase.
Videos To Use In the Intent and Evaluation Stages
You're getting closer to a prospect converting, so the last thing you want to do is leave them hanging! Guide them across the finish line with (you guessed it) more videos.
In these stages, a prospect is close to buying, but they are doing some final checks to make sure they're making the right decision.
Consumers want to feel empowered with their purchasing decisions, and this is where you can help them feel confident in choosing you.
Testimonial or Case Study Videos
A case study or testimonial encapsulates a positive customer experience. It describes how your product or service helped a client achieve their business goals. Simply put, these types of videos are reviews and referrals, and you don't need me to tell you how important positive reviews and referrals are for both B2B and B2C companies. It's marketing 101.
Instead of traditional word-of-mouth, people nowadays rely on Yelp, Google reviews, product reviews, or even their friends and family to help inform their choices on whether to purchase product X or product Y. If product X gets more positive reviews than Y, you can take it to the bank that product X will have higher sales.
Nearly nine out of ten consumers read reviews before making a purchase. Not only that, but studies found that 93% of consumers say that online reviews influenced their purchase decisions.
There are 5 main ways that testimonial videos benefit your marketing strategy:
Testimonial videos allow you to strategically control the narrative
They establish industry leadership and build trust
They help you build strong relationships with current clients
Testimonial videos are memorable and shareable
They combine emotion and logic
READ MORE: 5 Benefits of Adding a Testimonial Video to Your Marketing Strategy
Testimonial videos that your company produces allow you to control the narrative. You can select your favorite clients, use their best sound bites, and strategically position your company to draw in your target audience.
Product Reviews and Product Tutorial Videos
The product videos are back! Product reviews can go hand-in-hand with testimonials, but sometimes, you don't need to do all the work.
There are hundreds, if not thousands, of influencers out there who do product review videos, and people are watching them! Google found more and more people are turning to YouTube for product reviews.
If you're a well-known brand, you can utilize positive product review videos by sharing them on social media.
Product tutorial/how-to videos can also be helpful in the final stages of the sales funnel.
Show prospects exactly how to use your product or services, so they aren't left wondering if it'll work for their needs. These videos also showcase your company as helpful and mindful of your customer's best interests.
Use Video to Convert Customers
While it may seem like new marketing strategies or new social media networks pop up regularly, making it hard to keep up with the latest ways to attract and engage your audience, video remains a constant.
Video is still most consumers' preferred way to learn about something before they buy.
And while one video is better than no video, an in-depth video marketing strategy will help move a prospect through the sales funnel towards conversion. Be the product tour guide your prospect is looking for by answering all their questions easily and transparently through engaging videos.
If you need help producing these types of videos – like an explainer video, content marketing video, product video, social media video, or testimonial – VMG Studios is equipped to be your shepherd. Let us help guide your video marketing strategy so you can guide your audience through the sales funnel.


Click the image below to schedule an introductory planning conversation!